BUCKTOWN — Bird, a fast-growing electric scooter share company, wants its dockless scooters to be on Chicago streets this spring. 
The scooters, which cost $1 to unlock and 20 cents per minute to ride, can travel up to 15 miles per hour. Unlike Divvy bikes, the scooters do not have to be returned to a designated dock.
Similar to Car2Go, where cars rentable by the minute are parked on almost any street (with the exception of two wards whose aldermen have banned them), users can download the company's app and find the nearest scooter. After locating it, they scan a QR code that unlocks the scooter and gives it the ability to start. 
Late last month, Bird employees walked the streets of Bucktown to let locals know they're coming — and handed out Halloween candy to kids.
"We are hoping it will bring positive brand awareness," Bird's Taylor Bolhack said while greeting people near the entrance to Walsh Park, 1722 N. Ashland Ave. Bolhack said the most common they've received so far is: "when will Bird be in Chicago?" 
It's too early for an exact date — but once winter passes, and the snow starts to melt, the Los Angeles-based company aims to enter the Chicago market if the city gives it the green light, Bolhack said. 
Another scooter share company, Lime, also wants to enter Chicago, the Tribune previously reported. A spokesman for the company confirmed that they are exploring launching scooters in the city's neighborhoods. Lime rolled out dockless electric bikes on the South Side this spring.
Across the country, Bird, Lime and other dockless scooters have drawn controversy because they've caused disruptions for folks in wheelchairs and pedestrians navigating busy city sidewalks. Some car drivers are not huge fans of scooters when sharing the road with them (an expletive-ridden video narrated by a motorist forced to lag behind a stand-up scooter posted on Instagram has almost 11,000 views and generated hundreds of comments from scooter foes and supporters).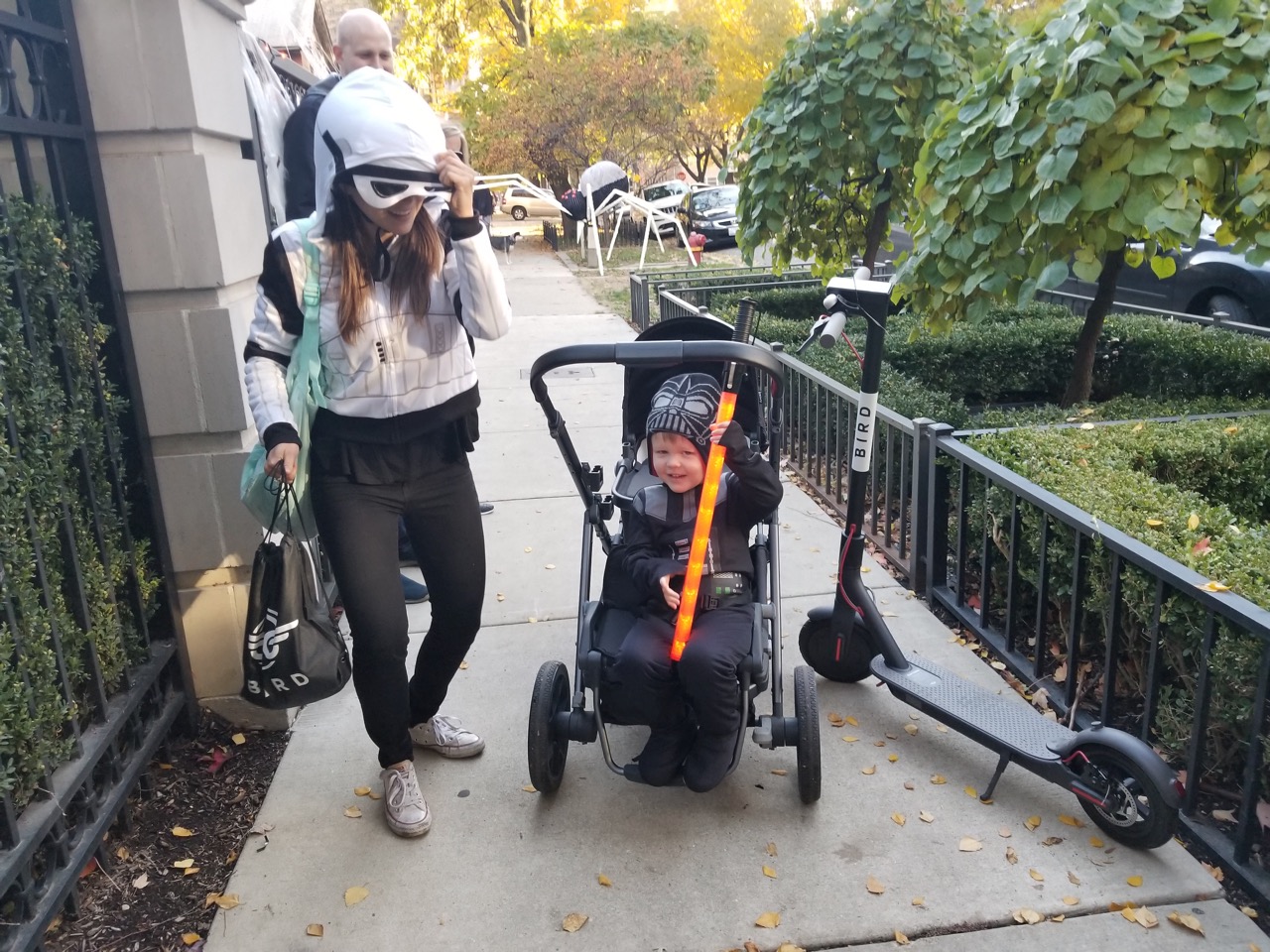 Michael Claffey, a spokesman for the Chicago Department of Transportation, said CDOT is "in the process of gathering information, engaging the companies/stakeholders, and working with other departments and the City Council to develop a clear framework for the [scooter] industry."
Claffey said CDOT's "top priority will be the safety of everyone in the right of way," and, as part of the process to develop a clear framework for safety, officials will be meeting with scooter industry representatives in the near future. 
In Bexley, Ohio, Bird was banned after its scooters blocked the right-of-way on Main Street. In Nashville, officials impounded more than 400 Bird scooters that had been blocking doorways and sidewalk ramps, according to the Indianapolis Star. 
Though traveling on sidewalks is prohibited, many people have skirted the rules. In Portland, Ore., Bird and two other scooter vendors, Lime and Skip, are wrapping up a 4-month pilot program. The Portland Bureau of Transportation fielded more than 1,600 complaints from about 600 people halfway through the pilot, according to reports.
Dylan Rivera, a spokesperson for the Portland Bureau of Transportation, told KGW8 news the top complaints are concerns about scooter users not wearing helmets and riding on sidewalks. 
On Tuesday, Rivera told Block Club that for now, November 20 will be the last day for Portlanders to use Bird, Lime and Skip scooters.
"At this point, we are not guaranteeing anything beyond November 20. We will publish our findings, listen to the community, through potential open houses and online, and consider what the next steps will be," Rivera said. 
As part of the post-pilot study, Portland officials will also want to make sure the scooters met the city's expectations for reducing auto use, pollution and carbon emissions, Rivera said.
While Rivera acknowledged the Bureau of Transportation has been gathering a lot of complaints about scooters —  he also emphasized that the scooters have gotten praise, too.
And they're being used. 
Between July 25 when the pilot launched and last Thursday, the 2,049 combined Bird, Lime and Skip scooters available for rent in Portland went on 643,417 rides and traveled 745,728 collective miles, with the average trip being about 1.2 miles, Rivera said.
"The sheer volume of trips has really amazed people," Rivera said.
During the pilot period, Portland required the scooter companies to disclose scooter locations and trip data in real time. Every Thursday, the bureau of transportation tweets out the total number of rides taken. 
Aware of concerns about scooters getting strewn across sidewalks or blocking the right-of way, Bolhack said Bird is "opening up designated parking or docked parking as an option for Chicago." 
Bolhack said the average Bird ride is around $3. The scooters are intended to be used for the "last mile" of commutes, such as short distances from a train to an office or home. 
"Ideally, we want people to be able to have the choice to ride a bike or a scooter. When you are in a business suit, getting on a bike might not be the best choice, but a scooter is a good choice. If going over three miles, I would suggest a bike over a scooter," Bolhack said. 
Founded in 2017 by Travis VanderZanden (a former Uber and Lyft executive), Bird offers scooters for rent in over 100 U.S. cities and internationally in Tel Aviv, Paris and Mexico City.
Bolhack said Chicago's flat terrain is ideal for the scooters, which would not be able to travel faster than 15 miles per hour and would be locked by 9 p.m. nightly as they are in other cities.  
"Safety is a main concern from all cities. We believe nothing good happens after 9 p.m. and that scooters shouldn't be on the roads after that," Bolhack said. 
The overnight break also gives the electric Bird scooters a chance to get charged and ready for the next morning, when they are "released" back on streets between 4 – 7 a.m. 
In several cities, enterprising folks are making extra money as "juicers" who pick up the scooters at night and recharge them, earning a per-scooter charging fee that varies based on how far away the scooter is located. Fortune magazine and The Atlantic spotlighted how cutthroat the "bird hunting" business can be for folks eager to charge as many electric scooters as possible. 
The number of scooters in the initial Chicago fleet will be dependent on what Bird agrees with the city.
Bolhack said in cities much smaller than Chicago ("that some would call towns and not cities"), there are fleets of 1,000 Bird scooters.
"It's based on the market and what we can work out with the government," Bolhack said. 
Though operating scooters on sidewalks will be prohibited, folks with disabilities are concerned about how the scooters, when parked, will co-exist with other existing obstructions on sidewalks. 
"Our concern is scooters being left on sidewalks and blocking access to people who can't just step over them…  In most cities, the scooters are left on sidewalks and that's been the primary problem for the disability community," said Charles Petrof, a senior attorney for Access Living, a disability advocacy group.
Marca Bristo, executive director of Access Living, is one of 20 folks participating in the city's recently-established New Transportation and Mobility Task Force that will meet monthly for five months to discuss new transportation options in Chicago. The task force, led by former U.S. transportation secretary Ray LaHood, aims to discuss electric scooters as well as new ride-sharing options and make recommendations by early 2019. 
Petrof said a docking system similar to Divvy docks would be preferred for scooter shares like Bird and Lime. After talking with disability transportation advocates from around the country in cities that offer Bird and other scooter shares, Petrof predicted that having scooters parked randomly on sidewalks in Chicago will be "like an obstacle course for anyone who needs that extra room to travel."
Ald. Joe Moreno (1st) supports scooters and introduced an ordinance to pave the way for scooter sharing last May. 
In a question and answer session during a "State of the Ward" talk with members of the East Village Association last week, Moreno said "the goal [of scooters and other bike and ride share companies] is to get people out of cars."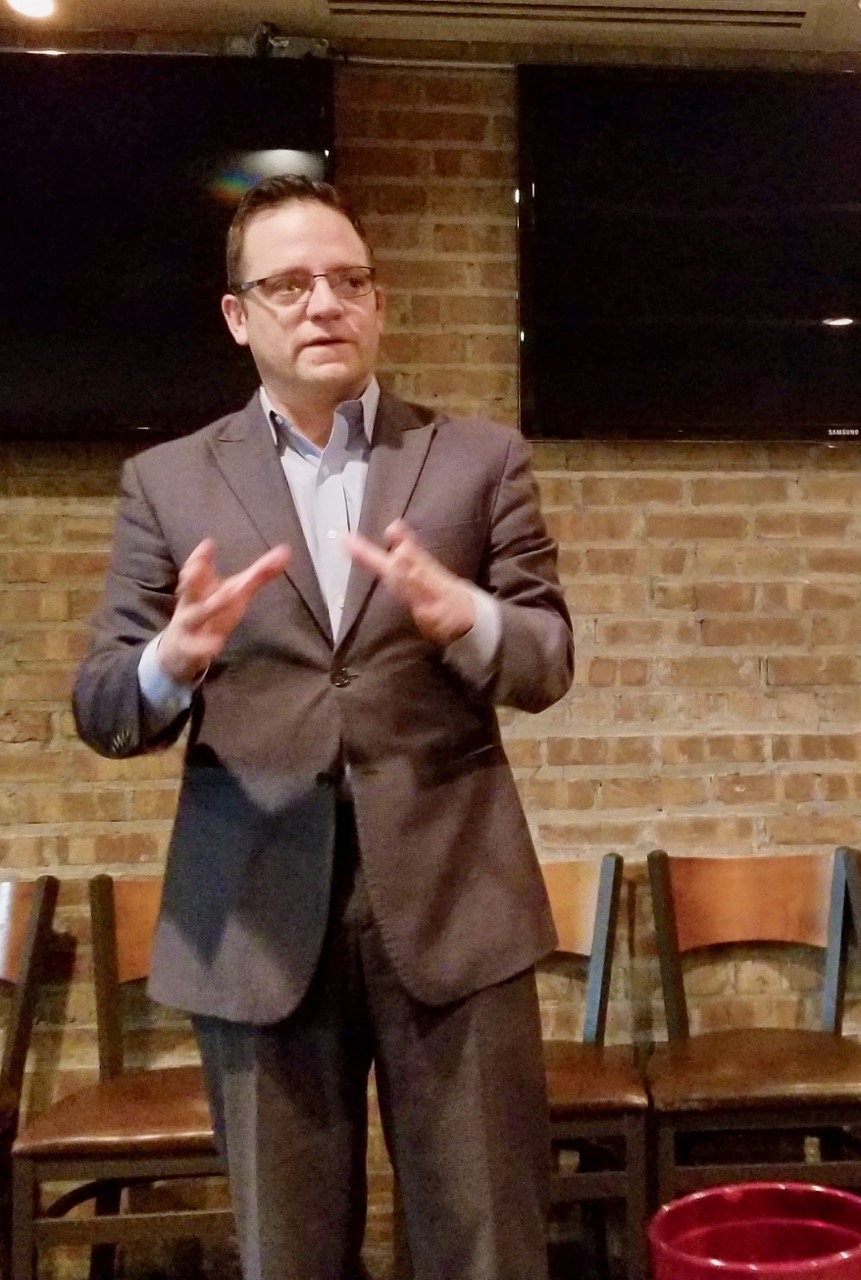 Moreno said he supports Bird and other vendors as long as there are "thorough regulations" in place for safety, such as limiting miles-per-hour, locking scooters after 9 p.m., encouraging helmets and prohibiting riding on sidewalks.
"There will be a time in our society when everyone is not going to own a car," Moreno said.