CHICAGO —  In an effort to keep Mexican and Mexican-American families in Pilsen and Little Village, city officials unveiled a new five-part plan aimed at preserving the neighborhoods Tuesday. 
Mayor Rahm Emanuel, Aldermen Danny Solis (25th), Ricardo Muñoz (22th) and George Cardenas (12th) announced the "community-based strategy" that aims to preserve the culture, character and affordability of the two Southwest Side neighborhoods. 
Here's what the plan would mean for Pilsen and Little Village. 
Plan: Affordable housing requirement increased to 20 percent 
Among other requirements, a proposed new pilot program would increase the city's affordable housing requirement from 10 percent to 20 percent within large-scale, market-rate housing developments in a 7.2-mile area in Pilsen and Little Village.
The pilot program will require at least 10 percent of affordable family size-units be built on site. Developers can opt to build an additional 10 percent of units on site, or buy out of that by paying an extra $50,000 in-lieu fee per unit.
If the pilot program is approved by City Council, the fee would be about $180,000 per unit in Pilsen and about $102,000 per unit in Little Village, according to Kevin Bargnes with the city's Department of Planning and Development. 
The fees are currently set at $128,469 in Pilsen and at $51,388 in Little Village, Bargnes said. 
The boundaries of the new pilot program in Pilsen would be Peoria Street, 16th Street, the south branch of the Chicago River and Western Avenue, according to the city. 
In Little Village, the boundaries would Western Avenue, the Metra tracks, the Stevenson Expy. and as far west as the Chicago/Cicero border.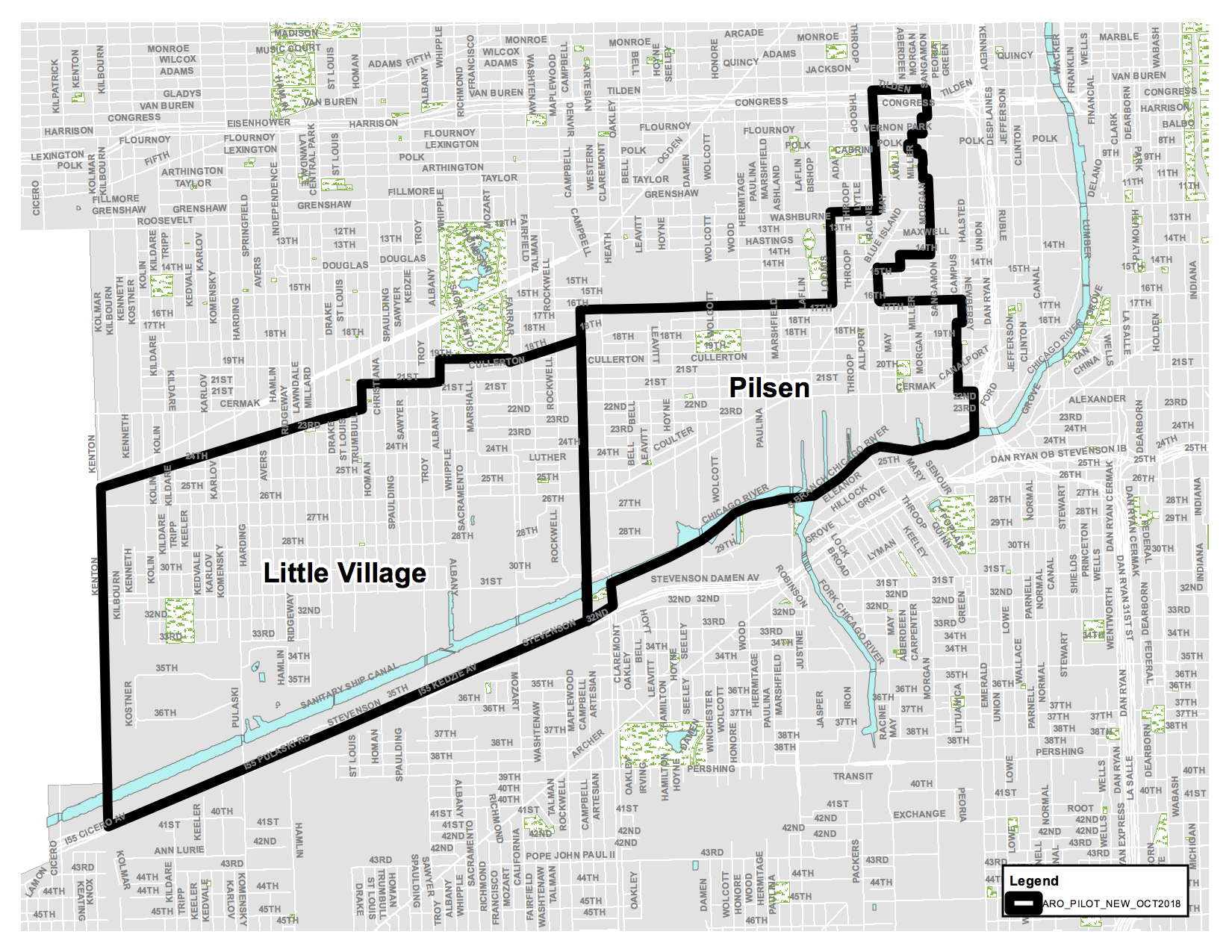 It's unclear how the new city rules would affect Pilsen's unofficial affordable housing mandate. 
Since 2005, Solis and the Pilsen Land Use Committee have required a minimum of 21 percent of all new developments to be designated as affordable housing units. The rule applies to new developments of 10 or more units that seek zoning changes from the city or use city land or subsidies, but Solis has approved projects with less affordable housing on site when the developer offers another benefit to the community. 
Solis' 21 percent mandate is more than double the city's mandate requiring 10 percent of new developments to be affordable housing units.
Fund aims to give developers incentive to develop affordable apartments
The city also aims to create an Affordable Housing Opportunity Fund, which aims to use developer fees — fees from developers who skirt the city's affordable housing mandate by opting to make a payment to a city affordable housing fund — to help preserve and create affordable housing in Pilsen and Little Village
Under the fund, the city will make financial assistance available for developers that purchase or refinance multi-family residential buildings in the pilot area in exchange for longterm affordable rental agreements. 
Resources will also help income-qualified owners upgrade their properties, according to the plan. 
City proposes land purchase for Paseo Trail 
As part of the plan, city officials will introduce an ordinance Wednesday to acquire a four-mile route from BNSF Railway to make way for the proposed Paseo Trail from 16th Street in Pilsen to 31st Street in Little Village.  
The purchase will compete the Paseo's planned route, the city said, and officials have plans to connect new and existing parks to the trail.
Starting at 16th and Sangamon, the planned public trail will lead to Cermak Road and follow Blue Island Avenue and 26th Street southwest all the way to Central Park Avenue, according to 2016 plans. 
The trail was first proposed in 2006, and Mayor Rahm Emanuel and city planners announced plans to build it in March 2016.
Comparing the path to the 606 in Humboldt Park and other North Side neighborhoods, Pilsen neighbors have worried that the Paseo could speed up gentrification in Pilsen and Little Village. 
Little Village Alderman Cardenas said he didn't want to sign off on the Paseo trail until a "holistic" housing strategy was in place to combat rising housing prices that might accompany the trail. The city's new five-part plan is a way to get ahead of that — and a way to counteract the effects of other large-scale developments, like Lincoln Yards, which he predicts will cause rent increases across the city "sooner than people might expect."
"We want to create a model that works," he said.
18th Street and Blue Island would be landmarked under plan 
In December, the city's Landmarks Commission will consider granting landmark status to portions of 18th Street and Blue Island Avenue in Pilsen to preserve Baroque-inspired buildings built between 1875 and 1910. 
City aims to modernize industrial corridors 
Under the plan, city officials also aim to create new employment opportunities by modernizing Pilsen and Little Village's two industrial corridors. 
The process started in the Little Village Industrial Corridor in April 2018, and the city expects to introduce a plan for regulatory land use improvements in early 2019. The planning process for the Pilsen Industrial Corridor is expected to start in 2019.
Pilsen, a historic port of entry for Mexican immigrants, has seen an exodus of Latino families in recent years.
In a 2016 study, University of Illinois at Chicago professor John Betancur found that while Pilsen remains majority Hispanic, more than 10,300 Hispanic residents left the neighborhood between 2000 and 2010, a 26 percent drop.

From 2000 to 2010, Pilsen's population plummeted by nearly 15 percent. The biggest drop — 41 percent — was the number of families with children living in the neighborhood.
Solis told Block Club Tuesday that the pilot program aims to expand "good development" that is attentive to middle and working class communities staying in these neighborhoods.
"Maybe you can make the argument that it doesn't go far enough, but it certainly goes farther than what we had," Solis said. "It looks at preservation, new construction…it's going to include assistance with El Paseo. And more importantly it expands to Little Village."
Cardenas said the city needs new development to fuel its future, but growth needs to be balanced with the needs of local residents. 
"This pilot strikes that balance and I believe it will become a model for other neighborhoods and cities across the country," Cardenas said. 
In a press release, Emanuel said that the new strategy will help preserve important elements of Pilsen and Little Village's culture "while keeping it affordable for residents and promoting economic opportunities for future growth." 
"Chicago's diverse neighborhoods are the backbone of our great city, collectively highlighting our rich culture, renowned restaurants and amazing residents," he said. 
The plan is expected to be formally introduced at City Council Wednesday.
Do stories like this matter to you? Subscribe to Block Club Chicago. Every dime we make funds reporting from Chicago's neighborhoods.