LOGAN SQUARE — Fellow police officers and community members are rallying around Officer John Zook, a veteran Chicago police officer whose Portage Park home was destroyed in a fire on Monday.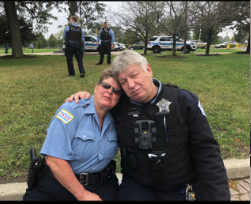 A GoFundMe for Zook set up by his coworkers in the Shakespeare Police District (14th) has raised more than $1,500 toward a $25,000 goal within minutes of launching on Tuesday afternoon. A second campaign to rebuild Zook's home started by family friends has raised $1,300 toward a $50,000 goal.
Shakespeare District Cmdr. Fabian Saldana announced in a news conference on Tuesday that Zook, an officer with 27 years on the force, is currently recovering at a local hospital and is expected to be released Wednesday. 
"He is in good spirits," Saldana said of Zook, who suffered smoke inhalation and minor burns.

According to Saldana, Zook was off duty and home alone taking a shower when a fire broke out, destroying his home and everything inside. Zook searched his smoke-filled home for the 15-year-old family dog, Crazy, but passed out before he was able to find the dog.
"He remembers passing out in his living room and members of the Fire Department putting him on the front lawn, and then he let the firefighters know the dog was in the residence, and they ran in," Saldana said. 
Saldana added, "He is recovering and doing well, in physical discomfort and undergoing physical therapy, and the dog is recovering with a family friend."
Officer Marianne Horan, a Shakespeare District officer, said after the news conference that Zook lives in Portage Park. The fire happened around 5 p.m. Monday.  
"We just wish him all the best, we love him and miss him," Horan said. 

Horan described her longtime coworker, who has a wife and son who were not home when the fire broke out, as "a jack-of-all trades" type of officer who drives a police squadrol. 
In the news conference, Saldana said that Zook was "very grateful" to have been rescued, along with the family's dog.
"He said it's just property damage, and property can be replaced, but a life cannot," Saldana said. 
Officer Michael Carroll, a Chicago Police spokesman, said the fire that broke out appears to have been electrical and the cause of it is still under investigation.