This story was originally published by DNAinfo Chicago in 2016. The Above and Beyond exhibit is now open on the third floor of the Harold Washington Library.
PORTAGE PARK — "John Ciallella … Rhonnie Clark … Richard Cleveland … ."
They work for hours, meeting in a small, upstairs room at the National Veterans Art Museum once a week. One volunteer reads the names and calls them out; another thumbs through bunches of dog tags, looking for the match.
Ciallella, Clark and Cleveland are accounted for.
They were soldiers and Marines during the Vietnam War, all of them killed in action. Now, 50 years later, five post-9/11 veterans are going through tens of thousands of dog tags, cleaning them and preparing them to be shown in an exhibit called the Above and Beyond Memorial. The exhibit will open Feb. 20 at Harold Washington Library.
In the end, there'll be one for each member of the U.S. armed services killed in the Vietnam War — representing more than 58,300 lives lost.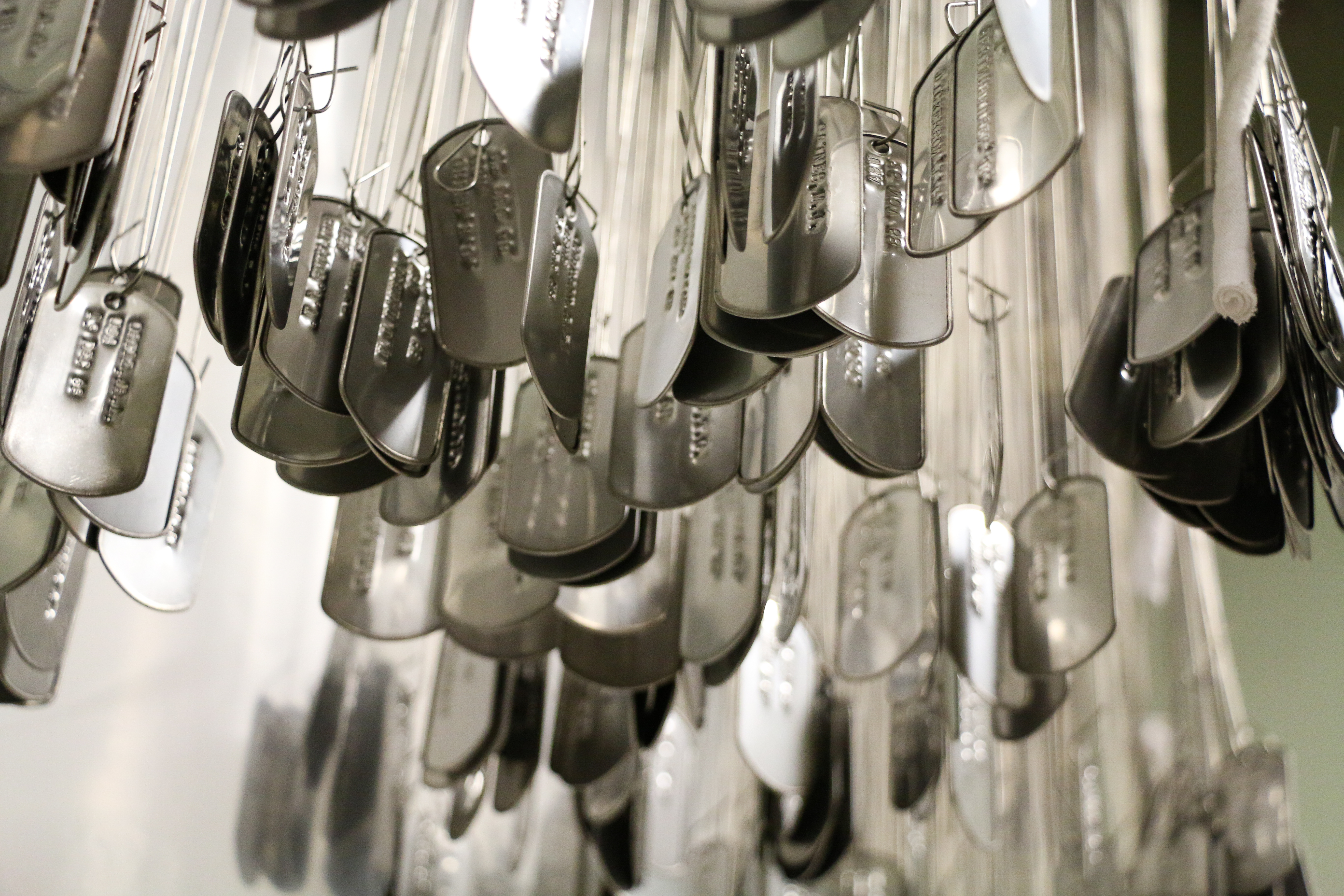 The National Veterans Art Museum, which manages the Above and Beyond Memorial, first showed the exhibit at its South Loop building in 2001. It became wildly popular, but the museum had to pack the dog tags into storage when it moved locations in 2012.
A few months ago, the museum's organizers recruited volunteers to relaunch the exhibit in a new location. They emailed supporters like Linden Allen, an Army National Guard member who had volunteered with the group in the past, asking for help in reviewing and cleaning the dog tags.
Allen's "not a big art guy," he said, but he had seen what art could do for others and he'd been impressed by the memorial when it was on display in the South Loop.
"It was really pretty neat," the Edison Park man said.
Allen joined the project and recruited other veterans he worked with, bringing in Rich Wharton, Francisco Martinez, Nate Jungheim and Ron Blasen. The volunteers and organizers have put long hours into the project, said Destinee Oitzinger, the museum's gallery coordinator.
"It's incredible," Oitzinger said. "It gives me goosebumps to see them so dedicated, to see even that connection. To hear them talk about it and their absolute dedication to the project, to honor their fellow servicemen and women is just incredible, and it's inspiring."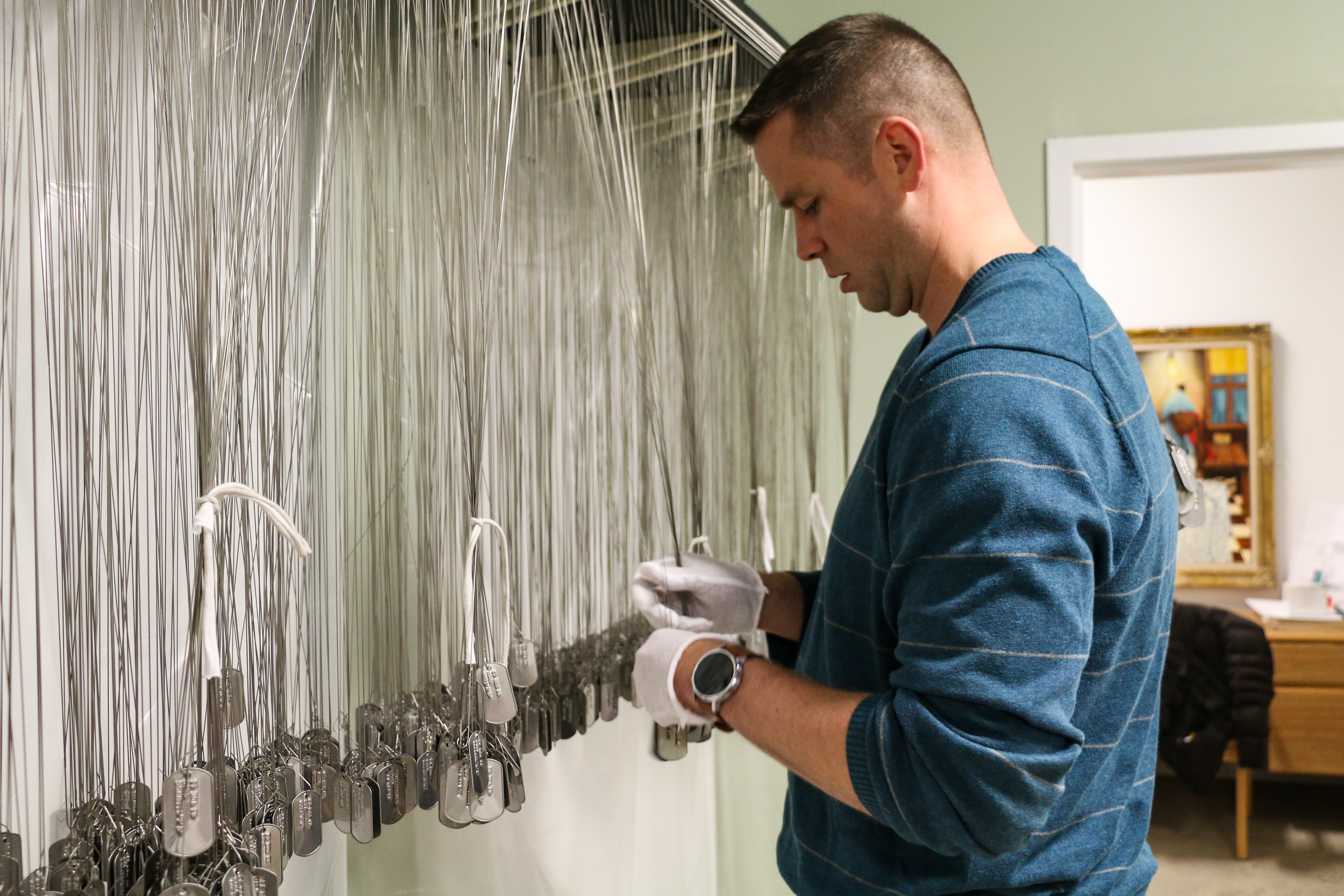 Allen tries to take advantage of any opportunity he can to serve his fellow veterans, he said, and the ability to honor Vietnam War vets made the project particularly interesting.
Like others involved with the memorial, Allen said those who served in the Vietnam War weren't honored in the way other veterans have been due to the controversial nature of that war. He saw that firsthand when he returned from Iraq in 2004: He was riding a bus from a base in Wisconsin to Michigan when he and other soldiers were greeted at the state border by people on motorcycles.
"Most of them were Vietnam vets, and they led us all the way back to where the armory was located," Allen said. "When I came off the bus, there was this vet there, a Vietnam vet, and he was just crying.
"It was very important for them to make sure we were welcomed back because they didn't get welcomed back the same way. They were looked down on in society … ."
For Rich Wharton, a volunteer from Ravenswood and a member of the Army National Guard, the exhibit is "very powerful." Wharton's father served in the Vietnam War.
"It's kinda surreal going through each name because each dog tag is an exponential loss," Wharton said. "It's not just one person. Can you imagine how many people you know if you were lost? You've got your family, your neighbors, your friends.
"It's just really surreal."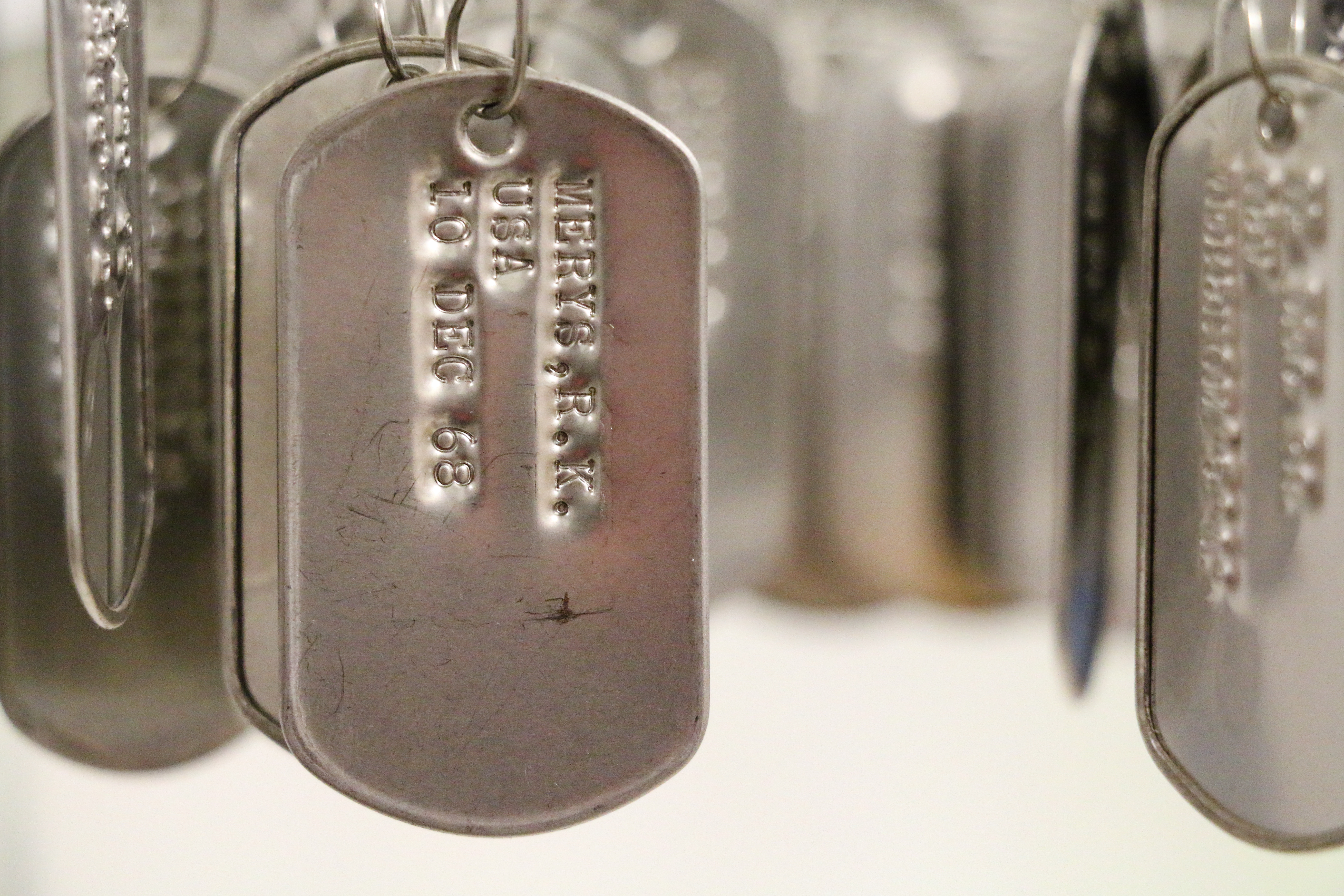 They go through more than 50,000 names one by one, making sure there is a dog tag for each veteran:
"Thomas Killion Jr." Killed in Quang Nam on Nov. 17, 1968, at 19 years old.
"James Lang." He died in Quang Tri on Nov. 17, 1968, a week after his 32nd birthday.
"Hal Long … ."
Dog tags will be made to replace those that are missing or damaged, Oitzinger said, and a black dog tag will stand in for veterans who died from Agent Orange exposure, suicide or by other means related to the war.
About 40 new dog tags will be added this year, said Lionel Rabb, chairman of the National Veterans Art Museum board. Those names come from servicemen and -women who have died and had their name added to the wall at the Vietnam Veterans Memorial in Washington, D.C., in recent years.
The tags are made with a World War II-era machine the museum keeps, Rabb said. They are handstamped with the name, date of death and the military branch in which the serviceman or -woman served.
Every service member killed as a result of the war must have a dog tag included in the memorial, Oitzinger said, because it's "important that no one is forgotten" and the art piece's integrity be maintained.
Dog tags were traditionally used to identify people who had fallen in combat, Allen said, and they have a "particular meaning" to members of the armed forces. Allen, now 33, has kept the same set of dog tags he was given when he first joined the military at 19 years old.
The Above and Beyond Memorial will be displayed at Harold Washington Library in a 13-by-32-foot exhibit, Oitzinger said. The dog tags will hang from the ceiling, where visitors will be able to see each dog tag and look up the name of a veteran to see where his or her dog tag is located.
The display is a "living installation," with the dog tags creating a sound similar to wind chimes when hit by a breeze, Oitzinger said: "If you're in the same space as it, you're not gonna miss it."
Oitzinger first saw the exhibit when it was on display in the South Loop. People talk about how many people died in Vietnam, she said, but looking at the "sea of dog tags" helps them understand those numbers.
"The breadth of it was just … it shows you the enormity of what the cost of that war was," Oitzinger said. "And it shows you in a very tangible way."
People from across the United States have called the museum asking when they will be able to see it again, Oitzinger said, and organizers are excited to bring it back. The exhibit will be open to the public, and visitors will be able to use a kiosk to find their loved ones among the dog tags.
"I think it's just a really powerful and beautiful way to … share something that is so massive and affected so many people," Oitzinger said. "We are all connected to it."
Col. Jennifer Pritzker has donated $50,000 toward the project. The museum is still fundraising, and Pritzker has pledged to match up to $50,000 more. Donations can be made online. That money will go toward installing and maintaining the exhibit, Oitzinger said.
And four years from now, Oitzinger said, the exhibit will again be cleaned and new dog tags added.
Do stories like this matter to you? Subscribe to Block Club Chicago. Every dime we make funds reporting from Chicago's neighborhoods.