DOWNTOWN — U.S. Rep. Bobby Rush promised to ratchet up the pressure on Target if the retailer doesn't reverse its plans to close two South Side stores, pledging to lead a Black Friday protest rally outside Target's State Street store.
Rush, who has championed the push to save the Targets in Chatham and Morgan Park, held a rally Monday to keep the pressure on. The veteran congressman was joined by a few dozen protesters at the South Loop Target at 1154 S. Clark St.
"We believe if Target would sit down with the community we could work out the problems," Rush said. "They just decided to leave without any community involvement or any community conversations."
Monday's rally was the third gathering Rush has held since Target announced the closures just before Halloween. Target said the stores were not profitable and will shutter Feb. 2.
Rush blamed Target's management of the stores for any poor performance, saying they were "ghettoized."

And Rush said his efforts are just starting, adding "we know how to intensify our protest."

"I view this more than me being a congressman. I'm a resident of the community," he said to large cheers. "I have a history of fighting. I know how to fight. Target understands all that."
Rush revealed that Target responded to his demand for a community meeting, and said one could happen later this week. But he made clear he wanted to be involved — along with neighborhood residents.
He said details will be released with an exact time and location.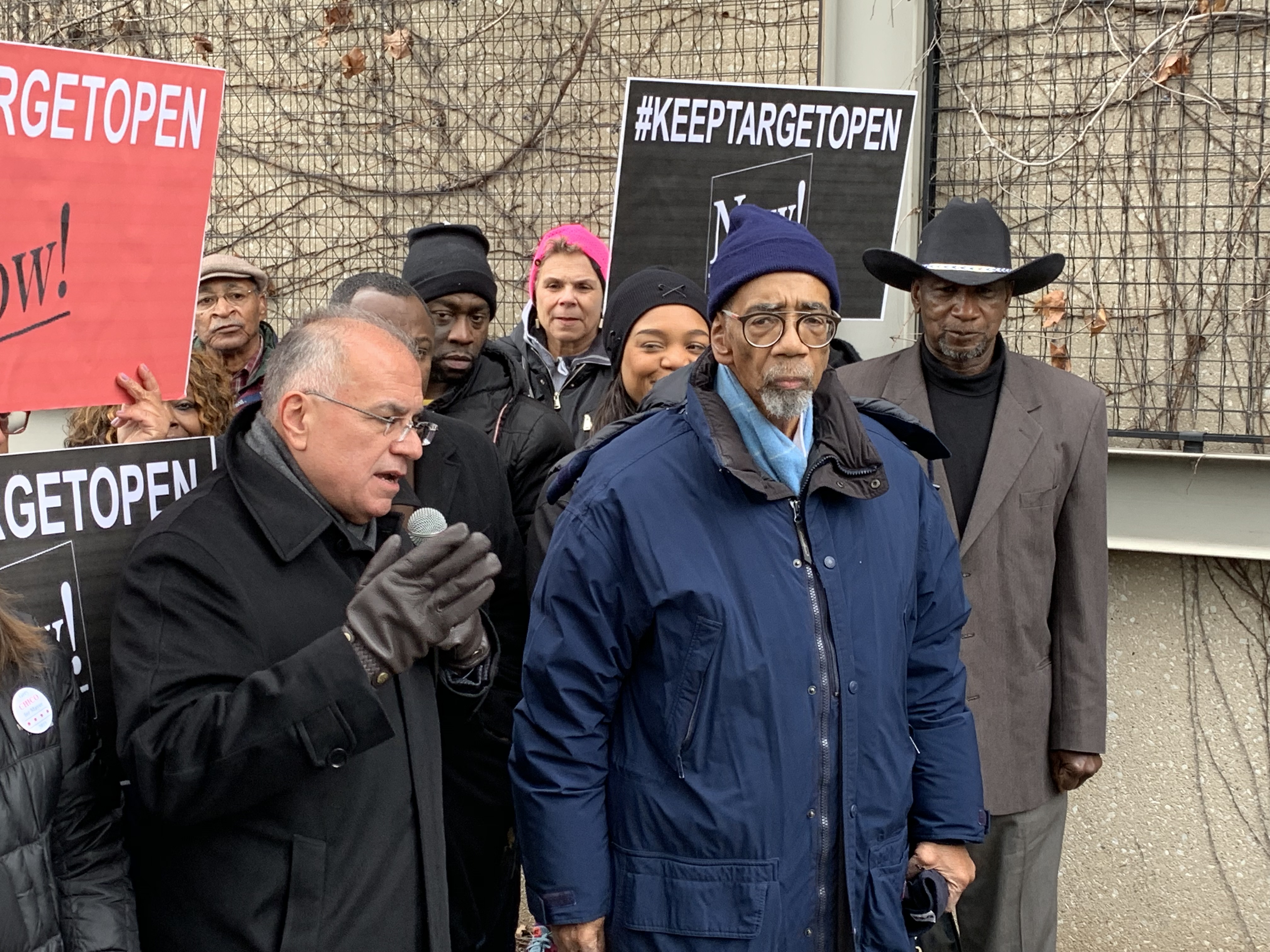 At Monday's rally, Chicago mayoral candidate Gery Chico joined Rush to lend his support. "I saw that Congressman Rush was taking this issue up and I feel passionately about large corporations in this country having some citizenship to care about the communities that they're in, not just cut and run because the money might not be right right now," he said.

Also attending Monday were lifelong Chatham residents Marcia Thomas and Beth Watson, who can see Target from her back window. 

Target's arrival in the neighborhood, Thomas argued, forced local small businesses out of business years ago. If Target leaves the community now, residents lose out again, she said.
"We seem to be the people who always get the brunt end of the stick and we're just tired of it," Thomas said. "We have to show community support. Nothing is going to happen if we all just sit at home and say, 'Oh, well, I'll just go to the next Target.' That's not right."