CHICAGO — Two people helped rescue an injured dog from Lake Shore Drive during rush hour Wednesday.
The dog, a pitbull mix named Domino, was hit by a car but is now back home and recovering thanks to his rescuers, who leapt out of their cars to lure the dog to safety.
At 8:30 a.m., Anthony Mesok of Rogers Park was going south on Lake Shore Drive when he saw drivers slow down and stop near Irving Park Road. Then he spotted a dog "covered in blood [and] just running" down the drive, Mesok said.
Domino, a light-colored pitbull mix with spots, dashed between lanes despite heavy traffic, Mesok said. Other drivers went slow but couldn't figure out how to get to Domino, so Mesok drove ahead, stopped his car, got out and tried to lure the dog to safety. 
Domino went past Mesok, so he drove up ahead again, got out of his car with the door open and started walking in the same direction as Domino.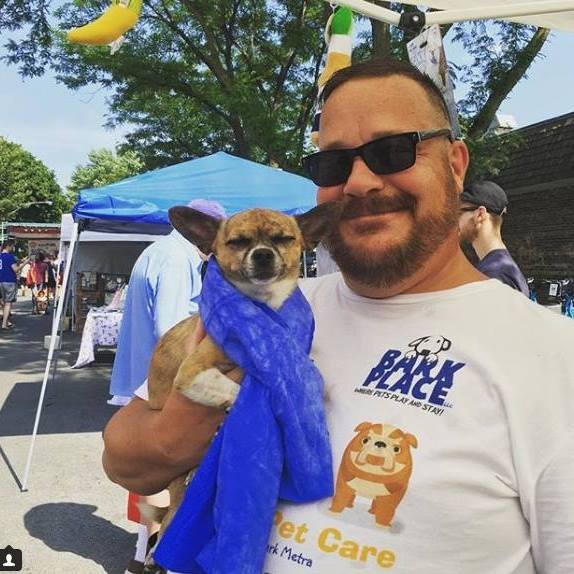 "If you want a dog to come to you, I've learned you have to go in the direction that you want the dog to go," said Mesok, who has dogs and owns a doggy daycare and grooming salon, Bark Place at 1775 W. Greenleaf Ave.
A limping Domino was still dodging Mesok, who moved and then lost sight of the pup.
"He's in your car! He's in your car!" other drivers called out.
Mesok looked into his car and saw Domino had gone in through the open door. The injured pooch was laying in the well near the pedals, bleeding from a cut on one of his paws.
A woman, who asked that her name not be used, also stopped in the street and asked Mesok if he needed help. The two moved Domino to the woman's car and they got off Lake Shore Drive and took Domino to a vet.
"He's very sweet," Mesok said. "I was a little nervous because he was so fearful, but he didn't try to bite or anything. You could tell he was relieved that he was in the car."
The first vet refused to take care of Domino after finding out his rescuers didn't know his owner. Domino eventually got to another vet who has treated him for four broken toes on one paw.
The pup has a cast but is doing well and has been reunited with his owners. 
Another woman, Monica George, of Andersonville, said she spotted Domino and tried to help him before losing sight of him amid the rush hour traffic on Lake Shore Drive. She turned to Facebook for news, fearing the worst, and was overcome when she learned Mesok managed to rescued the dog.
"Oh my God, this is the best news I've ever gotten," George thought when she saw a post from Mesok about saving Domino. "I was so, so, so concerned about it.
"The dog absolutely would have died if he hadn't done anything. It's just amazing."
George was so touched she sent flowers to Bark Place for Mesok, even though she doesn't know him. He's an "incredible human being" and a hero, George said.
"I think he's the most wonderful person in the whole world," she said.
Mesok said he didn't think twice about jumping from his car to rescue Domino and would have adopted or fostered the dog if he didn't have owners.
"I didn't think about myself getting hurt at all. … I wasn't even concerned about being hit by a car. I was just so focused on saving him that I don't understand people who wouldn't," Mesok said. "Everyone was so kind and patient about it, for the most part. It was wonderful to see everybody being concerned for this dog.
"It's not like I had a choice. I had no choice but to save the dog."
Do stories like this matter to you? Subscribe to Block Club Chicago. Every dime we make funds reporting from Chicago's neighborhoods.