BUCKTOWN — From the looks of it, Weissbluth Pediatrics intends to make a visual splash when it opens its third outpost in the former Quencher's Saloon this winter.
In fact, if the "sneak peek" posted on the medical office's Instagram is real, the building will look almost edible. 

Weissbluth Pediatrics published a photo of what its new Bucktown office at 2401 N. Western Ave. could look like, encouraging folks to "take a sneak peek as to what the corner of Western Ave. and Fullerton Ave. may look like one day soon…"
Reactions to the colorful building — sky blue with mustard-and-white striped window awnings and impossible-to-miss doors — were all positive. Comments included "this is so stinking cute!" to "LOVE IT! Can't wait for a closer office!"

When the Tribune's beer reporter Josh Noel tweeted a photo of the rendering in October, reactions ran the gamut from one-word gifs (NO!) to, "Quenchers was a loss, but I am kind of into this pediatrician going balls to the walls." 
On Wednesday, David Grass, chief operating officer of Weissbluth Pediatrics, cautioned that the colorful depiction of the building (currently brown brick) is "a high-level concept rendering."
In time, the office could eventually look similar to the rendering or "have a different look and feel," Grass said.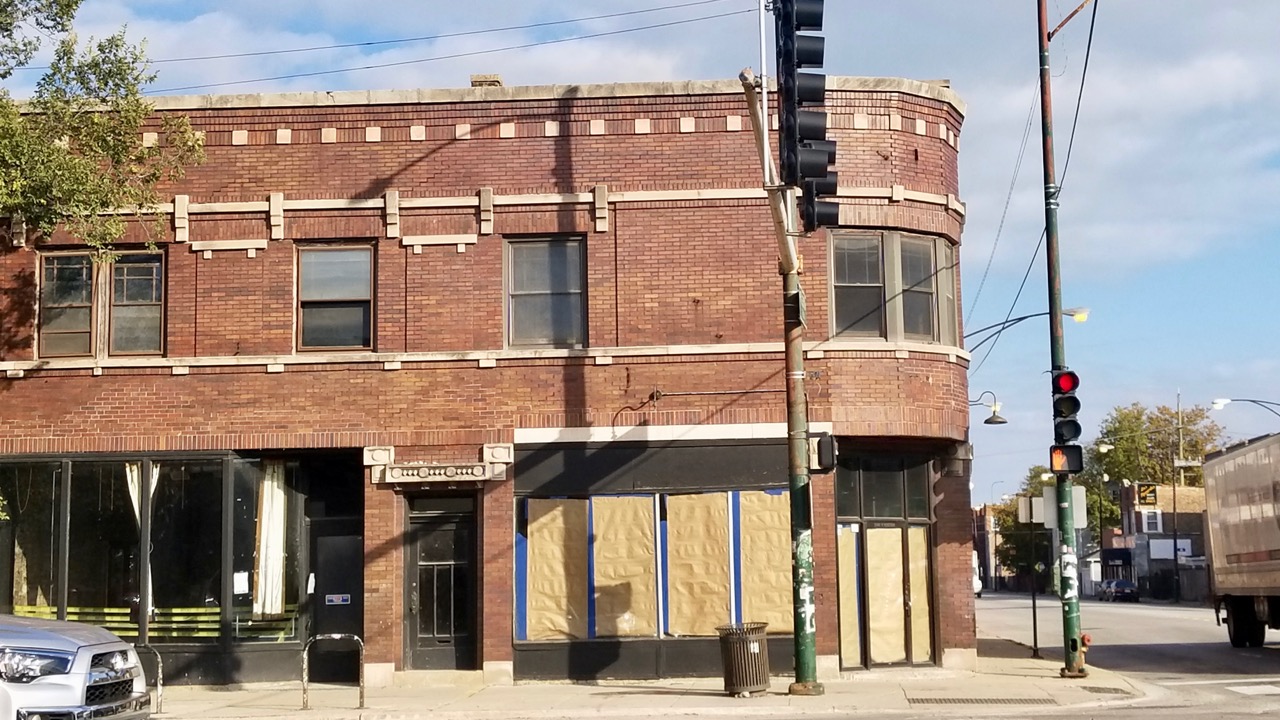 Once Weissbluth Pediatrics opens, the vintage corner building will look the same, outside of the possible paint job, Grass assured. 
Quencher's closed in June, a few months after Block Club was first to report of the impending sale of the building to a then not-yet announced medical office. 
"At this point, what it appears, is that it will no longer be a bar," Quencher's longtime owner Earle Johnson told Block Club last spring.
Founded in 2012 by Dr. Daniel "Dan" Weissbluth, the practice has grown to 12 providers and operates two other offices, in the South Loop and on the Northwestern campus in Streeterville. Grass said the color schemes on the interiors of both of those offices are "known for a warm and inviting feel that drive home the idea of personalized care."
Weissbluth aims to turn the second-floor of the new office into a "prenatal destination" offering free prenatal classes, (topics will include CPR, the first 48 hours, breastfeeding, "great baby sleep") yoga and community events for expectant couples, whether they are clients of Weissbluth Pediatrics or not. 

"We are excited to become part of the community and of the fabric of Bucktown and extended areas," Weissbluth said, adding that his Northwestern Prentice Women's and Lurie's Children's hospital-affiliated practice is "a blend of old school and new school," with house calls available along with FaceTime and Skype appointments.
Weissbluth said the decision to open a third office in Bucktown stemmed from the fact so many existing patients are already traveling to the Streeterville and South Loop offices from the Bucktown, Logan Square and West Town area.

The new office will offer free parking for patients in a lot adjacent to the practice that's accessible via a curb cut to the alley on the Fullerton side of the building. 
The Quencher's building dates back to the 1940s. Prior to Quencher's opening in 1979, the bar was home to "Jug-Full Liquors," which opened in 1946, according to the Chicago Bar Project. 
When asked about his take on the fact he will soon be helping children stay healthy in a building that has a long history of either being a corner liquor store or a revered bar, Weissbluth said, "The area is changing and I feel very strongly that we are here to help become a part of that change in the neighborhood."
An Artist's Reaction 
Phil Thompson, an artist and owner of Cape Horn Illustration, told Block Club shortly after the the rendering was published in October that his first reaction is "WTF?"
"Are those actual awnings or something painted on? Second reaction is, I'm glad they're not tearing it down, like so many places, and maybe this new look will be so ugly that it's eventually beloved. People adjust. Still — why paint brick? It's one of those changes that's tough to undo. Just keep the beautiful brick and terra cotta make-up free," Thompson wrote in an email.

If the corner does look like what Weissbluth proposes, fans of the old Quenchers may want to buy a print of what the saloon looked like from Thompson. 
Thompson included a drawing of Quencher's in a 2015 map of Chicago's best beer bars.
"I did it a while back when the craft beer wave was beginning. I drew it and my wife, Katie, colored it. I lived down the street from Quencher's (and Map Room) and loved them and they also had a reputation for being on the vanguard of craft beer offerings," Thompson said. 
Thompson said he was not commissioned to do the beer map.
"I just did it because it combined our passions: Chicago, craft beer, architecture, maps, and illustration. Now unfortunately the map has gone out of date, though the memories of these places live on," Thompson said.