CHATHAM — In an effort to create more outside patio space for neighborhood businesses, a new movable "People's Spot" prototype was unveiled in Chatham Monday, with hopes it will pave the way for more.
The "People's Spot" is a temporary platform that can be used to transform a curbside parking spot into an outdoor space for public use. The new prototype was revealed in front of Mabe's Deli at 312 E. 75th St.

The People's Spot prototype was made possible with help from a $30,000 grant from the AARP Community Challenge 2018 program, a grant that was awarded to the city's Department of Transportation. The program funds projects that improve community livability for local residents nationwide.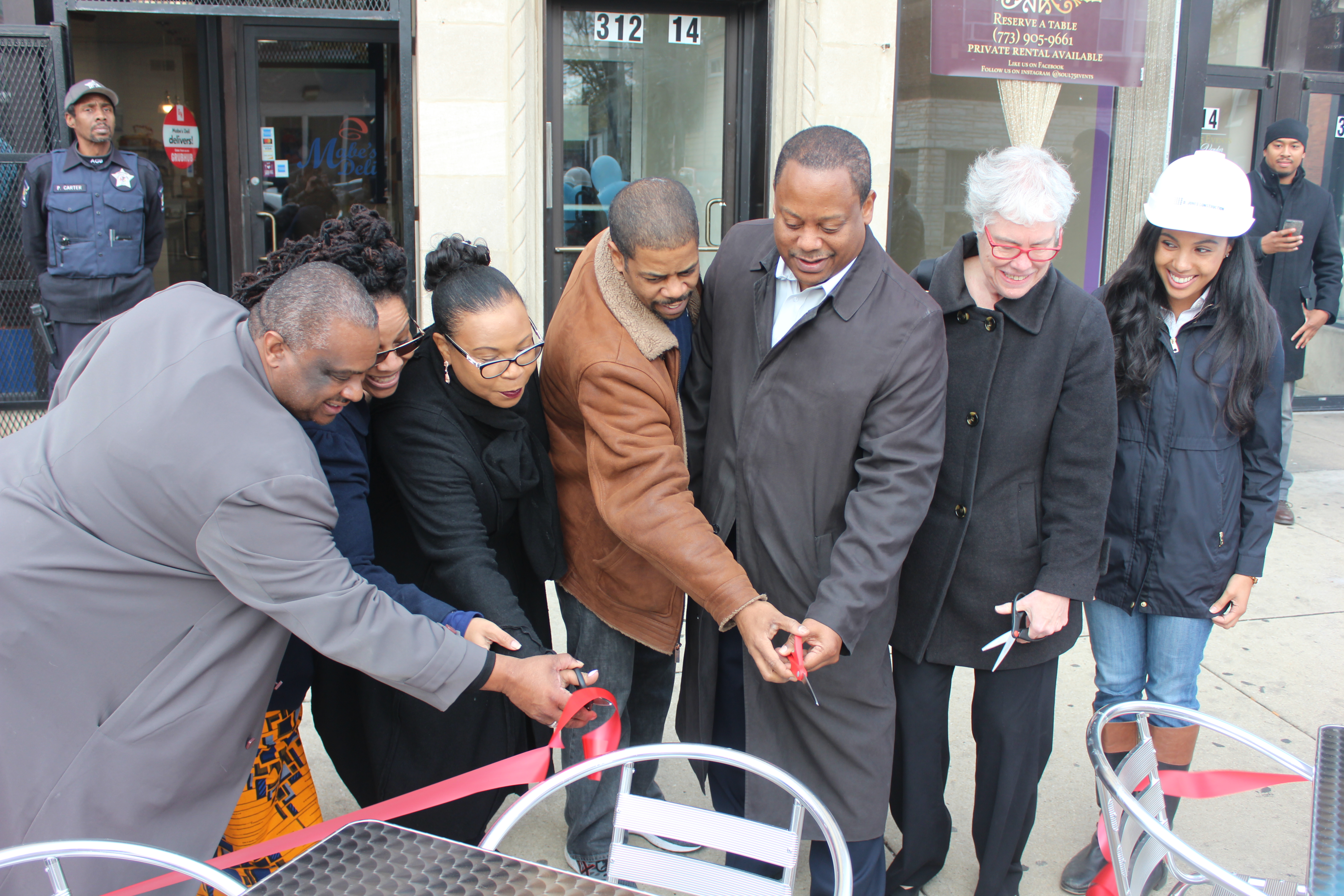 Ald. Roderick Sawyer (6th), on hand to cut the ribbon Monday, said he is "extremely proud and satisfied" with the prototype.

"It's truly indicative of what the community can look like if we're intentional and spend an effort to bring these type of amenities to our community and people will embrace them and want more of this," he said.

Luann Hamilton, deputy commissioner of the Chicago Department of Transportation, said past attempts to create a similar platform proved to be too expensive to regularly recreate for all communities. She said the decision to unveil the People's Spot at Mabe's Deli was, in part, due to the interest the Chatham Business Association had in the project.

The People's Spot will eventually be stored for safekeeping over the winter before being installed again in Chatham. Then, it will travel to other communities. 

Katherine Darnstadt, founder and principal architect of Latent Design, whose company designed the prototype, said the movable platforms are six feet wide and 20 feet long and can extend as far as 80 feet long. Building a People's Spot would ordinarily cost $30,000-$50,000 but thanks to the new prototype, a new People's Spot can be made for $10,000- $20,000.

"We wanted to make the design with readily available materials that you can purchase from anywhere so nothing's really special order," Darnstadt said. "What it looks like on 75th Street is completely different from what it will look like on 43rd Street which will be completely different from what's on Argyle. We thought hard about how could make the make most flexible and unique design that everyone could build."

Darnstadt said People's Spot architectural plans, renderings, construction drawings and construction photographs will be made available online to the public on the city's Department of Transportation website.

At the unveiling Monday, Sawyer was joined by Melinda Kelly, president of the Chatham Business Association, Derrick Rowe, co-owner of Mabe's Deli, Hamilton and Dominque Jones, chief executive officer of D. Jones Construction. D. Jones Construction built the prototype.