WICKER PARK — Fast expanding Milwaukee-based coffee chain Colectivo plans to open in a new building under construction at the northeast corner of Division and Damen. 
Colectivo Coffee aims to open its fourth Chicago outpost at 1211 N. Damen Ave. in Wicker Park by late winter or early spring, according to Scott Schwebel, vice president of brand, marketing and retail at Colectivo.
"It's a new construction [building] with beautiful natural light and indoor/outdoor room usage. We're intentionally building to be closer to the alley than the busy street corner," Schwebel told Block Club in an email.

The cafe, which also brews and sells its own beers, also has Chicago locations in Lincoln Park, Logan Square and a just-opened Andersonville outpost.
Related: Colectivo Coffee Opens Largest Cafe Yet In Andersonville
The new Wicker Park Colectivo will have an outdoor patio along Damen Avenue. Schwebel described the patio as "very cool" and recessed or tucked back from the sidewalk bustle. The patio will also feature a garden.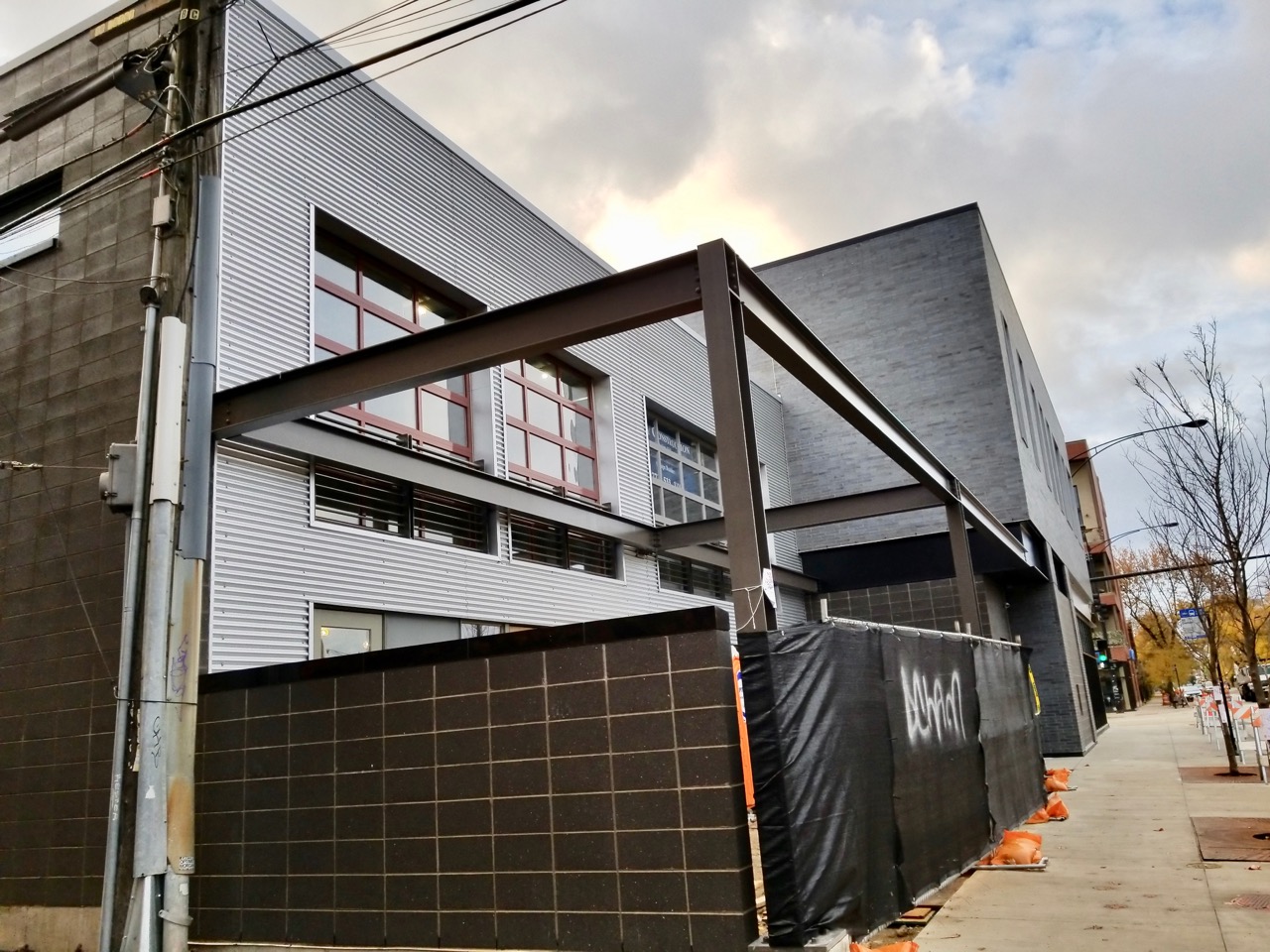 Above the cafe, a second-floor room will serve as the training headquarters for Colectivo's Chicago staff, Schwebel said. 
The Colectivo menus are typically very similar across all locations, Schwebel said. Patrons can expect to find Session roasted coffee, tea and beer. There's also made-from-scratch food, breads and pastries.
The huge new building spanning 1205-1211 N. Damen Ave. and a large chunk of the 1900 block of West Division Street replaced the Gomez Shell gas station, which was demolished in the summer of 2017.
A Belmont Bank branch will move into the building. Two more retail spaces are currently for rent. Both are on the Division Street side, according to signs in the windows.
The return of coffee to the corner via Colectivo will be a return to the past. Prior to the gas station, the northeast corner of Damen and Division was home to a grandiose apartment building anchored by a snack and coffee shop.
The century-old apartment building that predated the new$3.25 million building housing Belmont Bank and Colectivo was demolished sometime between 1966 when Sigmund J. Otsy photographed it and Nov. 7, 1971, when a Tribune story by Robert Cross headlined "Proud Old Stubborn Wicker Park," talks about "a couple of big gas stations" at Damen and Division.