WEST TOWN — Dozens of children in costumes — plus a few parents and dogs —  jogged to St. Helen Catholic School on Wednesday with their physical education teacher to celebrate Halloween.
Drivers passing by in cars honked and pedestrians shouted, "Happy Halloween!"
Organized by the school's P.E. teacher Tracy Roessner, the group started out small, just before sunrise at the Erie Street and Ashland Avenue intersection, and swelled to almost 50 as more participants joined in at designated intersections, similar to a school bus route.
By the third of five stops, at 7:15 a.m., when Block Club joined in, there was a sizable crew gathered at Chicago and Damen. 
Roessner was dressed as a medieval knight, or more specifically "a St. Helen knight," to represent the Ukrainian Village school at 2347 W. Augusta Blvd. that she's taught at for six years. 
"No one is making them get up and do this! They're exercising and they barely even know it… These kids inspire me. There is so much sadness and negativity in the world. I'm glad we can spread joy together," Roessner told Block Club.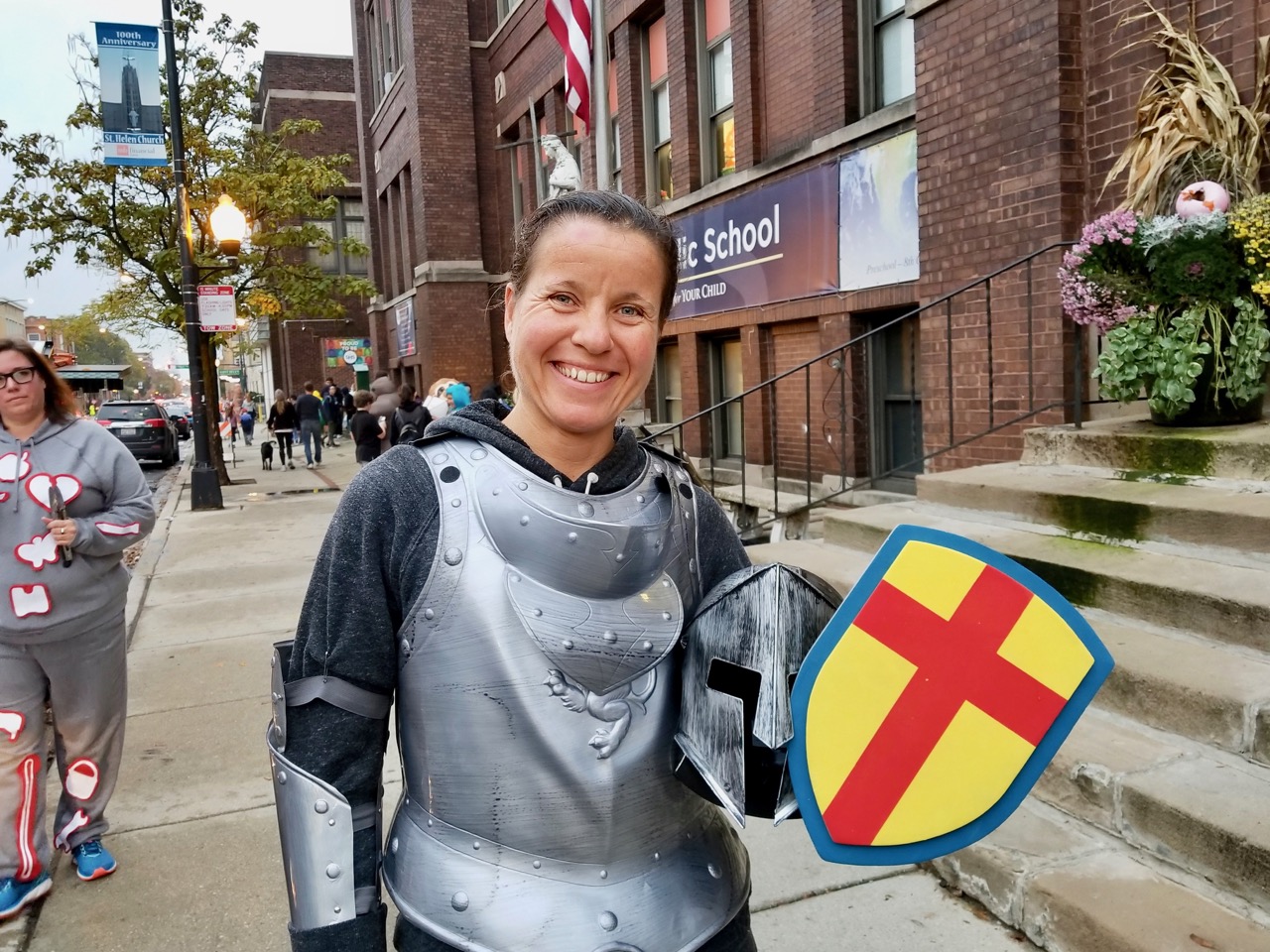 Wednesday was not the first time Roessner, who lives in West Town and bikes or jogs to work, has organized a group run through the streets with her students —  but it was the first Halloween run.
Since 2015, Roessner has made it a tradition to jog with her students to kick off their first day of school.
Roessner estimated the run to be just under 2 miles from its start to the end. 
Will Kozlowski, a seventh grader wearing a corn costume over his track pants, led the pack for much of the run along with fellow St. Helen student Jack Ray. The boys, who recently competed in the state finals for cross country in Bloomington, Illinois, are members of the school's cross country team that's coached by Roessner.
"I have run to school a bunch of different times, this is my first time in a costume… it was fun," Kozlowski said. 
Parent Christine Lawrence has three children enrolled at St. Helen School, in grades second, third and fifth. Lawrence jogged with her children —who were dressed as a panda, Stars Wars pilot and Pokemon character— and their family's dog Simon, who wore a cape.
"It's good school spirit. The kids are up and I don't have to struggle to get them out of bed, they are ready to go," Lawrence said. 
Bill Ragen, a dad in a chicken suit who joined in with his daughter near Division and Leavitt, described the experience as "invigorating."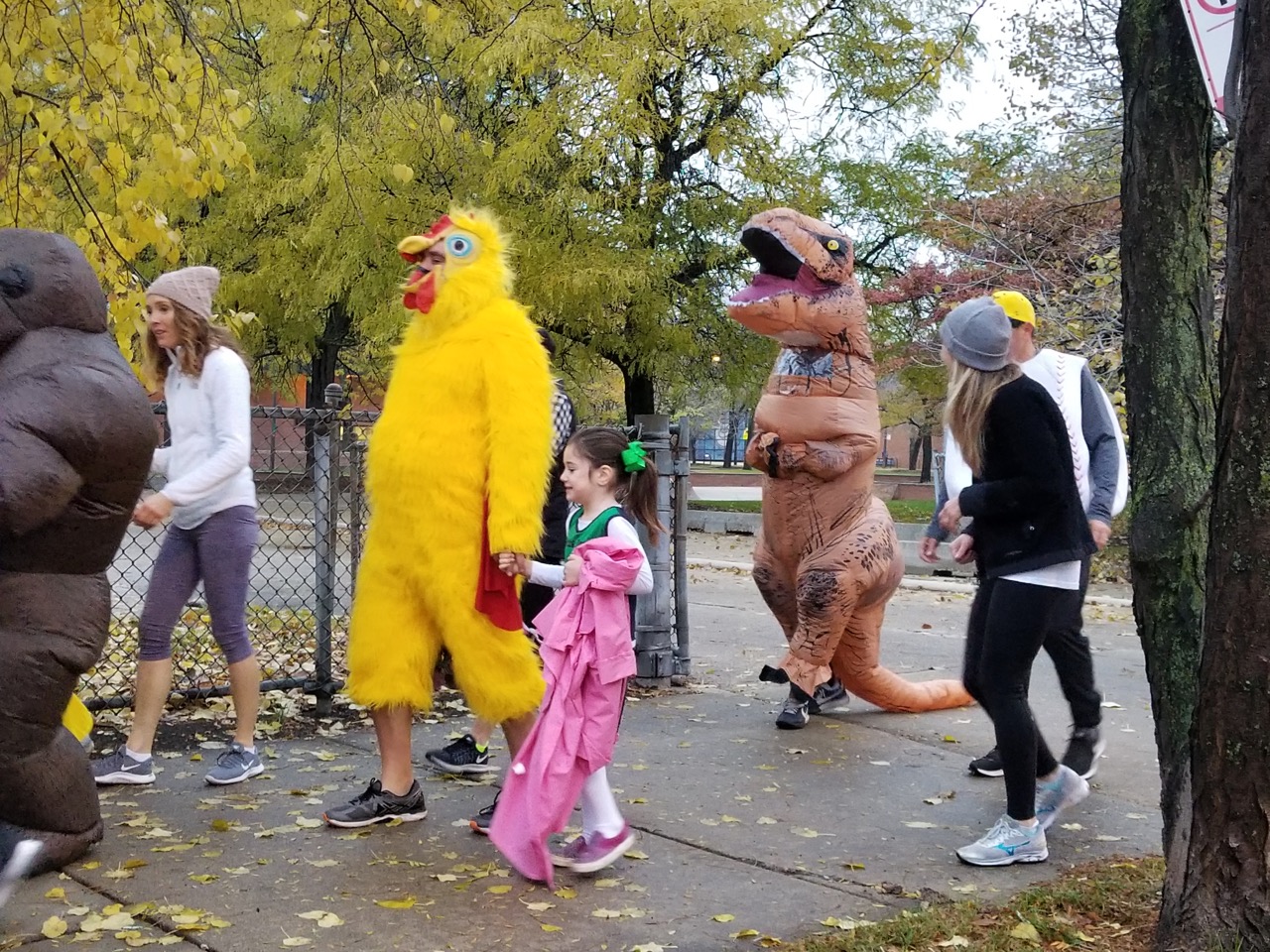 Roessner said the Halloween run was her largest yet, with about 10 more participants than the back-to-school run she held in August, when the weather was much warmer and the sun was up earlier. 
"They could be sleeping in, eating doughnuts, playing video games, but these kids consciously choose to take care of themselves, that's what gives me goosebumps," Roessner said.

The school serves 400 students in grades preschool through eighth grade, according to principal Marianne Johnson.
Johnson said the students who ran to school "came in very excited" on Wednesday. "It was not only just for Halloween but because they had just run to school in their costumes. Our fun runs are always very exciting. I am grateful to Coach Roessner and the families for participating."