IRVING PARK — Hundreds of neighbors gathered at Horner Park on Tuesday to honor the victims of the Tree of Life Synagogue shooting in Pittsburgh and speak against the rise in anti-Semitism across the country.

The vigil was originally planned to begin at 7 p.m. at the memorial of Henry Horner, the park's namesake and the state's first Jewish governor when he was elected in 1933. But heavy rain moved the standing-room-only vigil to the basement of the park's field house at 2741 W. Montrose Ave.
Inside the field house, a table was set with 13 small electric candles — 11 for the victims of the Tree of Life Synagogue and two for the victims of a shooting at a Kroger supermarket in Kentucky last week that's being investigated as a hate crime.

As people filed into the basement, Rabbi Jeff Stombaugh of Mishkan Chicago asked the crowd to hum along with him as he strummed a tranquil song on his guitar. When his song came to a close, Andrea Brands, one of the vigil's organizers, began reading the names of those killed in Pittsburgh, Penn. last week.

"These were people who had families, friends, love in their lives. We are here tonight to celebrate the light they brought this world that was horrifically extinguished by someone filled with hate and rage because of their religion," Brands said.

This past Saturday, Robert Bowers opened fire at Tree of Life Synagogue, killing 11 people. Armed with an AR-15 assault rifle and three Glock 357 handguns, Bowers shot while yelling "All Jews must die" during a baby naming service, according to KDKA-TV.
Bowers killed 11 people and injured six, two of which were in critical condition. After he was taken into custody, Bowers was charged with hate crimes, 11 counts of homicide and a number other federal and local criminal charges.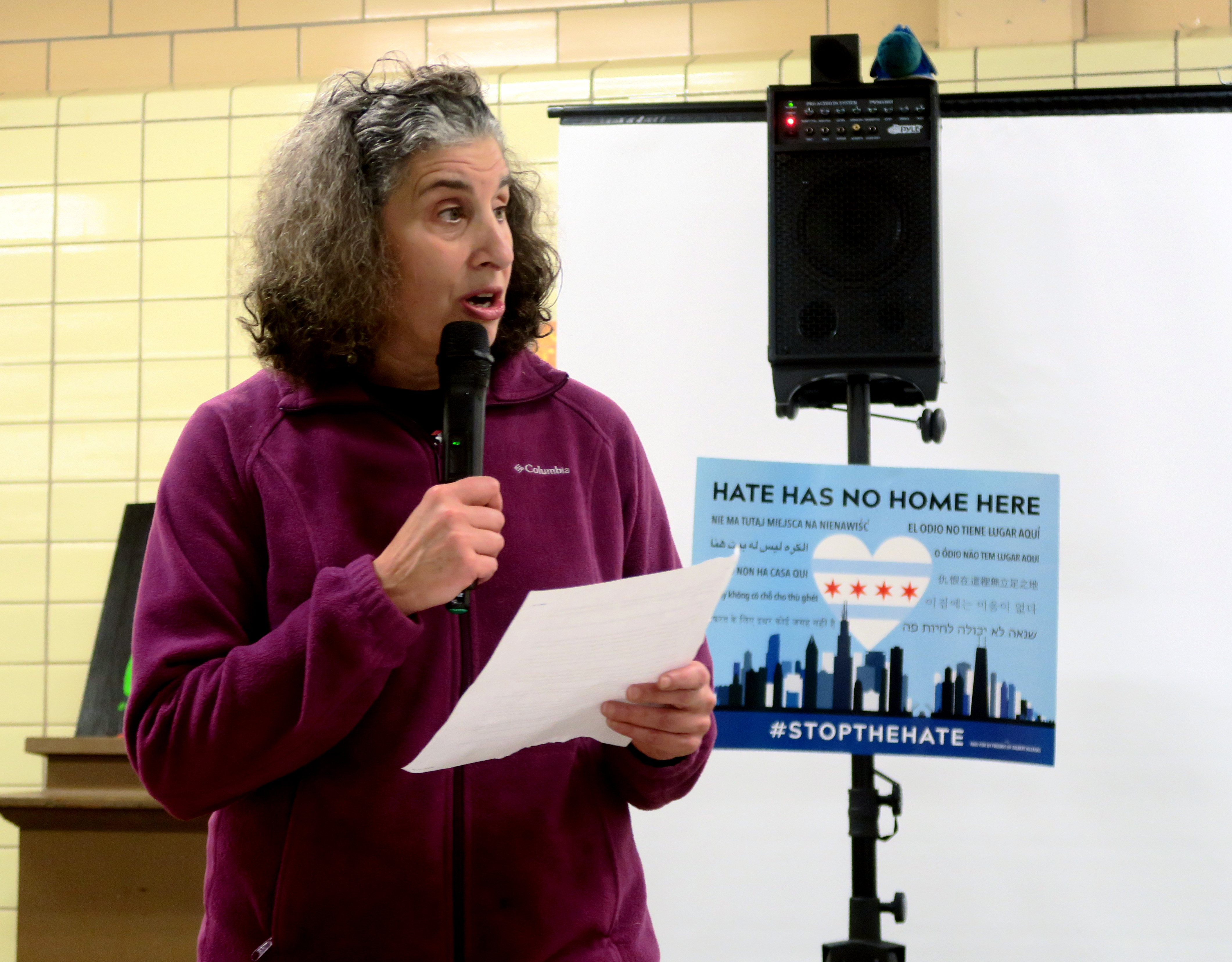 Aliza Becker, like so many other people across the country, was shocked and upset after the horrific mass shooting at the synagogue over the weekend.

She's lived near Horner Park for the past 31 years and reached out to friends online as news of the mass shooting spread. 

"I wrote a message on Facebook. I titled it 'A Message To My non-Jewish Friends,' and I asked them to please reach out to every Jew they knew. To let them know you care," Becker said. "This is a time when we need your love and support. The response was overwhelming."

Teresa Albano, one of Becker's friends, read her post and decided to work with Brands, another friend, to coordinate a vigil at Horner Park.

"It's really touching. It's nice to see your neighbors come together," said Nicole Vidales, one of the neighbors at the vigil. "This is my first vigil, my first event like this. It was very moving. I'm a Catholic but I just have so many friends who are Jewish and my heart bleeds. I just can't wrap my mind around what's happening nowadays."

Becker said it was heartening to have so many people show their support during a time when hate speech is becoming more common.
"I've been taken aback by the dramatic increase in anti-Semitic rhetoric over the past two years," Becker said. "I've been angered time and time again by the dog-whistle attacks on Jews. Attacks that only some people can hear."
In its annual report on anti-Semitic incidents, the Anti-Defamation League found the number of anti-Semitic incidents in the U.S. rose 57 percent in 2017. This is "the largest single-year increase on record and the second highest number reported since [the Anti-Defamation League] started tracking such data in 1979," according to the organization.
And in earlier this year, Nazi stickers with razor blades hidden under them and white supremacist flyers have appeared in the city's neighborhoods. 
At Tuesday's vigil, Albano said anti-Semitism 'otherizes' Jewish people, similar to how racism, Islamophobia, Homophobia and sexism targets other marginalized groups for discrimination.
"To mark a group as 'other' rips away the tie that binds us all as human beings deserving of life, liberty and the pursuit of happiness," Albano said. 
Albano said the ethos behind the slogan, "an injury to one is an injury to all," is a potent anti-venom to the poison of bigotry, oppression and hate.
"The president just declared he could wipe out the 14th Amendment of the Constitution and people's citizenship rights with the stroke of his pen," Albano said. "This effects us all. An injury to one is an injury to all. The killings at Tree of Life and the attacks on our democracy go hand-in-hand."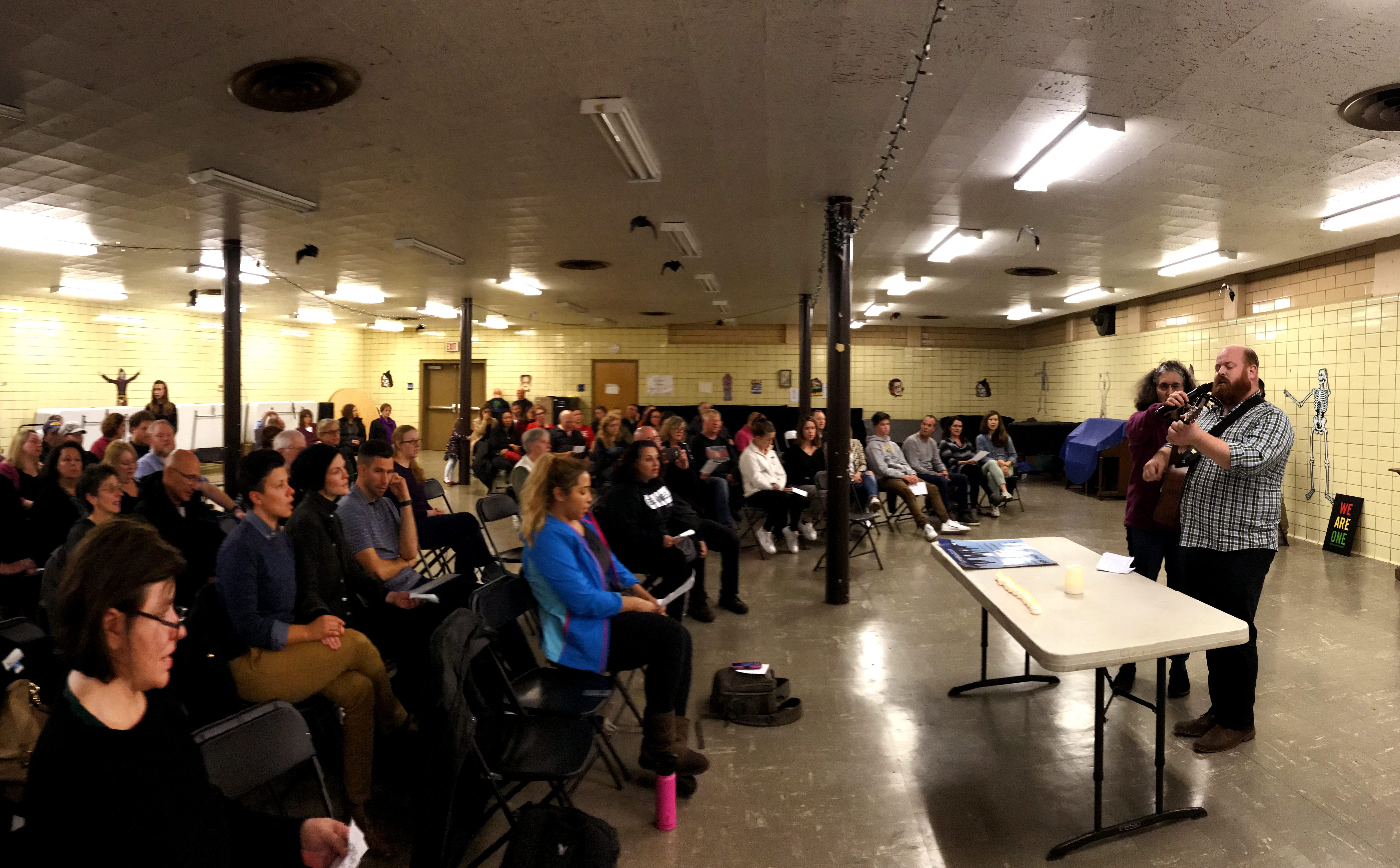 As the two hour vigil came to a close, the rain outside momentarily stopped and some of the crowd lit candles outside the field house, joining in song with one another.

Lily McCormick, 16, and her mom drove from suburban Naperville to be at Tuesday's vigil.
"I was really upset about what happened and I wanted to do something to help mourn the shooting. It was an amazing vigil. It's something that makes me feel that there needs to be a change," McCormick said.
"Go vote. I'm 16 and I can't vote yet. I wish I could," she said. "Vote for people to be safe when they're practicing their religion. When they're at work or just loving each other. Go vote and love each other."

Do stories like this matter to you? Subscribe to Block Club Chicago. Every dime we make funds reporting from Chicago's neighborhoods.