RAVENSWOOD — After operating Architectural Artifacts on Ravenswood Avenue for 31 years, owner Stuart Grannen is pulling up stakes and preparing to start over with a clean slate.
That means everything, or roughly 90 percent of everything, in the 80,000-square-foot salvage shop at 4325 N. Ravenswood Ave. must go. A popular but separate events business run out of same address will remain.
What's up for grabs? Oh, you know, just your usual run-of-the-mill moving sale stuff. There's furniture, albeit a Frank Lloyd Wright-designed desk and chairs instead of IKEA castoffs; kitchenware, because surely some pasta enthusiast needs a six-foot-tall olive oil cask; knick knacks (beef up your decor with a life-size anatomical model of a cow skeleton); and more. So much more.
The cream of Grannen's inventory, including rarities from his personal collection of Louis Sullivan artifacts, will be auctioned off live on Thursday (click here to preview). Bids are also being taken on hundreds of additional objects during an ongoing online auction, which closes Friday. 
For those unfamiliar with Architectural Artifacts, Grannen calls himself the "youngest of the old time architectural guys" — the salvagers who mined the demolition sites of iconic Chicago buildings like the Stock Exchange for architecturally significant bits and pieces, ranging from individual chandelier crystal drops to terra cotta ornaments to ironwork balconies to entire facades.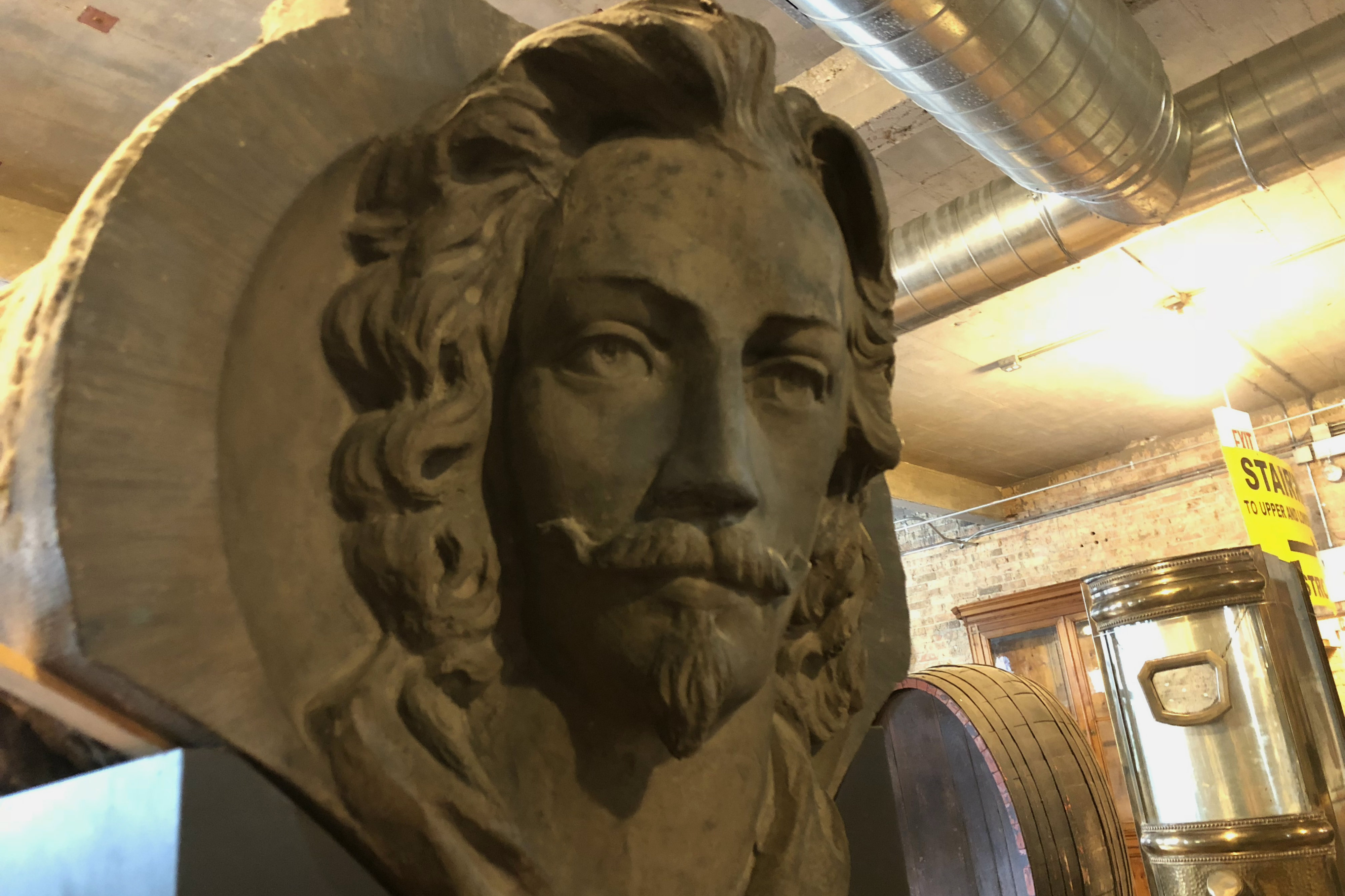 Grannen also just likes cool old stuff — what the shop's website describes as "the intriguing, the statement making, and the exquisitely eccentric." Invite Grannen to take a look at, say, a stash of vintage meat slicers and it's pretty much guaranteed he'll make an offer.
"My business brain says, 'What the hell am I ever going to do with that?' But the romantic guy says, 'Come on, let's get it and see what happens.' Generally speaking, I jump in, in part to save it and part of it is just stupidity," Grannen said. (For the record, the meat slicers — yes, that was a real deal — all found homes.)
It can take a year or two for buyers to materialize for some of his finds, a luxury Grannen doesn't have with the auction.
"I have prepared mentally for I could lose a million bucks. Probably will. I think I'll knock on some more wood," he said. 
"I want to have what nobody else has," Grannen continued. "But having what nobody else has, that's the good thing and that's the bad thing. Maybe nobody else has it because nobody else wants it."
In a sense, the auction is merely a compressed version of the gamble Grannen's been taking for 30 years, essentially rolling the dice with every acquisition for the shop. 
"You have to remember that absolutely nobody needs any of this stuff. It's all a luxury," he said.
Where Does All This Stuff Come From?
Grannen's obsession with architectural artifacts, lower case, can be traced to a luck of geography.
He grew up in New Jersey, 20 miles west of Manhattan, and said, "Our family fun was to go to all the great museums of the East Coast — New York museums, Baltimore, Boston. So I was exposed to all of these wonderful artifacts, and my parents furnished our home in antiques. And it just rubbed off on me."
Where his parents favored traditional antiques — think Chippendale chairs — Grannen developed a taste for the "wacky."
"For many years, the joke was, 'Why don't you sell "real" antiques?' That was what everybody in my family told me," Grannen said. "But after awhile they realized I was onto something."
So where does Grannen come across all of these "exquisite eccentricities"?
Demolitions are one source. Chicago, with its surplus of doomed architectural gems, has been fertile territory, though preservationists might argue that what's good for the salvage business is sad for the city's heritage.
One of Grannen's earliest coups was nabbing the salvage rights to a number of the city's old movie palaces, many of which were reduced to rubble in the 1980s and early '90s. Among his rescue missions, Grannen recovered the terra cotta pediment from the Sheridan Theater, 4036 N. Sheridan Road. Measuring 90 feet long and 22 feet high, the pediment (picture a triangular shape atop a horizontal base) enjoyed a second life in sunny Florida, where for years it crowned the building of a friend of Grannen's.
"He sold [the pediment] this summer because his building was getting torn down too," Grannen said.
Still other objects are found on the trips Grannen makes to South America (Argentina, most frequently) and Europe, where he prowls the continent's massive antique markets and calls on a vast network of individual dealers.
"We get the big truck, start driving, see the people we know, and buy. We do that for about a week and usually run out of money," Grannen said. "I love it, that's what keeps me alive."
Most of the transactions are straightforward exchanges but the antiques trade is also full of colorful characters — like the Italian dealer who, according to Grannen, is convinced he's an 85-year-old black blues musician — and even shadier types Grannen has learned to approach with caution.
Despite possessing a well-tuned b.s. detector, not even Grannen was prepared for his first encounter with the "Chicago way" when he was still new to the city. Which is a good thing, because it makes for a terrific story.
As Grannen tells the tale, during his early years in Chicago, he was quickly making a name for himself by buying anything he could get his hands on, even running want ads for fireplaces, stained glass, sinks and "all that stuff." 
One day, he recollected, he got a call about some Roman columns, met with the prospective seller to look at the objects, judged them to be legit and handed over a couple grand in cash. Then the police showed up, arrested Grannen for attempted theft and hauled him off to jail.
"The columns were a couple tons each, so I was pretty sure I wasn't going to lift them up and put them in my old raggedy pickup truck. I said, 'What's going on here?'" Grannen said.
Turns out a well-connected politician also did a fair business in the salvage trade and didn't appreciate the competition. Grannen had been set up. Threats of the "get out of town or we'll kill you" variety were made, according to Grannen, who wisely lawyered up, hiring an ace attorney who'd worked on the Operation Silver Shovel prosecution.  
After some serious legal maneuvering, the charges against Grannen were dismissed, and the threats came to naught. "It was part of my introduction to Chicago," he said. "That's Chicago, absolutely Chicago." 
Who Buys This Stuff and What The Heck Do They Do With It?
Given the bizarre nature of some of Grannen's acquisitions (see above: cow skeleton) it's surprising to learn that nothing really languishes at Architectural Artifacts. The only thing that's been collecting dust for the past three decades? "Me," Grannen said. "That's it."
All of which begs the question, who buys this stuff?
The answer has changed over the years. 
It used to be average homeowners undertaking renovations, on the hunt for fireplace mantels, light fixtures and other objects that would match period-specific details in their homes. 
"Nobody does that stuff anymore," Grannen said. "After the recession or depression or whatever the heck it was, a lot of that changed and people don't really spend money on their houses like they used to."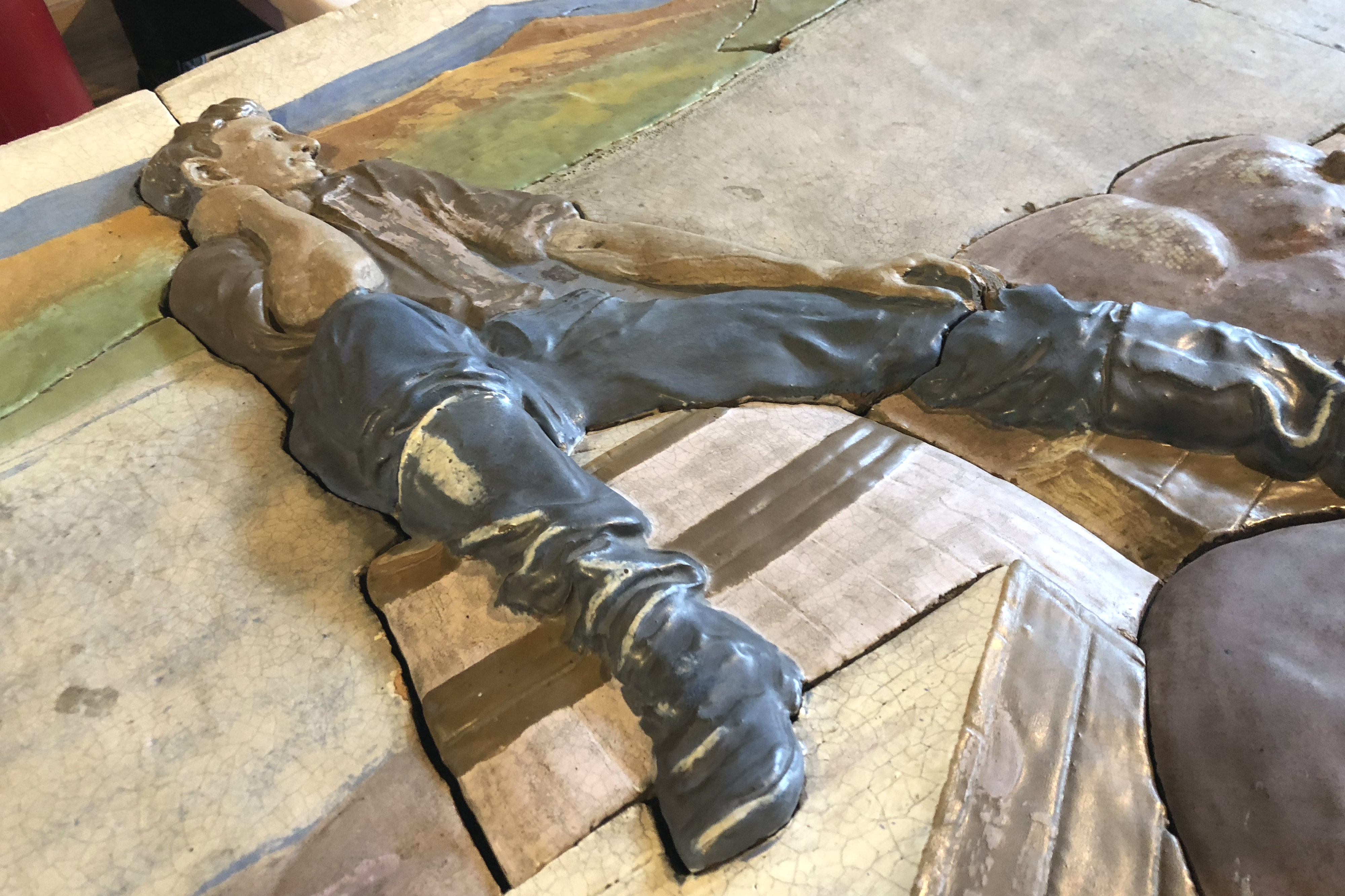 Today's clientele skews toward bars, restaurants, hotels and other commercial customers. Interior designers, architects and other antique dealers also frequent Architectural Artifacts.
As a result, Grannen said his inventory has shifted from "need" to "want" — pieces that have little practical utility but are valued simply for their design and aesthetic appeal.
"They're beautiful because they're beautiful," Grannen says. "Does everything have to have a purpose?"
Indeed, for many who wander into the shop, Architectural Artifacts operates less as a store and more like a de facto museum of the history of design, ornamentation and craftsmanship. It's the sort of place neighbors bring visiting friends and family to while away an afternoon, with price tag descriptors doing the work of museum labels.
"I'm glad that it's an interesting respite for people," Grannen said. "It's not my purpose in life necessarily, but I'm glad that it works that way."
The comparison to cultural institutions raises the sticky issue all salvagers have faced at one time or another: Should these objects be for sale or do they really belong in a museum?
Grannen weighs the question.
He talks about a sculpture he recently purchased from a North Shore estate. The piece, just sitting in the backyard, turned out to be a long lost work by the sculptor Alfonso Iannelli. The  internationally respected artist is known for the bronze zodiac plaques that hang in the Adler Planetarium and the relief sculpture, "Rock of Gibraltar," which graces the facade of One Prudential Plaza. Iannelli also collaborated with Frank Lloyd Wright on Midway Gardens' stunning "Sprite" sculptures.
According to Grannen, the North Shore find was the centerpiece of Iannelli's 1925 exhibit at the Art Institute; later photos show that at one point the sculpture had moved to Iannelli's home. "Then nobody knew what happened to it. It just disappeared," Grannen said.
Though the Art Institute would seem the natural home for such an important work, one with ties to Chicago's history, Grannen argues otherwise.  
"If I donated it to them, it would sit in a basement for the next thousand years. Nobody would ever see it again," said Grannen, who sits on the board of directors of the Art Institute's Architecture & Design Society. "I'd rather have a private person share it, instead of it sitting in a basement."

'I Just Got Lucky'
One might wonder why, when Grannen's divesting himself of Architectural Artifacts' accumulated treasures, he's also actively still in buying mode. That's because, to clarify, "moving" doesn't translate to "going out of business."
Grannen sold his Ravenswood building a few years ago and has been leasing back part of it, a relationship that's now ending. He has his eye on a new location for a sort of sequel to Architectural Artifacts, likely opening in mid-2019, that will differ from its predecessor in one notable way: Grannen won't be the proprietor. 
Like a lot of small business owners, Grannen grew weary of the 24/7 grind, so he'll be leaving the day-to-day operation of the new venture to others. (Meanwhile, Architectural Artifacts' manager, Erik Retzer, will run a vastly scaled down version of the existing shop in a much smaller space at the current location.) 
"I've put in two or three lifetimes of hours of work. I'm just done," Grannen said. "The new project will be myself and some other people; I'm just the buyer, which is all I like to do anyway."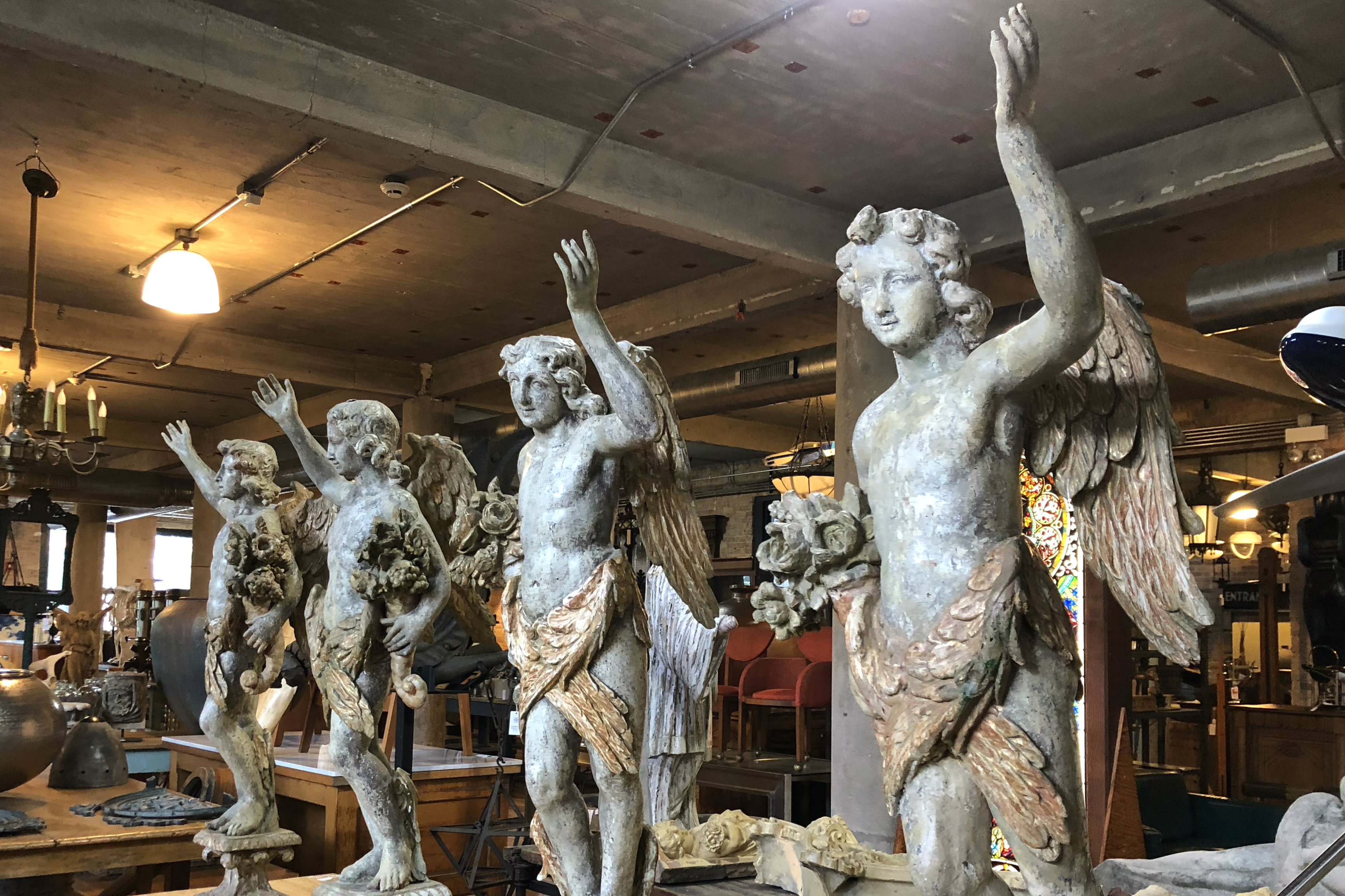 At the age of 61, Grannen said that while he still enjoys the hunt, the thrill of discovery and the travel — he estimates he's on a plane 300 times a year — it's time to leave the physical side of salvaging, all that moving of merchandise that weighs in the tons, to a younger generation. 
Yeah, cranes do most of the heaviest lifting, "but I still have to get on top of pieces. In order for the crane to move them, I have to rig them," Grannen explained. "It's dangerous, and you know, you could pretty easily get killed if somebody screws up. I'm getting a little old for that."
As he prepares for the next phase, Grannen took a moment to look back on his humble beginnings in Ravenswood, a reflection that more or less summed up his approach to life. 
Back when he first landed in the area — having moved from Nashville after a slew of buying trips up north made it clear that Chicago was the place to be — Ravenswood felt like no man's land. 
"The street was cobblestone. About half was cobblestone, half was dirt. I had no idea where I was," Grannen recalled. "I don't even know how I ended up on Ravenswood. Part of it was the Diner Grill. It was the first place I ever ate in Chicago, I used to eat there every morning. So maybe that's part of the reason."
He was drawn to the area's unusual juxtaposition of industrial and residential. "I was definitely the first sort of store around here," Grannen said.
After renting for a few years, Grannen took a leap and bought what he calls the "little building" (later absorbed by the neighboring property, which Grannen also snapped up). 
"It was $255,000 and everybody said, 'You're out of your mind.' I thought, well maybe, but it suited my needs. I just liked it. I'd like to say that I thought, oh, in 20 years this is going to be a gold mine. But I just got lucky."