BUCKTOWN — In recent weeks, rows upon rows of Teslas — including the electric car maker's new Model 3 sedan — have been parked in a former emissions testing facility in Bucktown.
Given that electric cars give off less emissions than gas-powered cars, the hundreds of Teslas stored at the Environmental Protection Agency's former emissions testing facility at 1850 W. Webster Ave. have been a source of jokes on social media.
"Sweet Irony," one Reddit poster remarked.
On LinkedIn, Justin Hood, a Bucktown resident, posted a photo of the parked Teslas and solicited responses to a fill-in-the-blank question of, "Using a former emissions testing facility as a holding area for Tesla inventory is the definition of _____."
One-word responses from Hood's network included "Fahrvergnügen" (or "driving enjoyment"), "power tripping…" and "progressive reuse," "shifting the problem" and "a definition of I told you so."  
The oft-busy emissions testing facility shuttered two years ago this November in a consolidation. 
On Monday, a Tesla spokesman declined to provide any information on why the cars are being stored in the lot, outside of saying, "Tesla confirmed these are cars that are being delivered to customers."
Some of the cars were manufactured earlier this month, stickers in the windshields show.
According to the lot's owner Warren Baker, the former emissions facility lot is being rented on a month-to-month basis by Tesla.
The lease started on September 1 and the cars will not be there forever — it's a temporary holding place where new cars are waiting before getting to customers, Baker said. 
Tesla is also planning to open a permanent location at another Baker-owned property: 3067 N. Elston Ave. in Avondale.
Jason Hernandez, chief of staff to Ald. Deb Mell (33rd), said Tesla will be opening "a new storage and maintenance" location at the Elston Avenue address.
"We can confirm that the location on Elston and half the lot behind it on Rockwell will be used for maintenance and storage for Tesla," Hernandez said.
Baker did not return a request for comment on the Elston Avenue location. The Tesla spokeswoman declined to comment on the Elston Avenue location.
Baker also owns that property, according to county records.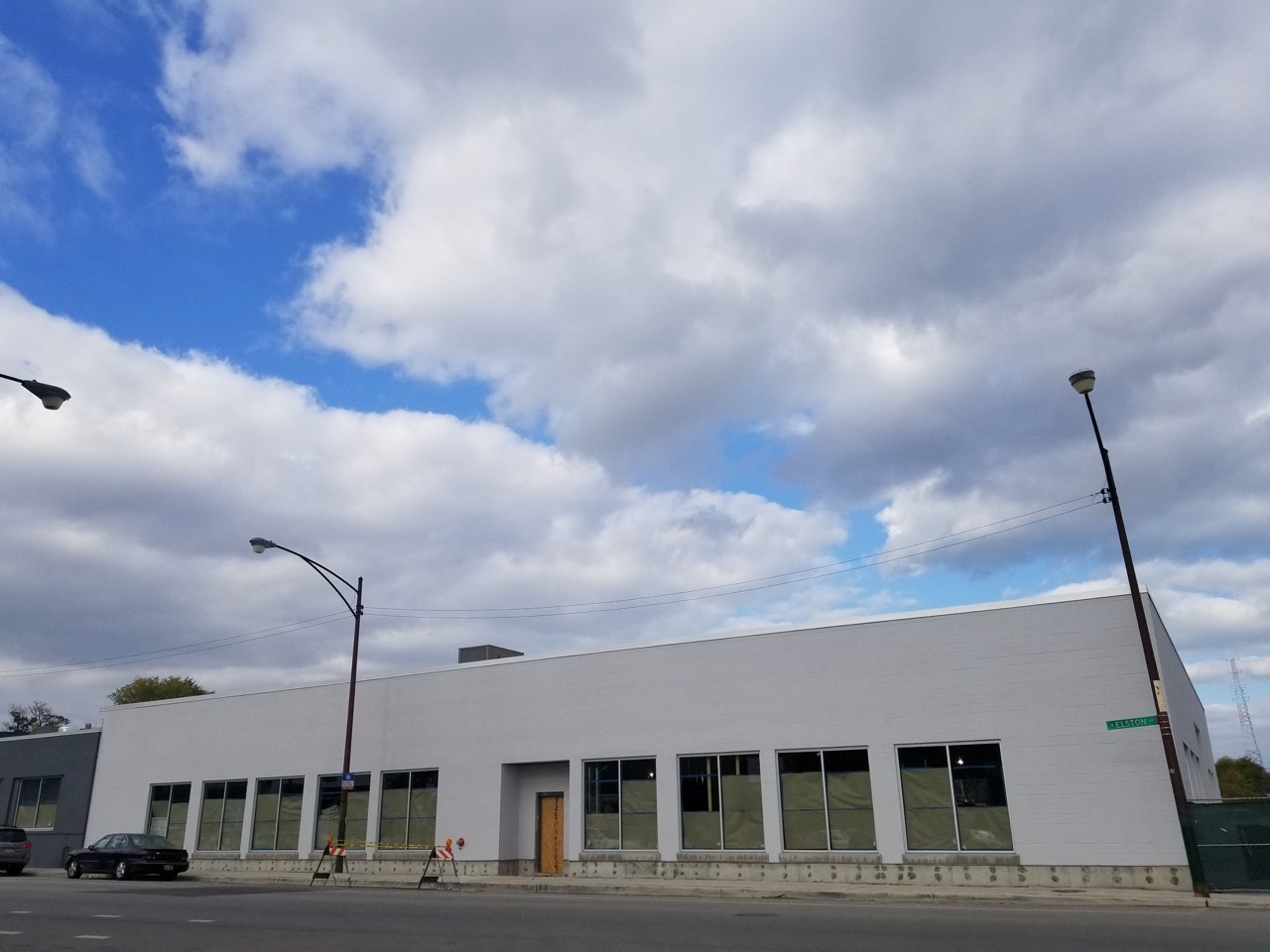 Hernandez said the lot on Rockwell Street behind the under-construction Elston building has long been a headache and "source of frustration" for residents.
"It was functioning as an all-purpose lot, it was a yard for different businesses to store their equipment. There are so many great investments coming to that corridor. We are happy to see it improved and excited to see something come there," Hernandez said. 

The new Tesla location on Elston Avenue will not be a dealership (or "gallery" as Tesla calls their showrooms), workers at Tesla's gallery in the Gold Coast told Block Club. Tesla also operates a sales and a service center in West Town at 1053 W. Grand Ave. Additional suburban outposts are in Highland Park and Westmont.
A June 2018, a city building permit posted at the construction site and issued to Baker describes the $1.2 million renovation project as "Tenant build-out for proposed "auto service and repair center" as per plans."
According to Tesla's third-quarter financial report shared with investors last week, the carmaker is planning to open dozens of body shops in high density areas in the near future.
"Since body repairs have been one of the major drawbacks for our customers, we have started to roll out our own body shops in the US. Thus far, we have opened several body shops in the highest density areas and are planning to open dozens more in the next few quarters," the report states. 

A source close to the Elston Avenue project said on Monday that if everything goes as planned, the building will be ready to be turned over to Tesla in about a month. 
Meanwhile, the parked cars will likely continue to pique the curiosity of many residents who pass the former emissions testing facility on their way to and from the Kennedy Expressway.
"I just thought it was a hilarious bit of ironic metaphor. Not sure if it's a statement about the fluidity of economics or a foreshadowing of Tesla's own future. Just fascinating, regardless," Hood said. 
Susan Dinko, another resident, said she's still upset over the closure of the emissions facility. Though drivers often complained about long lines, motorists over the past two years have been forced to drive to the suburbs to get their car emissions checked.
"It baffles me they closed down such a prime location that accommodated a mass numbers of people and vehicles and close to the Expressway. It always had long lines," Dinko said.