Update: As of 4 p.m. Friday, the water was determined to be safe after testing and the boil order has ended, officials said. 
IRVING PARK — The city's water department is asking people who live on a two block stretch of North Keeler Avenue to boil their water until further notice.
The notice tells residents to bring water to a rolling boil for at least five minutes before using it before drinking, making ice cubes, washing foods and dishes or brushing teeth until further notice. This issue was apparently caused by a 120-year-old broken water main, according to the alderman's office. 
"We're testing the water now but the flyer was sent out of an over abundance of caution," said Megan Vidis, a spokesperson for the water department. "The water pipe's age is why the city has been engaged in this ambitious project to replace and repair our infrastructure."
The water test results are expected by Friday afternoon. If they show it's safe to use, new notices will be sent out to residents ending the boil order, she said.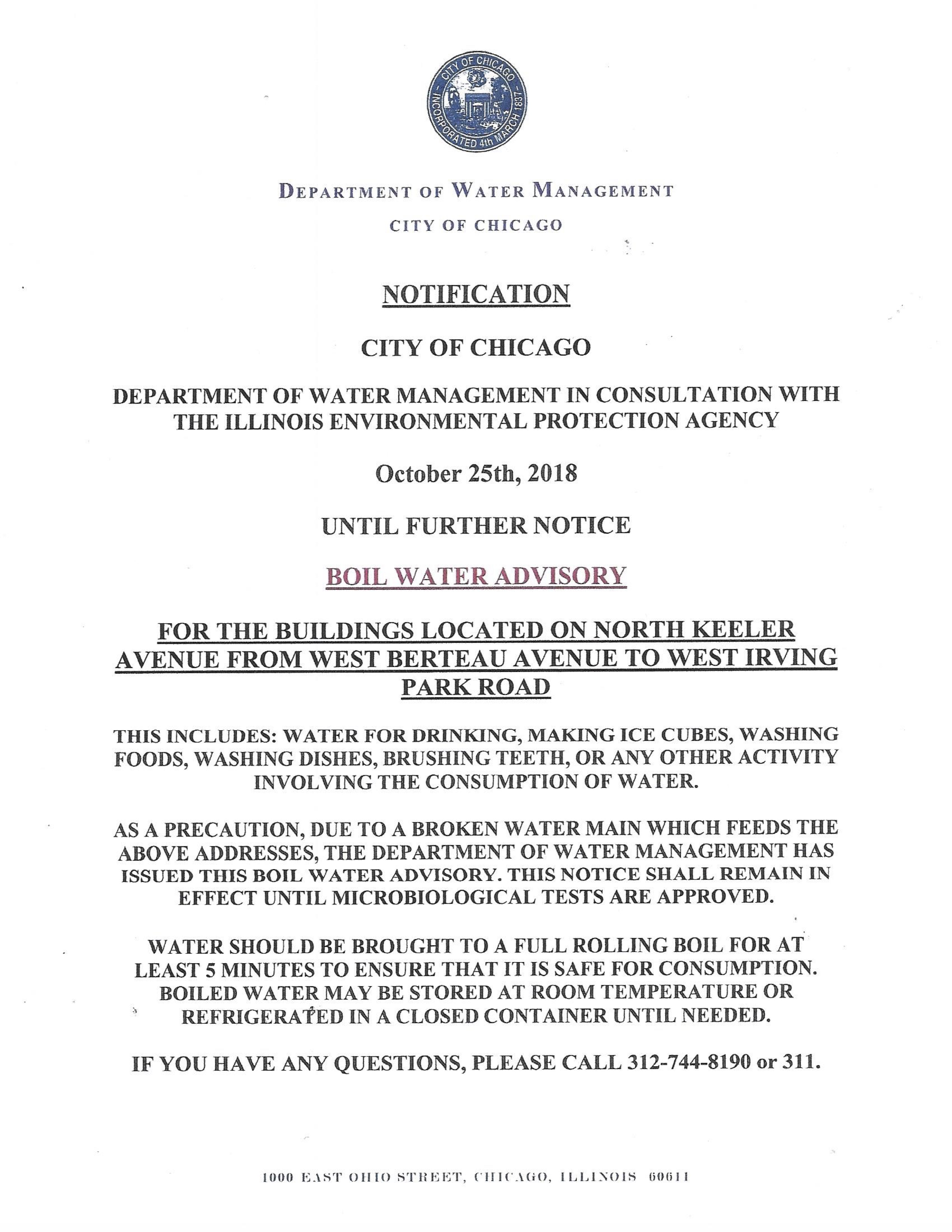 The previous water main was installed in 1890, said Manuel Galvan, a spokesperson for Laurino's office.
On Wednesday, a newsletter from Ald. Margaret Laurino (39th) included an infrastructure update on the 2,615 feet of new 8-inch water main being installed between West Montrose Avenue to West Irving Park Road.
"The very next day the water department sent out their notice about the boil order," Galvan said. "Apparently the main was so old it broke."
Resident John Kuczaj, who lives in a condo building near West Belle Plaine Avenue and North Keeler Avenue, first saw the boil order notice Thursday afternoon. 
"It's is quite odd, they've been working on replacing the water main down the street for the past couple months and it seems the work is going by pretty quick and methodically," Kuczaj said.
Do stories like this matter to you? Subscribe to Block Club Chicago. Every dime we make funds reporting from Chicago's neighborhoods.