WICKER PARK — "If you decorate, they will come" is a good adage for Halloween  — and in Wicker Park, Bucktown and West Town, there are definitely some blocks that look more inviting than others.
Based on observations and conversations with parents, Block Club put together this list of trick-or-treating hot spots for Halloween on Wednesday. Hours are typically from 3- 7 p.m. but may vary. 
The 1200-1500 blocks of North Hoyne Avenue between Division Street and North Avenue. It's known as "Beer baron row" because of the beer distributors and wealthy wine merchants who once lived in many of the Victorian mansions dotting the blocks. Every Halloween season, many of the Hoyne homes put on a spooky show. 
The 2100 block of West Cortland Avenue. This block also hosts a block party during trick-or-treating, so young revelers are up and down the street.
The 1600-3750 blocks of West Bloomingdale Avenue aka "The 606." All along the elevated trail, multiple community group partners and local police officers will be stationed at entrance and exit ramps, giving away candy from 5 -7 p.m, organizers say. 
The 1600-1800 blocks of Wabansia Avenue between Honore and Marshfield. It's near the east end of The 606, for those who are trick-or-treating along the 2.7-mile path and need an end cap. As an added perk, staffers at Club Lucky, 1824 W. Wabansia Ave. will be welcoming trick-or-treaters outside. For adults who want to anchor themselves on the supper club's patio while their kids go up and down the block, special Halloween-themed cocktails include "Pineapple, Smoke and Devil Tree," a mezcal-based concoction with a bit of banana splashed with dark rum over crushed ice. But unlike candy it's not free and will cost $15. 
The 2200 block of West Erie Street. One parent there said, "We're ready!"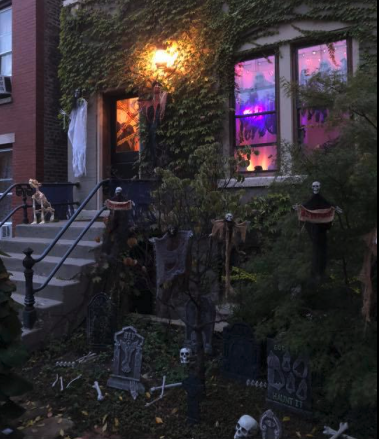 When asked if there is a specific block that's more popular than others during Halloween, Steve Jensen, vice president of the Bucktown Community Organization, said that pretty much any residential block in Bucktown showcasing a lot of decorations is a good bet. "There are more children than ever before in Bucktown," Jensen said.
Look for the Balloons 
Before or after setting out to the residential areas, young ghouls and goblins should consider going door-to-door at more than 60 shops along Wicker Park, Bucktown and West Town's retail corridors.

From 3 to 6 p.m. on Wednesday, participating businesses from the Wicker Park Bucktown and West Town Chamber of Commerces will put out balloons to mark the way for trick-or-treaters. The event is hosted by the neighboring chambers and fittingly sponsored by Orthodontic Experts of Bucktown.
Consult the below map for participating businesses. As in previous years, the enthusiasm can be contagious, so it's likely even more shops than those on the list will be welcoming costumed candy seekers.