LOGAN SQUARE — Cute dessert alert!
Pretty Cool Ice Cream is serving up "trick-or-treat pops" for Halloween — and they're adorable.
By pops, we mean ice cream bars — the kind of sweet treats you'd find on an ice cream truck. That's the hip new ice cream spot's specialty.
Below are descriptions of the special Halloween bars (or pops — whatever you call them, they've quickly become a neighborhood favorite.)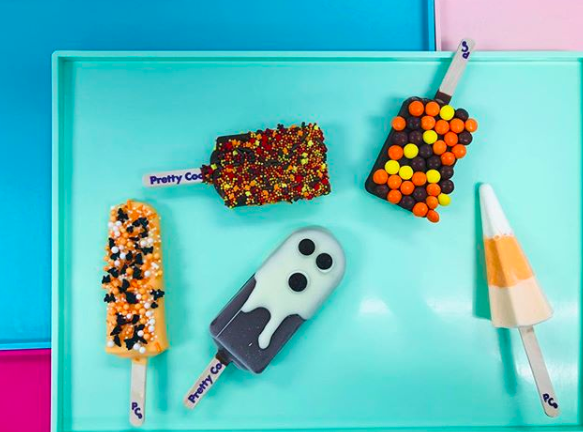 On the far left is the black cat bar, an orange party pop made with cream cheese ice cream and an orange-flavored magic shell.
The ghost pop is also a party pop made with cream cheese ice cream and dipped in dark and white chocolates. It's the only grown up-sized pop in the bunch and costs $5, according to owner Dana Cree. The rest are tot-sized and cost $3 each.
The autumn vanilla pop is a bourbon vanilla bean custard bar topped with an autumn leaf sprinkle blend. 
The Reese's Pieces pop is made with peanut butter ice cream, dipped in chocolate and topped with mini Reese's Pieces.
And, finally, the candy corn bar is essentially an orange sherbert bar.
They're available now through November at Pretty Cool, 2353 N. California Ave., which is open everyday noon-10 p.m.
The ice cream spot is also selling packs of 12 pops for $9 made specifically for people to hand out on Halloween with special wrappers. They come in regular flavors. 
"We thought it was a fun way to hand out a halloween treat that was different and above and beyond the usual wrapped candy, and we discounted the paper pops as much as we could to allow the neighborhood to afford them," Cree said in an email.