GOOSE ISLAND — The Chicago Avenue bridge will close next Thursday for a bridge reconstruction project — and it won't reopen until early next year.
The Chicago Department of Transportation announced this week that the bridge closure will start at 5 a.m. Thursday, Nov. 1 and will impact Chicago Avenue between Larrabee and Halsted Streets.
The current bridge was constructed in 1914 and requires a full replacement to "maintain and support the volume of vehicle, bus, bicycle and pedestrian traffic in this active corridor," officials said in a news release.

Demolition of the existing bridge will start Nov. 1. The full project to replace the bridge is expected to last five months; however, Chicago Avenue is scheduled to reopen to traffic early next year.
Marked detours have been designed for bicyclists, pedestrians, vehicles, CTA buses and trucks (see detour map here, or below).
Trucks will be asked to use North Avenue as a detour to get across the river, while the suggested detour for cars and bikes appears to be Division Street. The north- and south-running Halsted and Larabee will likely see heavy traffic as a result of folks using those streets to get to their east- and west-bound river-crossing alternatives, respectively.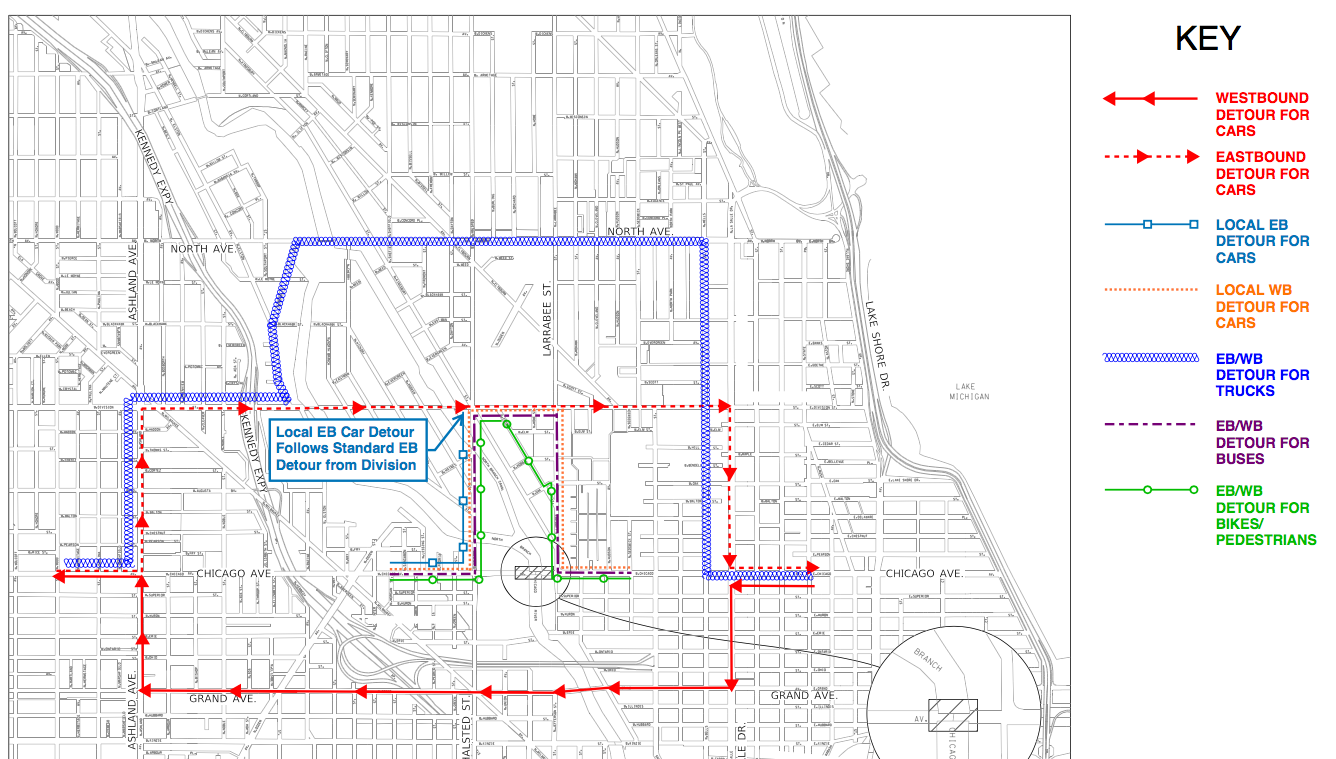 In a statement, the Chicago Department of Transportation emphasized that it's "making every effort to keep traffic disruptions as short as possible and is limiting other construction on the detour routes, and restricting parking to maximize road capacity." 
Additionally, to ease the commuting woes for cyclists and the estimated 15,000 daily bus riders in the corridor, the CTA No. 66 Chicago Avenue bus will use a temporary, shared bus-bike lane scheduled to be installed on Halsted Street between Chicago Avenue and Division Street in both directions.
The shared bus-bike lane will be curbside and have no impact on normal traffic flow or roadway capacity along Halsted Street because all car parking along a half-mile stretch of Halsted will be prohibited. The temporary lane exclusively for buses and bikes means that car parking will not be allowed on Halsted, officials confirmed. 
During the construction detour, the Chicago Department of Transportation and the CTA encourage the use of public transportation to alleviate congestion. 

In addition to the Chicago Department of Transportation's website, cyclists and motorists can follow CDOT for updates at @ChicagoDOT on Twitter or Facebook.