NORTH CENTER — Students at Alexander Graham Bell Elementary School gathered Tuesday to dump a few buckets of green slime on their principal and assistant principal after raising more than $100,000 for the school. 
The annual Bell Walk happens every fall and is the school's largest student fundraiser. The school's community raises money by walking laps around the school, with music and mascots cheering students on as they walk.
At this year's walk-a-thon, held Oct. 11, students raised $102,000 in donations from family and friends, smashing the school's $90,000 goal, said Krissy Lee, a parent with Friends of Bell.
"The students far exceeded it," Lee said. 
As an added incentive this year Principal Kathleen Miller and Michael Kosko, Bell's assistant principal, agreed to be slimed by students if they were able to reach the fundraising goal.

"Every year we have our walk-a-thon and we are always looking for new and creative ways to increase parent involvement," Miller said. "We chatted with the chairs of the walk-a-thon committee and they came up with this idea."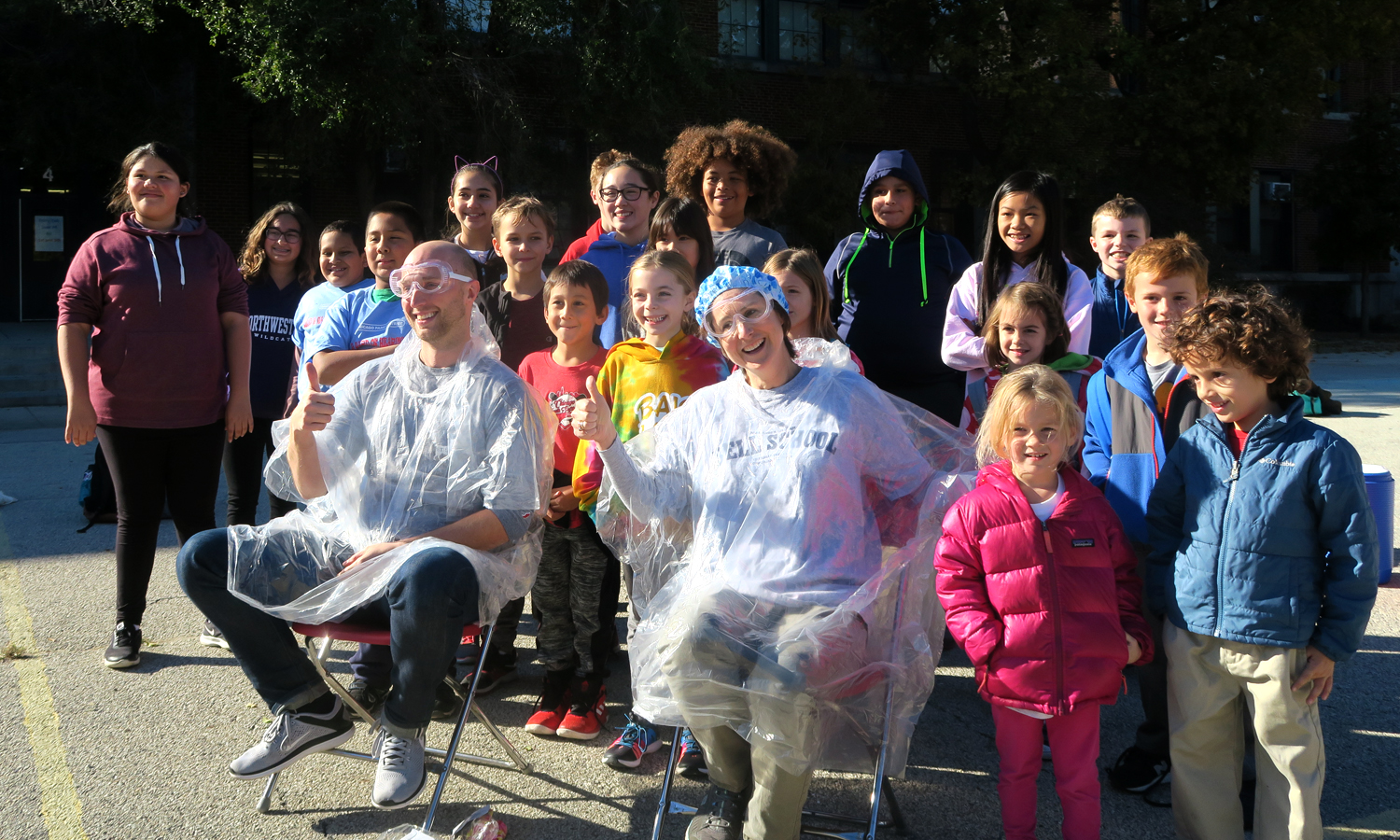 Miller said the school was able to raise $102,000 because of the amazing parent community at the school.

"I was really excited when we found out we could slime them. I didn't know if we'd make the goal or not," Gracie Koseki said, a student at Bell.

About 20 students were standing in the south lot of the school waiting with parent volunteers Tuesday afternoon. The sun was beginning to set and the shadow of the school at 3730 N. Oakley Ave. kept creeping onto the lot.
The chairs were moved a few times to keep up with the sun, so Miller and Kosko wouldn't get slimed while sitting in the chilly shade.

"I walked the building today and every room I went into the first thing kids said to me was, 'Are you getting slimed? What time are you getting slimed?,'" Miller said. "We've never done something like this before and clearly we're going to do it again because students were really excited about it."

Once Miller and Kosko put on plastic ponchos and safety goggles they sat down and got ready for five buckets worth of green slime to be poured on them by students.

"I was hoping for warmer slime, so we'll want to think through that for next year," Kosko said. "I really enjoyed watching [Miller get slimed first]."
Do stories like this matter to you? Subscribe to Block Club Chicago. Every dime we make funds reporting from Chicago's neighborhoods.