LOGAN SQUARE — Right as dusk was beginning to set in Tuesday evening, hundreds of Northwest Side residents and community leaders clutching signs, banners and cardboard houses filled the Father and Son restaurant parking lot against a backdrop of construction cranes at the old Megamall site.
With the confidence of someone twice her age, 19-year-old Ashley Galvan Ramos, youth leader at Logan Square Neighborhood Association, led the group in call-and-response chants, listing off numbers that tell the story of gentrification in Logan Square.
"19,200 displaced, 19,200 lives uprooted!" Ramos shouted into the microphone. (According to the most recently available U.S. Census Bureau data, Logan Square lost 19,2000 Latino residents from 2000 to 2014, a 35.6 percent decrease. Over that same period, the white population in the neighborhood increased by about 10,340 residents, a 47.6 percent increase.)
"Thirty percent fewer families!"
"109 teardowns!"
"That's not right!"
Ramos' chants set the tone for Tuesday's anti-gentrification march, which drew roughly 500 people, only about 100 fewer than anticipated, according to Logan Square Neighborhood Association housing organizer Christian Diaz. Some 35 organizations participated, including many of the local public school communities.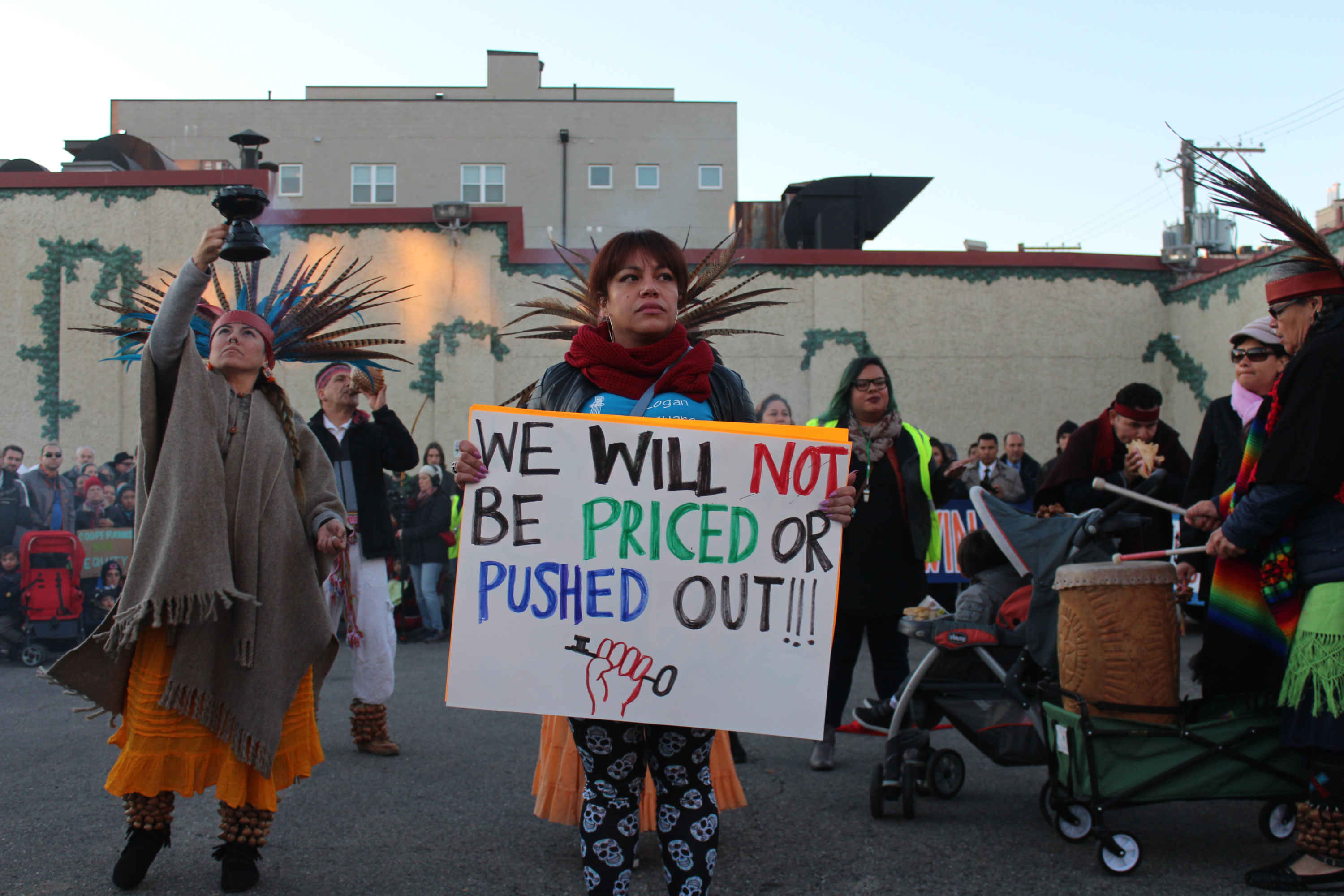 After Ramos' remarks and performances by Aztec dancers wearing large headdresses, the group traveled down Milwaukee Avenue shouting, "What do we want? Affordable housing! When do we want it? Now!" before landing at the Emmett Street parking lot next the Logan Square Blue Line station.
Logan Square Neighborhood Association and partner organizations, including Ald. Carlos Ramirez-Rosa's United Neighbors of the 35th Ward, have long called for an 100-percent affordable housing development to be built on the lot, but so far, the project hasn't gotten off the ground.
At the march, group leaders renewed that call, demanding  existing and incoming aldermen make the construction of affordable housing like the Emmett Street project a priority in Logan Square and surrounding communities. They said elected officials are ignoring their efforts to solve gentrification-fueled issues like the displacement of longtime residents and shrinking resources at local public schools.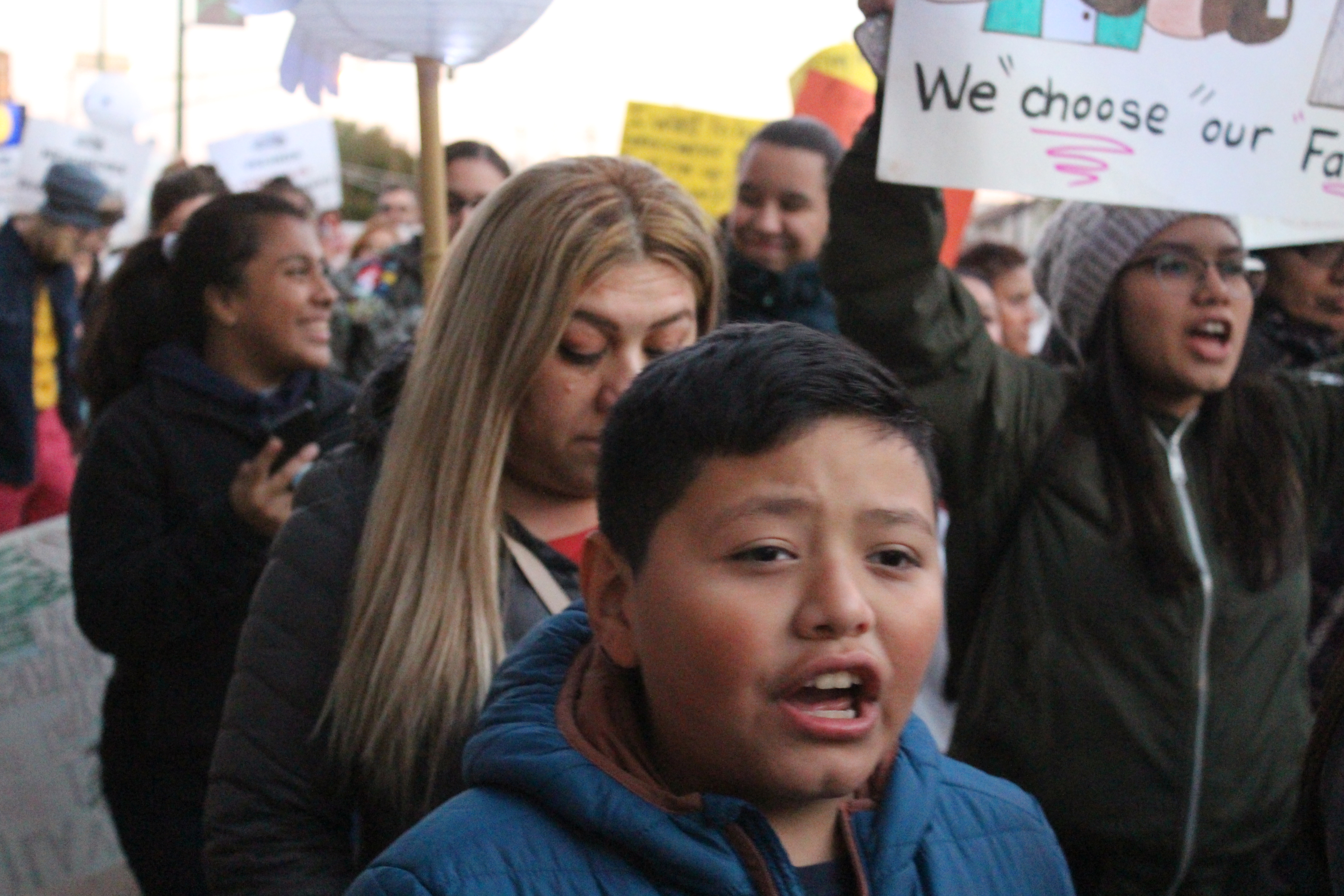 They also encouraged residents to make their voices heard and vote in the upcoming mayoral and aldermanic elections, repeating the sentiment, "Today we fight, tomorrow we vote."
"Logan Square had the most demolitions in 2017. It is troubling to see the rate with which my neighborhood is being sold out to developers," Norma Rios, member of Logan Square Neighborhood Association, told the crowd from a stage at the Emmett Street lot.
"I want to continue to live in the neighborhood I grew up in. I want my son to graduate from the school I graduated from. I want my friends and family to continue to live in their neighborhoods. …
"We are frustrated because we have presented viable solutions and we have been ignored. … Our solutions include projects like 100 units of affordable housing built right here where we stand. This would be a once-in-a-lifetime opportunity to make Logan Square inclusive and diverse."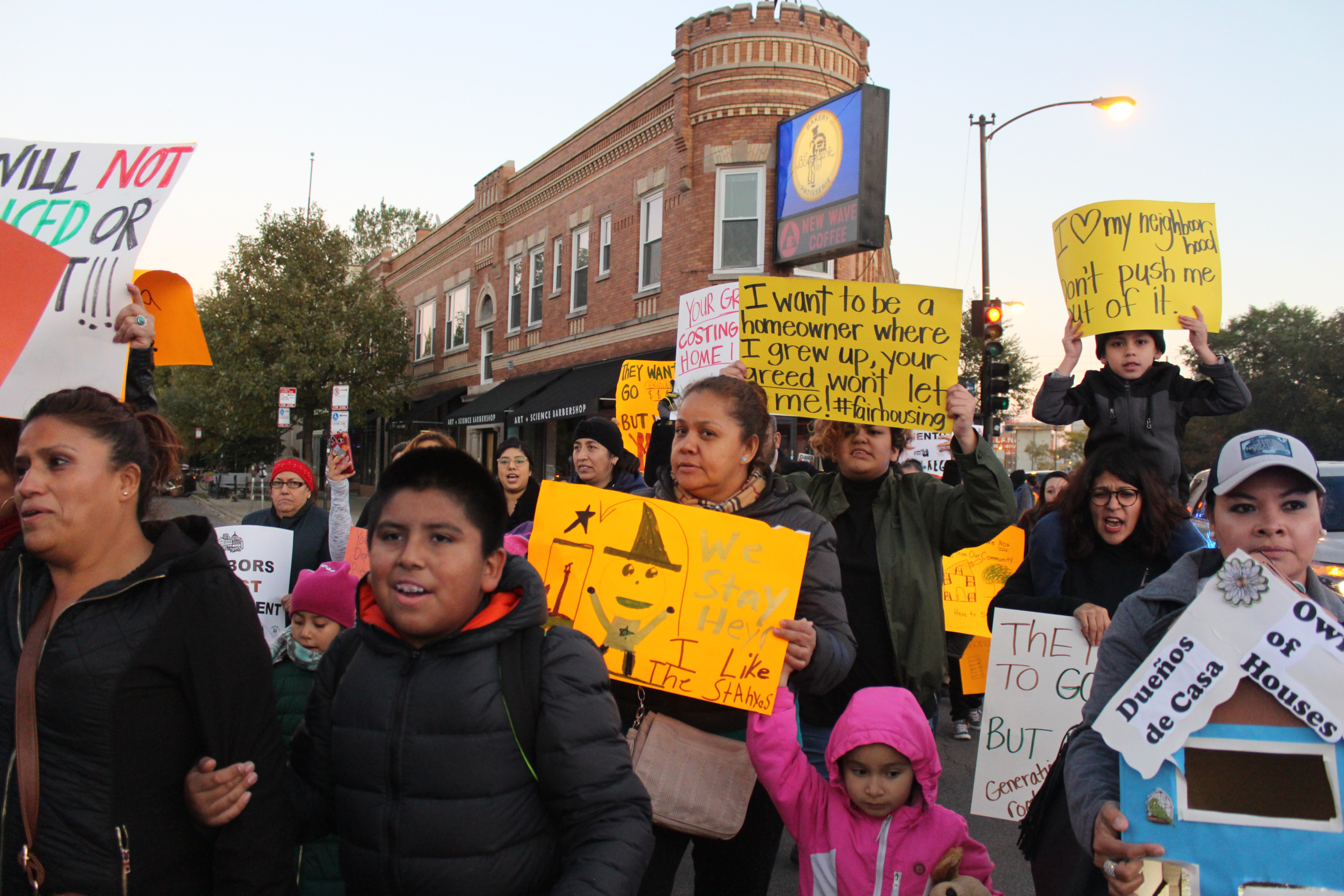 The impact gentrification has on Logan Square's public schools — a subject Block Club Chicago analyzed this summer — came up several times at the march.
Addressing the crowd, Yates Elementary teacher Jhoanna Maldonado said, "As a lifelong resident of Logan Square and a teacher [here] for 8 years, I have seen the attack of black and brown families firsthand."
"My sixth, seventh and eighth graders are sitting together because they don't have enough teachers. … We have to choose between music and art. We no longer have a librarian. But the city has millions for developers. These are the systemic attacks that push us out," said Maldonado, also a member of Logan Square Neighborhood Association.
Mauricio Esteban Segovia, longtime principal at Darwin Elementary School at 3116 W. Belden Ave., also took to the microphone to share his experience with gentrification.
"My school had more than 900 students [when I arrived]. Today, we have a little more than 550 students. That's not right," Segovia said.
"When I see the pre-k students, the kindergarten students, I always think: Are they going to have a chance to graduate from Darwin school?"
Ramos, the youth leader at Logan Square Neighborhood Association, returned to the stage at the Emmett Street lot, this time tearfully. Her hands shaking, the youth leader told the crowd her family was recently forced to move out of their home, leaving them homeless for a couple of weeks.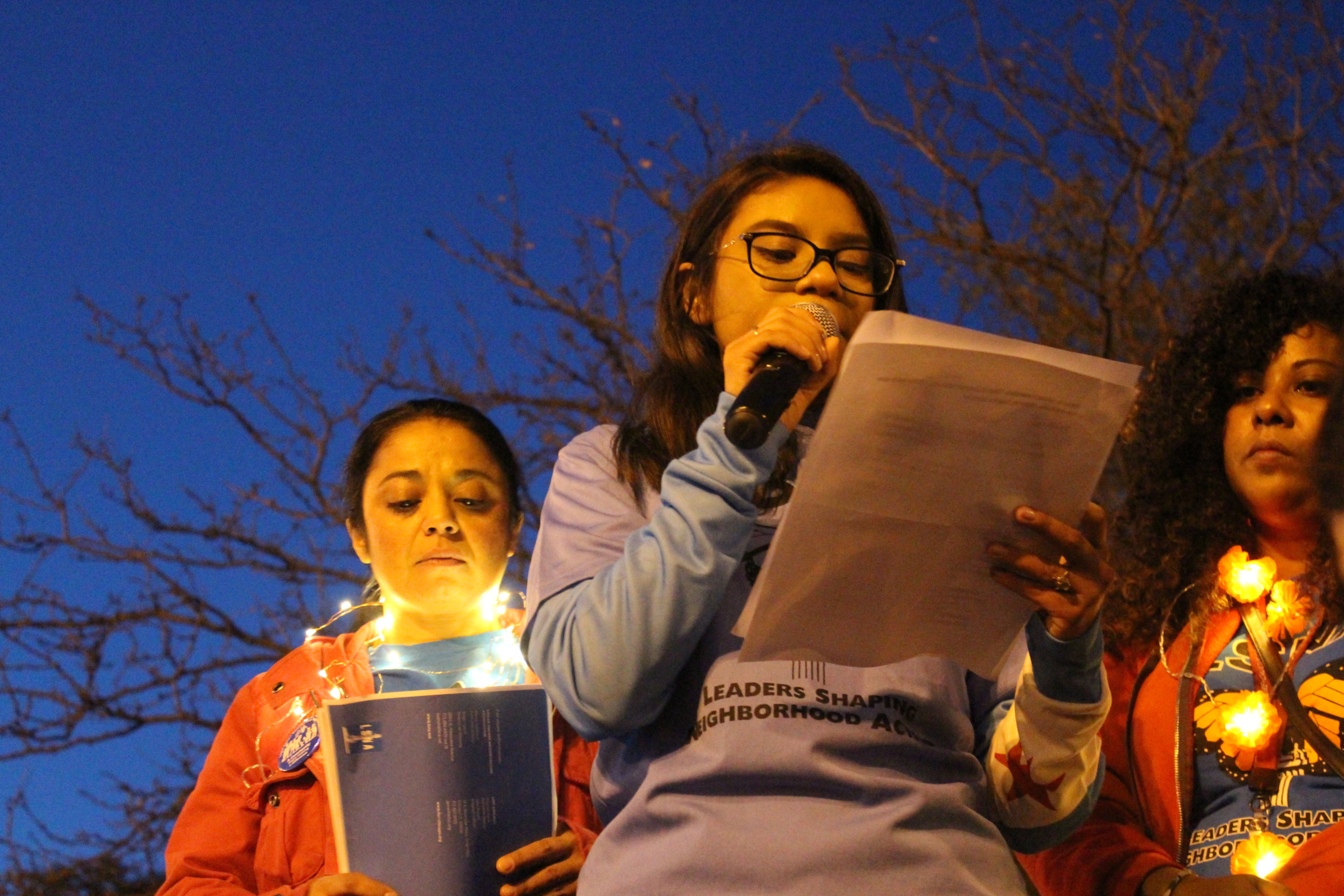 "On March 31st, my family was moving. That was also the day of my sister's quince[anera]. Instead of celebrating her day, we were packing the Uhaul, we were packing our lives. We were rushed to find a new home and not given an opportunity to stay in our home longer," Ramos said through tears.
"Even though we have a new home now, the feeling of being displaced still lingers and that's why I'm proud to be with you all."
Many of those who attended the march live just outside of Logan Square, in Hermosa, Humboldt Park or Avondale. They said their neighborhoods are also feeling the effects of gentrification.
"The issues happening Logan Square are happening in Hermosa are happening in Humboldt Park — people of color being displaced," said Jennifer Deleon, 45, who has lived in Hermosa for about 12 years.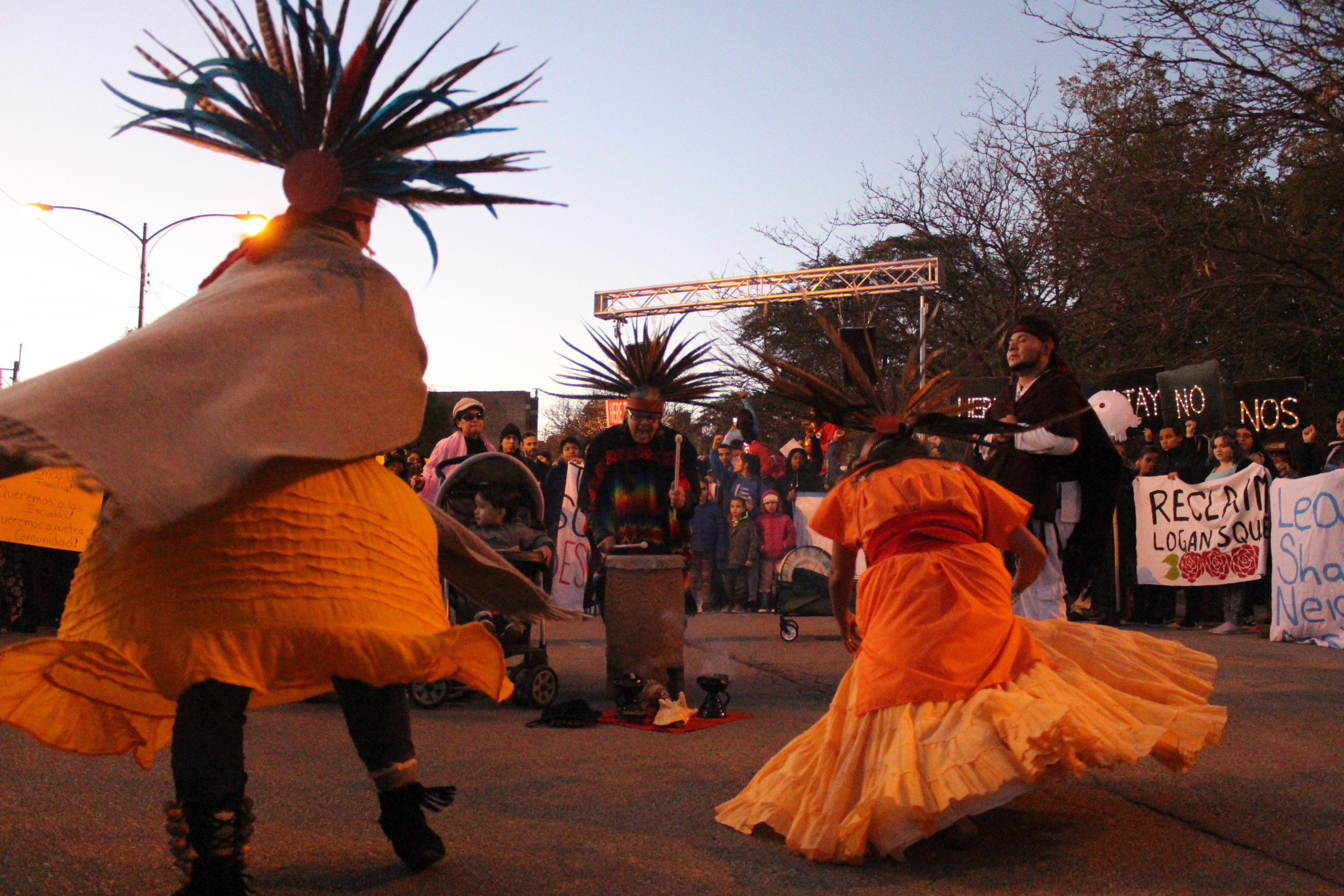 Adriana Rios, 44, sends her son to McAuliffe Elementary School, but she's lived in Humboldt Park, near Chicago and Central Park avenues for six years.
"Everybody's moving because their rent is high. It's no good for a lot of people. The school has not [enough] kids. It's no good. It's not right," Rios said.
Logan Square Neighborhood Association, along other local organizations and the nonprofit Local Initiatives Support Corporation, or LISC, recently crafted a Logan Square and Hermosa quality of life plan, which will be released in the coming weeks. The plan will present solutions to the issues of housing affordability and displacement, among other things.
Do stories like this matter to you? Subscribe to Block Club Chicago. Every dime we make funds reporting from Chicago's neighborhoods.