WICKER PARK — After a 7-year run in Wicker Park, the independently-owned Tozi Korean BBQ has closed and it will be replaced by a fast-expanding chain of restaurants offering similar cuisine and DIY grilling.
A sign posted in the window of the restaurant, 1265 N. Milwaukee Ave., thanks guests and the community for their support and informs that Iron Age BBQ will replace Tozi.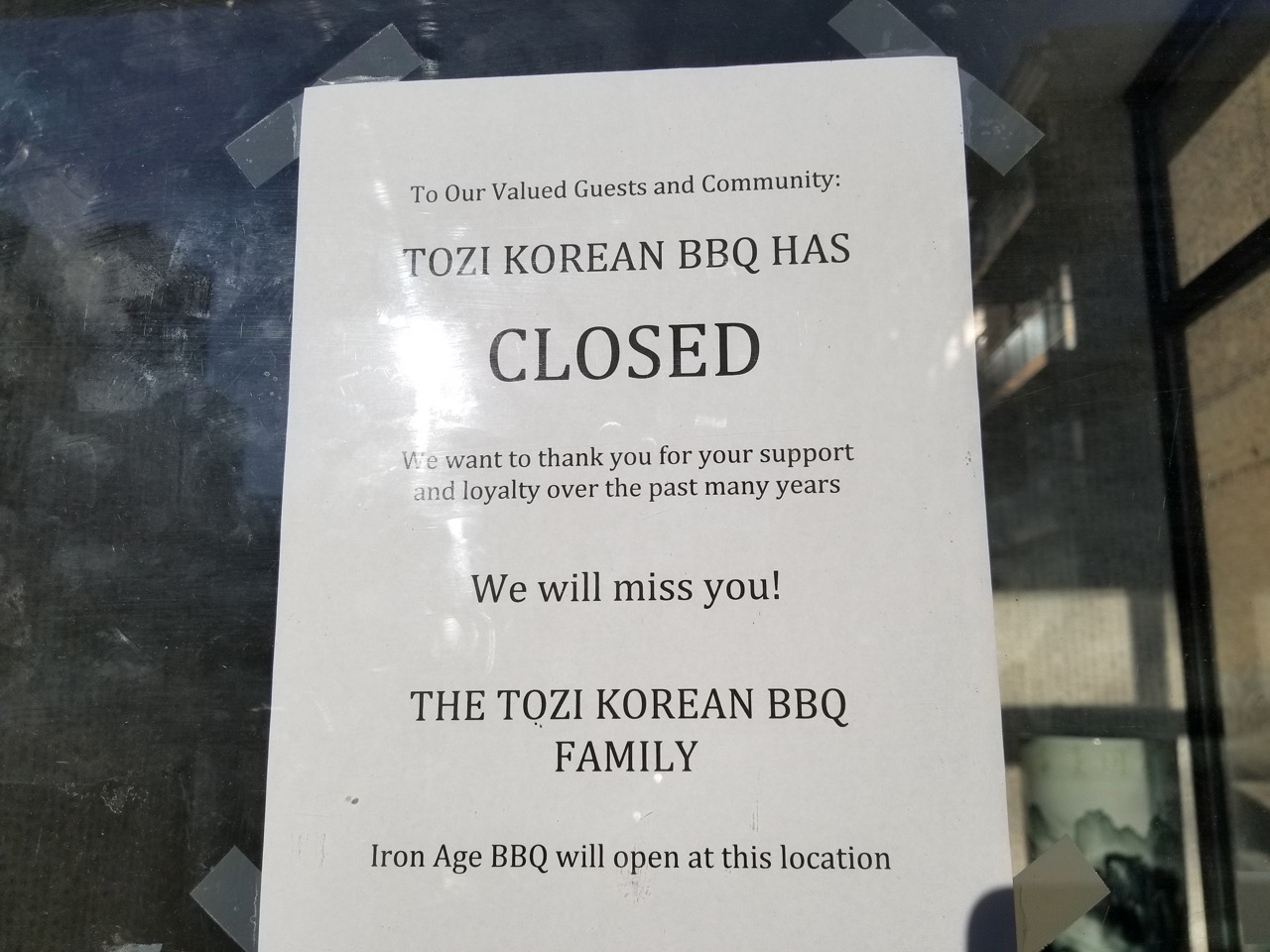 Tozi opened in fall 2011 and offered traditional Korean barbecue, with a selection of meats and veggies cooked at tables over an open flame.
Calls and emails to Tozi BBQ were not returned. A worker at a nearby business said Tozi has been shuttered for at least the past month.
Chicago Reader food critic Mike Sula dished praise on Tozi, but the Yelp reviews were mixed, with an average of 3 out of 5 stars based on 300 accounts. One former customer last winter warned that Tozi was "B.Y.O.B." for bring your own blanket because it was so cold, even the server had a blanket wrapped around her as she worked.
Se Lee, a general manager at Iron Age Korean Steak House's Baltimore, Md. outpost confirmed on Monday that Iron Age is planning to replace Tozi BBQ, but he could not provide a timeline outside of sometime next year. 
"We are planning to open in the space, we are in the process. We have several locations throughout the country," Lee said.
Currently there are six Iron Age locations listed on the chain's website. Lee said they aim to have 11 locations by the end of next year.
In addition to Maryland, the other Iron Age spots are in Georgia and Northern Virginia. Chicago will be the first Midwest outpost for the chain, which started in Atlanta, Ga. in in 2009.