NOBLE SQUARE — Police are looking for a man who threatened to shoot a cashier before robbing the Polish Triangle's Green Arch Food Mart on Saturday afternoon.
It happened around 3:20 p.m. Saturday at the Green Arch Food Mart, 1219 N. Milwaukee Ave., according to police and the food mart's cashier, Mohammed Chavan.
"He said, 'I have a gun and I am going to count … three … two … one … and shoot you if you don't open the register,'" Chavan told Block Club on Sunday.
Chavan said that the man never showed a gun — only implied that he had one —  but the implication and the countdown was enough to make him open and back away from the register.
The man cleared out the register, taking between $150 and $200 cash, and ran out, headed north on Milwaukee Avenue, Chavan said.
Prior to announcing the robbery, the man had been eyeing some products and was lingering at the register and asking questions.
"Something didn't feel right" about the man, Chavan said, adding that he had never seen him before.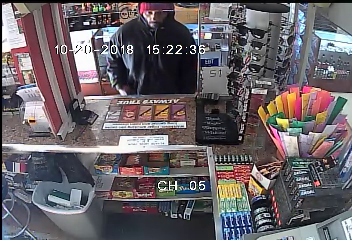 On Saturday, Area North detectives released a photo of the suspect. The alert described the man as black, sporting facial hair and wearing a red hat and dark-colored jacket with a red shirt underneath and blue jeans.
Anyone with information is encouraged to call detectives at 312-744-8263 and reference case JB-483268.