ROGERS PARK — Theater props and antique furniture adorn Le Piano, a new jazz club on Glenwood Avenue in East Rogers Park. A French rotary phone sits on the bar and a fake armadillo overlooks the club, seeming to judge everyone from atop its perch.
The club's owners, Chad Willetts and Joe Quinlan, plan to name a cocktail after the armadillo, which they say has been there for the past 30 years.
That drink's ingredients are not yet clear. What is clear, however, is the theme of the bar. Willetts and Quinlan chose the name Le Piano for their jazz club at 6970 N. Glenwood Ave. because of its unambiguity.
"I didn't want there to be any misunderstanding about why one would come to this establishment," Willetts said.
Although Le Piano hasn't officially opened its doors yet (the owners have set a tentative open date for late October), they've already welcomed well-known musicians into their venue like Orbert Davis' Chicago Jazz Philharmonic and Art Davis.
Once open, each night a performer will play on a grand conservatory piano, placed in the middle of the room. The piano has belonged to Willetts for the past 15 years.
The club's aesthetics draw inspiration from the Latin Quarter of Paris. It is nestled across from the Morse Red "L" line and is next door to the Far East Kitchen, a Vietnamese-Chinese take-out restaurant. A charming cobblestone street and colorfully painted mural across from the jazz club adds to the intentional European ambiance.
The cavernous space has seen creatives of every type since the 1920s, Willetts said, including as one of the locations for the No Exit Cafe, a beloved place for beat poets, folk musicians and cabaret performers until it closed the Glenwood Avenue location in 1999.
Each time an artist performs at Le Piano, Willetts and Quinlan ask them to sign the main wall, which features a painting of can-can dancer and the words "Le Piano" above her head. Willetts' mom was a trumpet player and her old instrument juts out of the wall to the right of the dancer.
Two weeks ago, Willetts and Quinlan invited their family and friends to experience Le Piano. Though they bought the building in February, they could not start renovating it until June.
"We've been so absent from everyone else's lives [since starting Le Piano] … so we wanted to have an event that was saying, 'Hey,' to our family and friends, 'This is what we've been up to,'" Willetts said.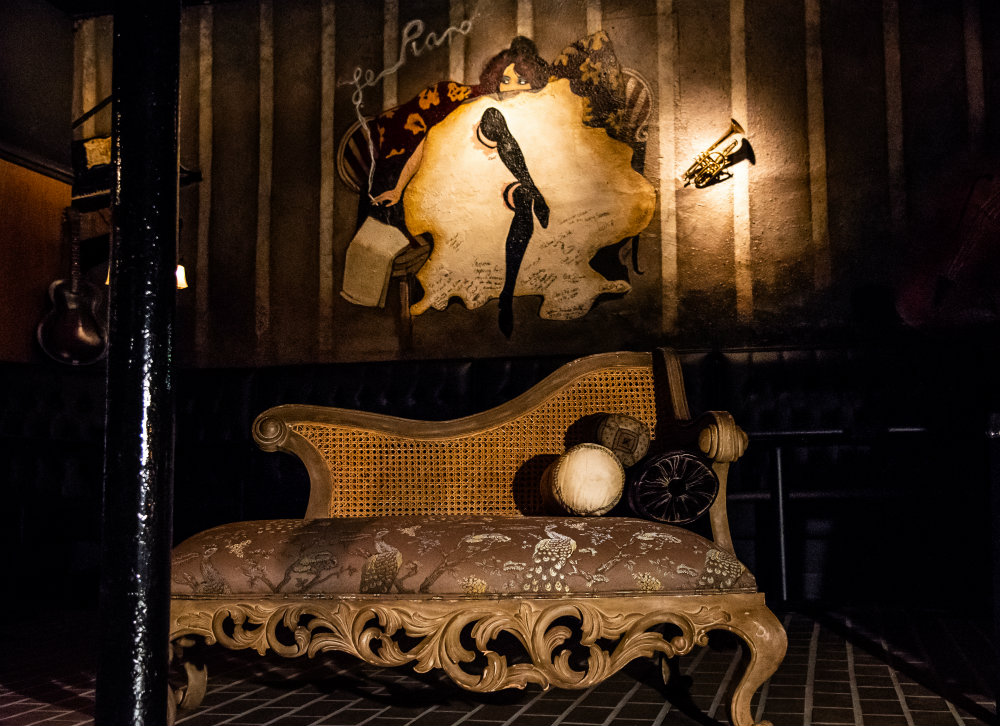 Willetts almost didn't make it to the event.
He accidentally cut himself on a broken piece of glass a few hours prior to the pre-opening. He ran home to change and hurried back to Le Piano.
"I get out of the car, make my grand entrance, and I think, 'Oh my God, I must have stepped in a puddle because my ankle is wet.' And I looked down and it's like Niagara Falls blood down my white pants," Willetts said. "I didn't care about the cut. What I cared about was that I needed stitches and I was not going to go to emergency room and miss this night that I had been waiting for my whole life."
Le Piano has been Willetts' dream for the past 15 years. But he knew he couldn't do it alone.
Willetts has long-frequented the Lighthouse Tavern, also in Rogers Park. There he would see Quinlan, who is the Lighthouse's owner, pouring drinks and talking with patrons.
One night Willetts and Quinlan sat down at the bar and started talking.
"We're just chit chatting, it was probably the longest conversation we've ever had in the eight years that he's owned it.," Willetts said.
Quinlan remembers this night too.
"I said, you've come in a whole bunch and I've never really talked to you. Now I have my chance," Quinlan said.
Willetts told Quinlan about a cocktail party he had attended the night before and told him about this "space for sale in Rogers Park, amazing location."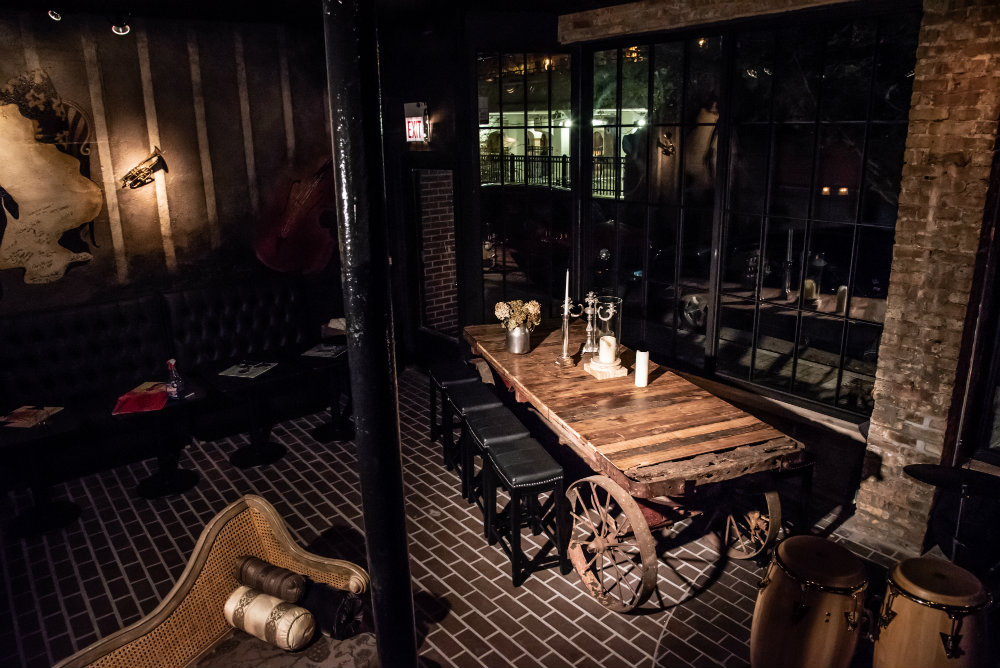 To Willetts' surprise, Quinlan had been searching for an additional commercial property in Rogers Park. He asked if he could tag along to a showing the next morning with Willetts.
"We both knew it was this diamond in the rough," Willetts said.
It was a leap of faith to go into business together, as Willetts and Quinlan only knew each other as acquaintances at the time.
"I think the underlying bond that we had was that we both wanted to do something bigger than ourselves and be a conduit for something that could affect a culture," Willetts said.
"You have to have that singular vision that he had and I didn't really have much of that at all," Quinlan said.
Each has their own domain when it comes to handling the club. Willetts is in charge of the lighting while Quinlan selects the wines and food they will serve.
The club features French poster art straight out of the book "Posters of the Belle Epoque: The Wine Spectator Collection," which Quinlan, who also manages buildings, found in an empty apartment.
"We used our whole color palette from that book," Quinlan said.
The pair said they received a grant from the Rogers Park Business Alliance for $2,500, which they put towards the building's facade restoration.
The business already has a website, but Willetts and Quinlan aren't relying solely on the internet to spread the word about their jazz club.
Every day people peer into the jazz club's expansive glass windows. Almost anytime Willetts or Quinlan catches someone doing this, they invite them in.
"I was feeding people, literally, the other night. Total strangers. Within five minutes they were sitting down with us having a glass of wine and I was poking a mushroom ravioli and saying here, try this," Willetts said.   
Le Piano customers do not need to know anything about jazz to enjoy the club.
"You don't have to know who the composer is, you need no prerequisite knowledge to get jazz. All you got to do is come in and just experience it," Willetts said.
The club's website aims to invite "Chicago's finest pianists" and artists from every corner of the world.
Willetts has been a staple of Chicago's music scene for the past 30 years. He plays regularly at The Drake and the Millennium Knickerbocker Chicago.
But he says musicians don't have to be famous to play at Le Piano.  
"The point here is that there are so many great musicians and artists and talented people that don't have rooms to perform in. We wanted to be a home for not just artists that are musicians, but all artists and all creative people…if you create that space for them, they will find you," Willetts said.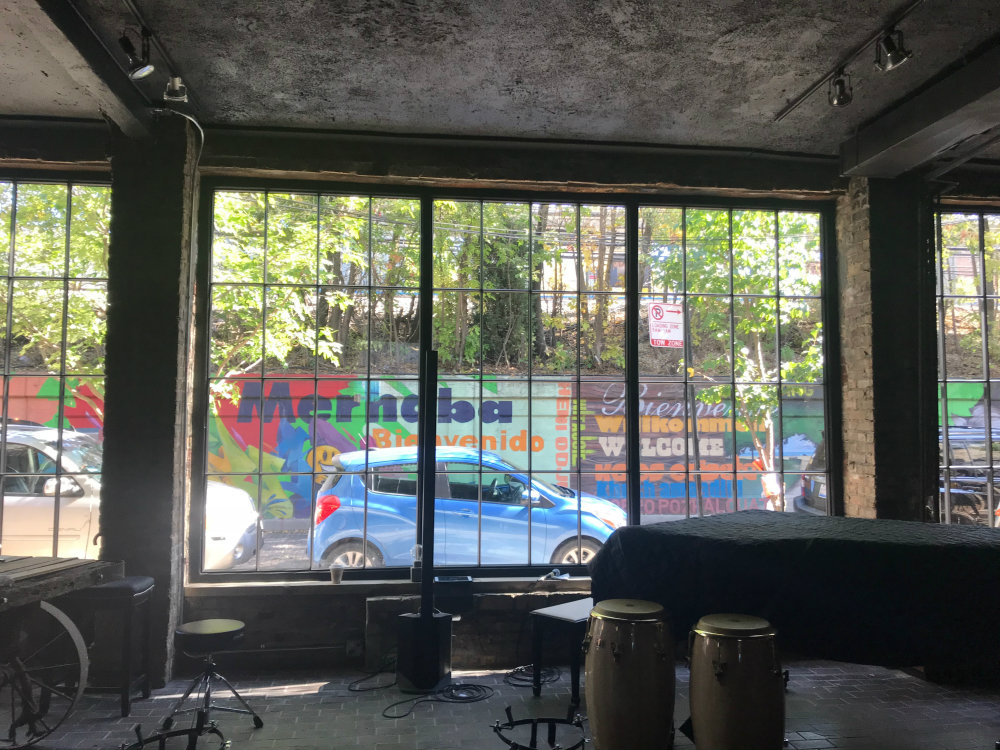 Do stories like this matter to you? Subscribe to Block Club Chicago. Every dime we make funds reporting from Chicago's neighborhoods.