WICKER PARK —  The Midwest's first Deciem store is still slated to open following uncertainty triggered by a bizarre Instagram video of the Toronto-based skincare brand's now-ousted CEO Brandon Truaxe.
No opening date for the store has been set, but the outpost at 1401 N. Milwaukee Ave. is on track, said Robert Stiebel, the owner of the building that will house Deciem on a portion of its first floor.
Related: Deciem CEO Meltdown Leaves Future Of Wicker Park Store In Flux 
On Tuesday, Stiebel said he'd just heard from his contact at Deciem, who assured him they plan to open within the next three weeks to a month. Last Thursday, Truaxe was forced by an Ontario judge to step down from his role of CEO after he declared in an Instagram video that he was shutting down the company.
The Cut reports that Estée Lauder, which has a 28 percent stake in Deciem, asked the court to have Truaxe replaced by Nicola Kilner, Deciem's co-CEO, on an interim basis.
Deciem makes and sells The Ordinary, a range of skincare treatments centered around retinol, glycolic acid and vitamin C, as well as a line of serums, NIOD (Non-Invasive Options in Dermal Science).
"It's a relief that they will continue working, I will feel better when they get open. …Many women will approach me and ask, 'When are they opening finally?' I am surprised by how many people in the area are eager for them to open," Stiebel said.
On Instagram on Monday, Deciem assured its more than 375,000 fans the company is forging ahead without Truaxe at its helm.
"Brandon will always be the founder of DECIEM. We will take the passion and values he has instilled within us as we continue to grow the brands we have created with transparency, integrity, authenticity, function and design," Deciem posted on Instagram. 
The video of Truaxe which he said he was shutting down the company has been deleted and he has been barred from posting on any of Deciem's social media channels, according to reports. 
Stiebel said he felt bad for Truaxe and called the whole ordeal and closing scare "a sad situation." 
"I had met him a couple times and thought he was very impressive, charming, creative, charismatic and buoyant. I was sad to see him in such distress in the video. Hopefully he will find peace and relief," Stiebel said.
A Deciem social media manager also told Block Club the store is continuing its plan to open in Wicker Park but did not have a timeline to share.

Once open, the Wicker Park outpost will be Deciem's first Midwest shop and its sixth in the U. S., following four New York City locations and one in Miami.

The three-story building that Deciem will soon anchor was built in the 1880s, and the storefronts facing Milwaukee Avenue were built in 1926, according to the city's Department of Planning and Development, which lists the building as "contributing" to the Milwaukee Avenue Landmark District.
The upper levels of the building have been boarded up for several years. In 1977, five adults and four children were killed in a fire that started in an apartment above the storefront.
The 1,920-square-foot storefront that Deciem is renting was most recently a wholesale showroom for Free People and long before that, it was home to the Imperial Men's Clothing shop, which closed in 2008.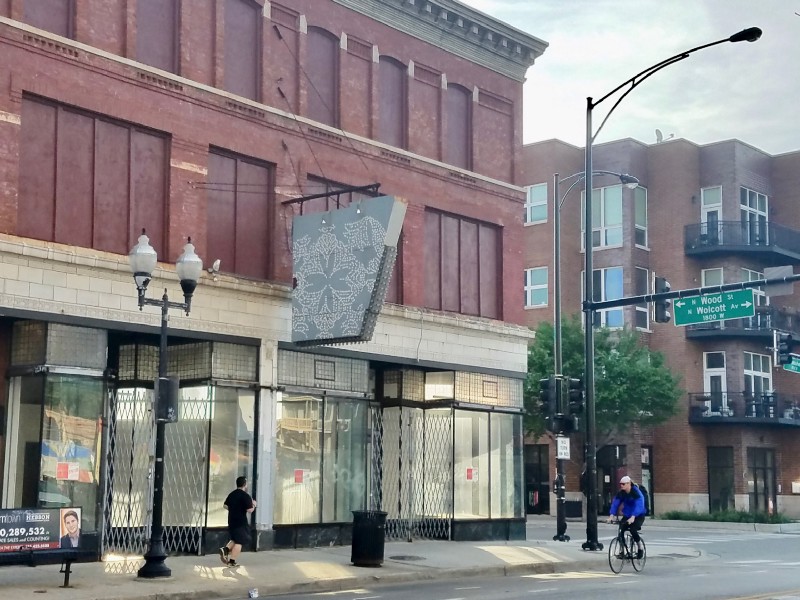 Do Wicker Park stories matter to you? Subscribe to Block Club Chicago. Every dime we make funds reporting from Chicago's neighborhoods.