LOGAN SQUARE — Over the last few years, the two-block stretch of Lyndale Street west of the California Blue Line has lost roughly two dozen homes — some old, some recent — to new construction.
That's according to graphic designer and artist Matt Bergstrom, who lives there and has been documenting the changes as part of his "Lost Houses of Lyndale" project.
The 49-year-old history buff has made it his mission to tell the stories of the torn down homes, when they were originally built and who lived in them.
"The goal is to find out more about the houses so [they're] not just wiped from our memory," said Bergstrom, who for about a decade has owned a three-flat on Lyndale where he lives with his wife and daughter.
By digging through Cook County property records and ancestry websites, Bergstrom has been been able to uncover all sorts of historical details about the torn down homes, which he has compiled into a booklet.
Through his research, he discovered many of the older homes on the stretch were originally owned by working people — painters, cigar makers, train operators. Though not torn down, his home, for example, was built in 1887 and originally owned by a shoemaker.
"For people who lived here originally, it was always an affordable neighborhood. … And then they would pass it onto their children," Bergstrom said.
"A hundred years from now, I don't think families will be living in [the condo buildings] for 50 years at a time and passing them on to their children. It's a different kind of homeownership."
Bergstrom has taken the project a couple steps further and created little model homes of the torn down houses — some made of paper and and others made of wood he salvaged from the demolition sites. He's also drawn pictures of each home; local publisher Fata Morgana Press is publishing a book of the drawings, along with detailed backstories, which will be for sale in the coming weeks.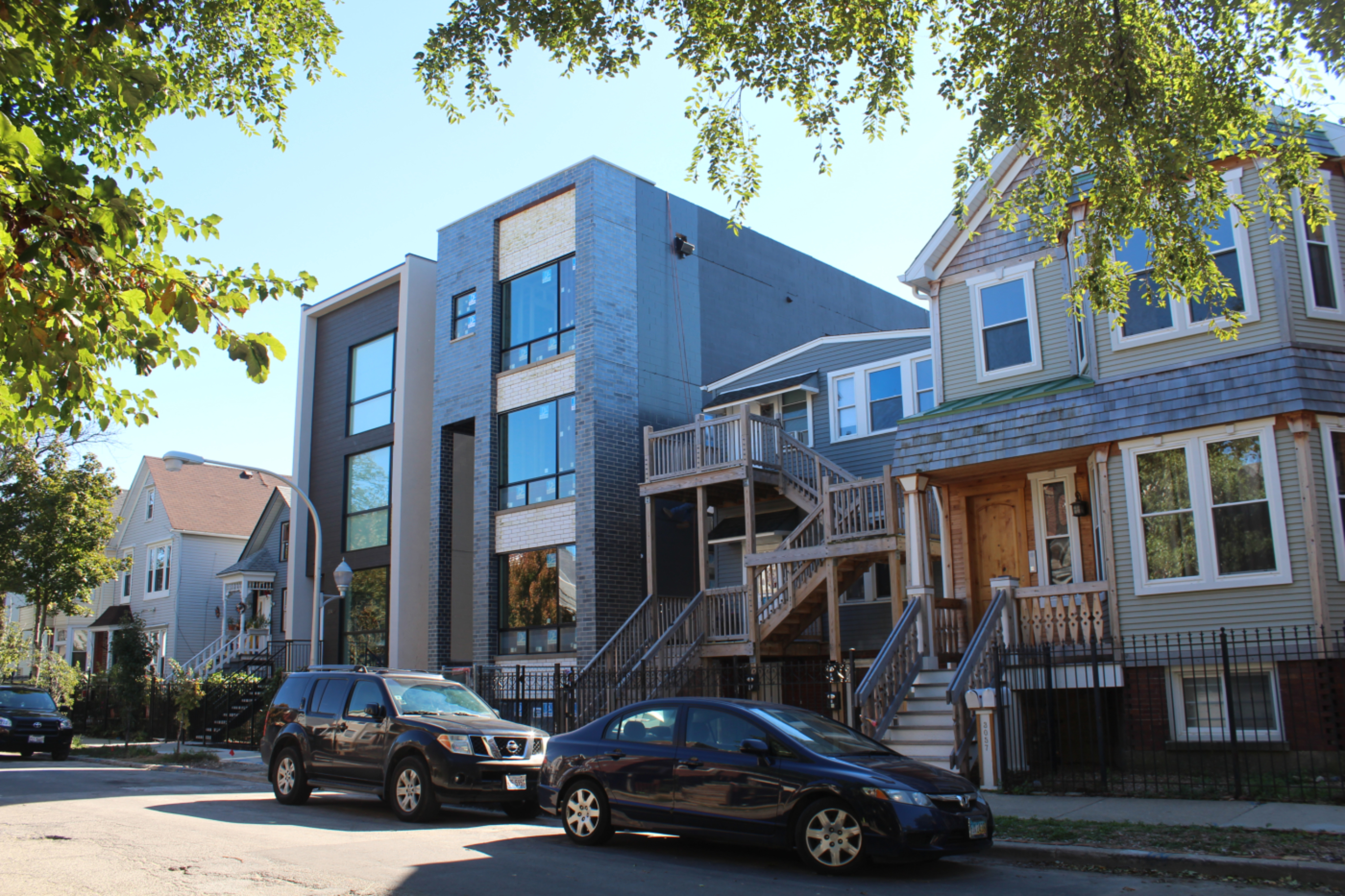 Teardowns are nothing new in gentrifying Logan Square, but Bergstrom said his stretch of Lyndale has been hit especially hard over the last several years, likely because of its proximity to the Blue Line combined with the fact there are a lot of "little" houses ripe for redevelopment.
However, unlike other streets in Logan Square and beyond, Lyndale isn't lined with one type of home — it has a mix of old cottages, two- and three-flats and newer brick buildings.
Bergstrom said that could be another reason why the stretch has seen as much change as it has.
"If there was a more unified look to [the street], then maybe it would unite people to stand up and change the zoning to preserve the houses. That hasn't happened here," he said.
Bergstrom said he's a lot less likely to be frustrated by the new buildings when they're designed to blend into the street. The majority of them, however, are modern, boxy buildings that not only stick out, but also breed absent owners, he said.
"If it's someone living in a house, they take ownership and shovel snow and pull weeds. Seeing the new condo buildings where people don't do that makes me kind of sad," Bergstrom said.
By documenting and presenting this history, Bergstrom said he hopes to make a compelling argument for preservation over demolition.
"The people I would like to maybe convince are the people who are looking at living in these condo buildings. What is appealing about a big glass box?
"Maybe people can be persuaded that there's something more appealing about fixing up one of these older houses. You're participating in the history and continuity of the street rather than just living in a hotel [on a street] you don't know anything about."
As for the developers, Bergstrom said he's pretty certain they don't stop to think about the history of each home they tear down — and all of the memories formed there.
"I get the impression that they come in and buy an old house and think, 'That's a dump. Nobody's interested in what used to be there. Nobody will miss it if you just scrape it off the ground and build something new and pretend that nothing ever existed there before,'" he said.
"If people were more aware of the history of the street, they might not have that attitude. And maybe they would build something that fits into the street."
Bergstrom's drawings and wooden model homes will be on display at the Logan Square public library at 3030 W. Fullerton Ave. all of November and December. Bergstrom is planning to give a talk at the library on Dec. 6.
Do stories like this matter to you? Subscribe to Block Club Chicago. Every dime we make funds reporting from Chicago's neighborhoods.