UKRAINIAN VILLAGE — A trio of food and beverage industry veterans are partnering with the Underground Food Collective in Madison, Wis. to bring a restaurant, market and "funky" wine and beer shop to Ukrainian Village.
Located at 2119 W. Chicago Ave. — in about one-third of the former massive Colombia Furniture storefront — Brothers and Sisters will open "sometime in December," co-owner Derek Herbster said on Tuesday. 
Herbster was hauling a cooler display into the storefront on Tuesday morning when Block Club popped by. He said he couldn't share much about the concept outside of saying there will be between 25-30 seats, plus wine and beer to-go.
On Friday, a spokeswoman for the restaurant elaborated, saying Brothers and Sisters will be a "funky bottle shop," market and restaurant serving food all day. The menu will include produce from midwestern farms alongside smoked and cured meats from Underground's butchers. 
Expect "natural wine, tasty easy beer, small-producer cheese, artisan charcuterie and multi-roaster coffee," the spokeswoman said. Also: a 70's vibe. 
Visitors can expect wood paneling, shag rugs and smoked mirrors.
At the helm of the operation is Erin Carlman Weber (Girl & the Goat, Formaggio Kitchen) and Herbster (Portsmith, Stumptown Coffee Roasters) alongside chef Jonny Hunter of Madison's Underground Food Collective.
According to Saveur, the celebrated Underground Food Collective provides in-house butchering and makes its own charcuterie.
"Brothers and Sisters is about good people sharing good food," a spokeswoman for the project said. 

Back on Sept. 12, a business named "Brothers and Sisters All Day" at 2119 W. Chicago Ave. applied for a packaged goods liquor license and consumption on premises, incidental activity, city records show.
The packaged goods license would allow Brothers and Sisters to sell liquor, beer and wine to-go, while the incidental activity license is for restaurants that serve alcohol, where the food is the main attraction and the alcohol is secondary or incidental to the food.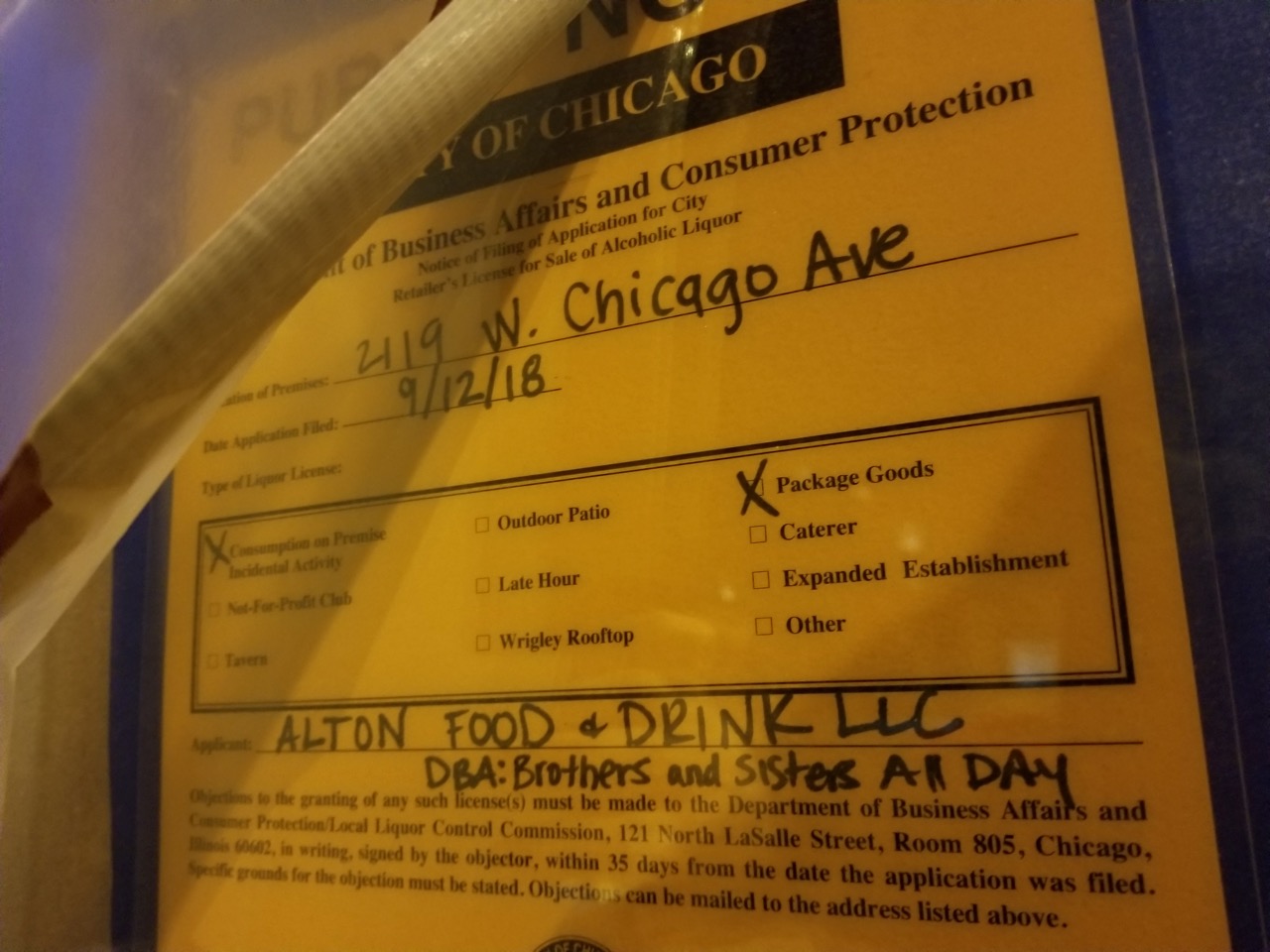 Neither of the licenses have been received yet, as the process to receive a liquor license can take between 36-60 days from the date the application is filed, according to the city's website.