DOWNTOWN — On Tuesday, after much speculation, Chance the Rapper headed to City Hall — along with dozens of news cameras — to announce that he'll be supporting Amara Enyia for mayor. 
A collective "Who?" erupted on social media among those who haven't been glued to local politics in recent years.
As Chance acknowledged, Enyia is not a household name, but he's confident his public support of her candidacy can change that.
"I'd like to say very narcissistically: If I back you, you have a chance, absolutely," Chance said Tuesday.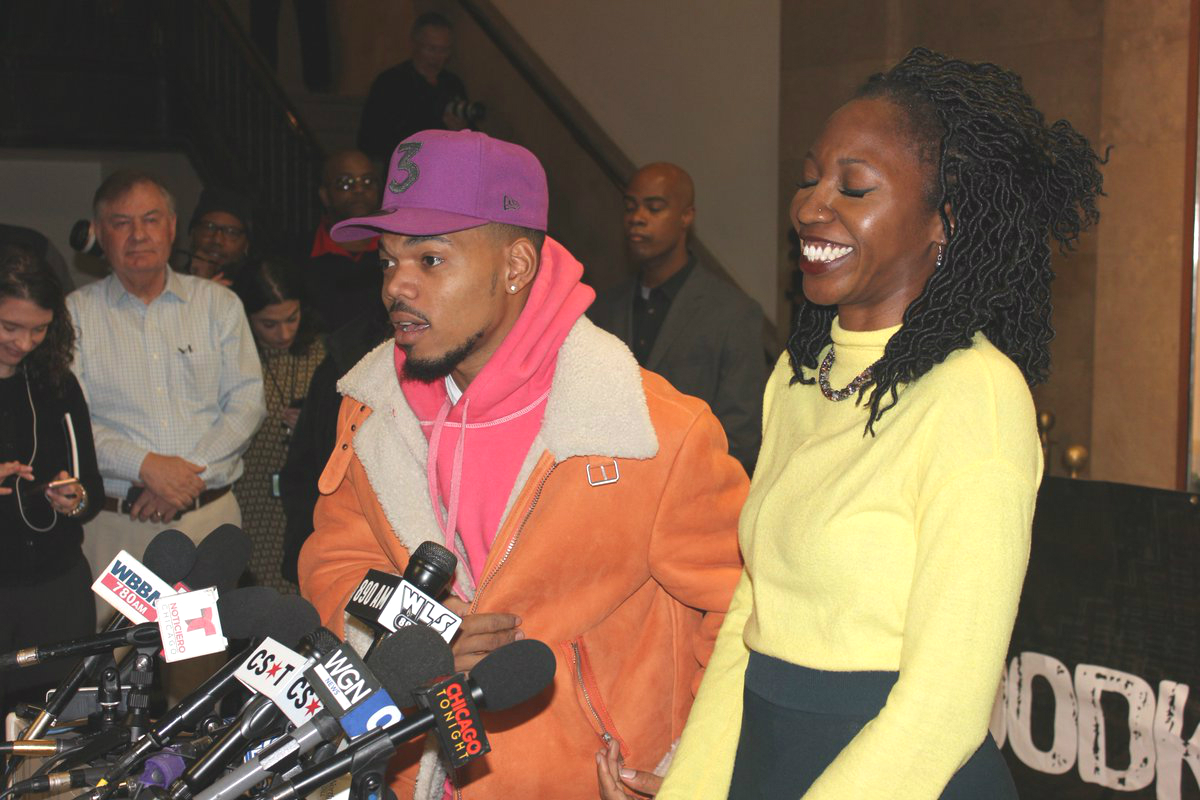 Though Enyia may not be known to the wider city population, she has been active in city politics for years, even running against Mayor Rahm Emanuel in 2015 when she was just 30 years old.
Enyia lives in Garfield Park and has worked as a journalist, attorney and consultant. She was hired by the Richard M. Daley administration as a policy analyst in 2009, where she said she got a dose of reality about how the city runs — and realized she wanted to do things differently.
She said Tuesday that she'd been a fan of Chance for awhile but didn't realize he knew who she was.
"Chance apparently had been a fan of mine for quite some time," Enyia said. "For a long time I didn't know, our paths really didn't cross. … I've been a fan of his from afar as well for the things he had done in Chicago and he puts his money where his mouth is and he's actually walking the walk and he doesn't just talk the talk." 
Enyia said Chance reached out about working with her and a partnership formed. The duo is already working on some events.
"This isn't the typical endorsement where we just do a press conference," Enyia said. "We're planning events together, we're going to do forums together, we're going to be out in the community together. So it's going to be very substantive."
Enyia said to expect community forums focused on education, the local economy and supporting working-class Chicagoans — like the former Treasure Island workers and striking hotel employees. She also said to expect more real talk, fewer manicured press releases and a big effort to get young voters to the polls.
"Our campaign is definitely different from typical campaigns," she said. "It's going to be fun and it has to feel natural. We are not a campaign that's about empty rhetoric, talking points, slogans and that sort of thing. We are very authentic and we have a lot of fun together." 
Another helpful thing about the partnership? Enyia said neither of them have to change up the work they've already been doing. 
"This campaign is unique in that we've already been doing the work," she said. "We don't have to recreate our images. We don't have to start making connections in neighborhoods. We've been in the neighborhoods and we've been in the communities, so all this campaign is really doing is amplifying our voices, and [Chance] decided he wants to use his voice on behalf of the people of this city."
Enyia's parents are from Nigeria, and she grew up in the south suburbs before attending college (and getting a doctorate in education policy) at the University of Illinois and ultimately settling on the West Side. She founded the Institute for Cooperative Economics and Economic Innovation, a social lab that aims to educate and advocate for the expansion of cooperative economic models like worker-owned co-ops, housing co-ops and community land trusts.
She's also the creator of "Thanks for Paying Your Taxes," an animated series that simplifies public finance to help residents understand how their tax dollars are being used. Every year, she hosts town halls across Chicago to help residents understand how the city's budget works, according to her biography.
Enyia is also a triathlete who has competed in two Ironman competitions (as The Reader's Ben Joravsky pointed out in a story about her 2015 run against Emanuel, an Ironman is a "superinsane" triathlon that includes a 2.4 mile swim, 112-mile bike ride and a full marathon).
Enyia told Joravsky she decided to run against Emanuel when he shuttered nearly 50 schools and closed several mental health clinics.
She ultimately withdrew from the 2015 race, but this time she has a big name — and, with that name, some potential money — on her side.
Chance, who said he's been a political strategist of sorts to Enyia in recent weeks, said he has not yet given her cash.
"I haven't yet. But we'll see," he said. "I have a lot of money. It would be scary."
Enyia faces a long list of opponents in the race for mayor, including: Cook County Board President Toni Preckwinkle; former top cop Garry McCarthy; former White House Chief of Staff Bill Daley; former Daley chief of staff Gery Chico; former CPS CEO Paul Vallas; former Chicago Police Board President Lori Lightfoot;  businessman Willie Wilson; Circuit Court Clerk Dorothy Brown; former CPS principal Troy LaRaviere; ; State Rep. LaShawn K. Ford; activist Ja'Mal Green; CodeNow CEO Neal Sales-Griffin; Jerry Joyce Jr., the son of a former 19th Ward alderman; former 11th Ward aldermanic candidate John Kozlar; Garden Party founder Mathew Roney; and former Harold Washington aide Dock Walls.