NORWOOD PARK — A group of Northwest Side residents say warnings sent out by aldermen and schools last week before the Jason Van Dyke verdict did nothing but cause fear and panic.

On Friday, a Cook County jury convicted Chicago Police Officer Jason Van Dyke of second-degree murder and sixteen counts of aggravated battery with a firearm in the 2014 shooting of teenager Laquan McDonald.

In the days leading up to the verdict, city officials began sending out similarly-worded statements to warn the public of potential unrest after the jury made their decision.
RELATED:Riot Warnings Surrounding Van Dyke Verdict Overblown, Racist 'Fearmongering,' Activists Say
Pastor Shawna Bowman is part of the Northwest Side Coalition Against Racism and Hate. The group was formed earlier this year after a woman attending a picnic at Caldwell Woods was verbally attacked for wearing a shirt with the Puerto Rican flag on it. 
"From the perspective of having worked in the neighborhood for a while now around the issues of racial bias and racism, I think folks are responding to who they understand their constituency to be," said Bowman, pastor at Friendship Presbyterian Church.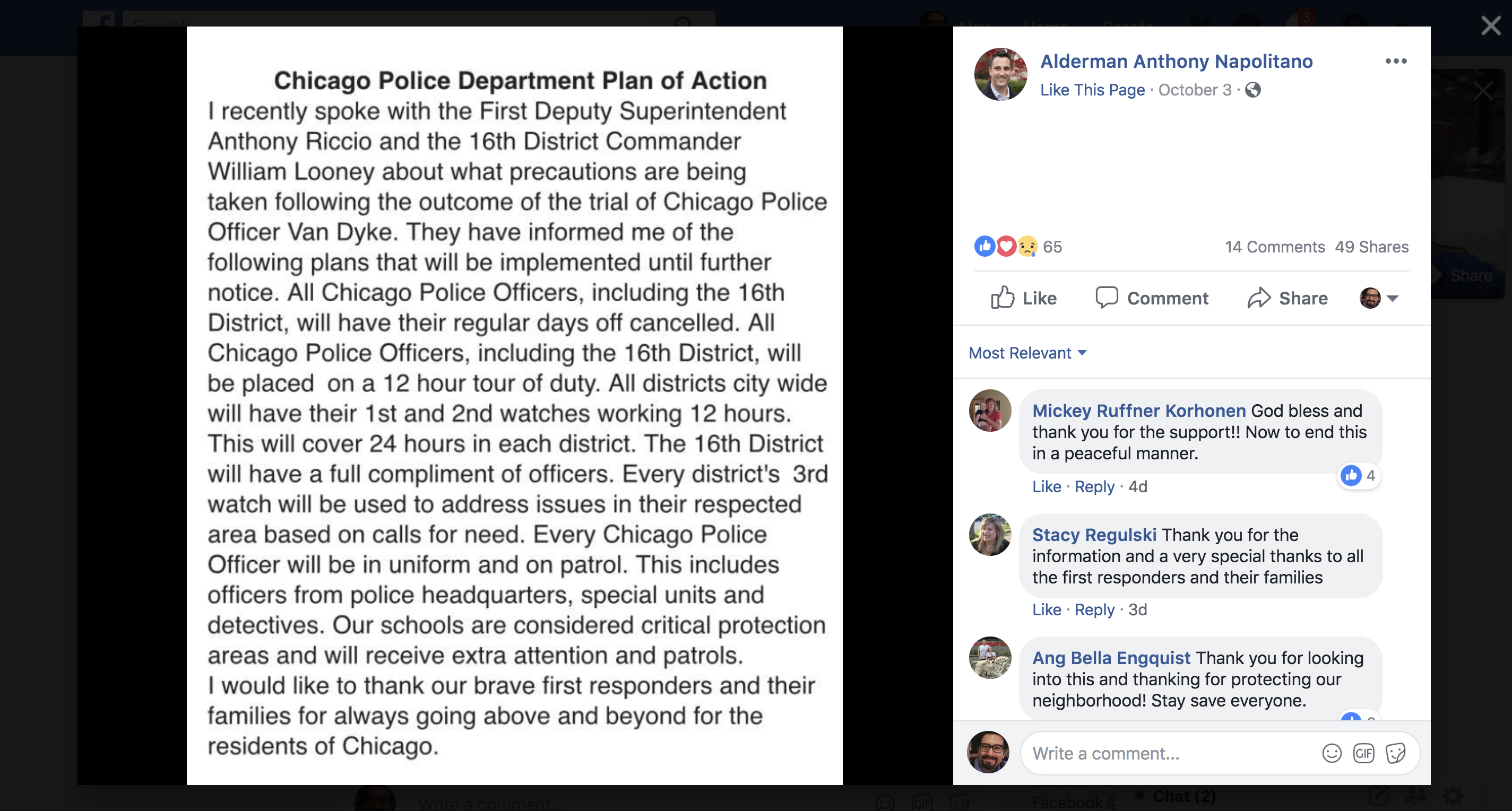 Last Wednesday Ald. Anthony Napolitano (41st ) sent out an email newsletter and Facebook update to ward residents letting them know all Chicago police officers had their regular days off canceled due to the impending verdict, and put on 12-hour shifts until further notice.
"Our schools are considered critical protection areas and will receive extra attention and patrols," Napolitano said in the update.

The coalition said Napolitano's comments "promoted a police response to invoke fear and panic" which they consider "irresponsible and wrong."

Napolitano was not alone in issuing warnings before the Van Dyke verdict last week.

Both Ald. Margaret Laurino (39th) and Ald. Matt O'Shea (19th) also sent out public safety warnings last Thursday. Their warnings are nearly identical and say the safety of residents in their respective wards are their "top priority" and that police have "procedures in place to deal with any incidents that may occur as a result of the Van Dyke trial verdict."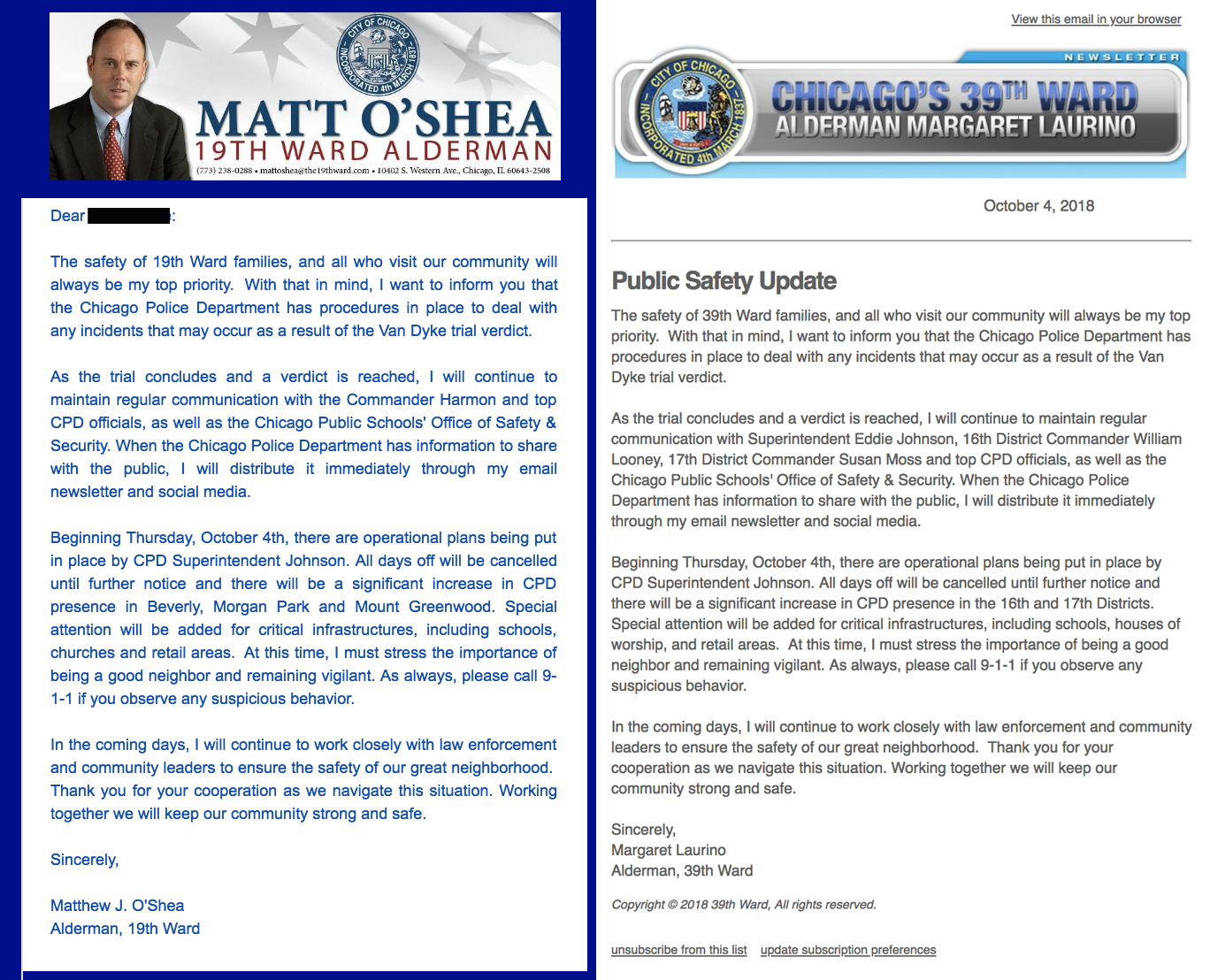 Napolitano and Laurino's wards are on the city's Far Northwest Side. And O'Shea's ward is on the city's Far Southwest Side. Though the wards are miles away from City Hall and the Cook County Courthouse, they are popular neighborhoods among police officers. 

Taft High School was one of many schools that sent out a warning to families last week via email, telling them the city had a "multi-agency interdisciplinary plan in place" and was taking "every appropriate precaution" as the Van Dyke trial neared its completion. Sports games and extracurriculars were also canceled.

On Friday, CPS sent a letter to all principals telling them citywide events through the Columbus Day holiday were canceled out of an "abundance of caution," according to CPS spokesperson Patrick Mullane.
While those activities remained canceled, "we are modifying the instruction that was provided earlier based on feedback from principals. Principals will now have the discretion to hold school-organized events, including tutoring sessions, Saturday school, dances, and other activities that do not require district-level coordination," the letter said. "If you decide to move forward with local school programming this weekend, we encourage you to notify your families of this decision."
Manuel Galvan, a spokesperson for Laurino's office, said the "similiarity and timing" of the aldermen's messages was likely because aldermen were on a conference call with Police Supt. Eddie Johnson last week ahead of the verdict.
It appears the similarity in the updates comes from drafts that were traded between aldermen's offices during the drafting process, he said. 
Whenever something out of the ordinary is happening in the city, Laurino likes to send out a note to residents, Galvan said.
"The other thing to keep in mind, Ald. O'Shea's ward and Ald. Laurino's wards are two of the safest wards in the City of Chicago. They have the lowest amount of crime rates," he said. "But at least for our ward, every poll that we've seen… residents say their number one concern is safety."
Marty Joyce, a spokesperson for O'Shea, said his office ran the prepared statement past the police department for review before it was sent out to ward residents.
Napolitano did not respond to requests for comment.
Pastor Bowman said she doesn't think these messages were issued with the intent of being racist, but their wording does show the city's unchecked racial bias and fear regarding minority communities.

"Schools in different neighborhoods sent different messages out to families that were more even handed," Bowman said.

For example, Bowman has a child that attends Humboldt Park's Chicago High School for the Arts at 2714 W. Augusta Blvd. She said that school offered students town hall space to reflect on the trial and verdict if they needed it.

"It was very different from the messaging that came out from Taft," she said.

Since the video of Van Dyke fatally shooting McDonald was made public, many residents have been peacefully marching to demand more accountability and transparency from police, especially in the way they patrol in the city's black and brown communities.

On Black Friday in 2015, days after the video was released, Chicago made national headlines when protestors marched down Michigan Avenue during one of the busiest shopping days of the year.

"In the context of the Laquan McDonald murder, there has been really committed activists and folks working to uncover racism in the city," Bowman said. "They've shown up again and again being peaceful and respectful and yes, potentially inconveniencing people, to create awareness. But never in the last three years has there been an incident that would indicate we need to be taking the attitude and approach we saw from aldermen and police last week."

Kofi Ademola, a community organizer, wasn't surprised by the warnings sent out ahead of the verdict.  

"They do that to justify the state's response, which uses military tactics and insidious, incendiary words that are completely racialized," he said. "To 'protect you from the boogie men.' With black and brown communities being the boogie men."

Ademola said that ahead of the verdict, everyone who was organizing made sure to stress it was a non-violent protest. No one wanted to damage property or become violent, he said.

"But I'm glad to see different people on the ground are seeing through these false narratives. That people from different enclaves and communities are seeing through this," he said. "I really hope more and more people are questioning these types of narratives. This is why young people are saying stop investing money in police and their new police academy and instead invest in our communities."

The coalition will be hosting a vigil at Friendship Presbyterian Church, 6088 N. Northwest Hwy., Wednesday night.
The event will allow residents to express grief for the loss of McDonald and to support the McDonald family and to acknowledge last week's verdict was just one step towards more police accountability and systemic changes in the criminal justice system.

Additional information about the vigil can be found here.
Do stories like this matter to you? Subscribe to Block Club Chicago. Every dime we make funds reporting from Chicago's neighborhoods.