WEST LOOP — Developer Thor Equities wants to build a 19-story office building on a block-long property next to the Fulton Market gateway in the booming area, according to a West Loop leader who is concerned about whether Fulton Street can handle the added traffic. 
Under the initial proposal, the New York-based developer looks to covert the block bounded by Fulton, Green, Halsted and Wayman streets into a mixed-use office and commercial building that could reach "approximately 19 stories," according to Carla Agostinelli, executive director of the West Loop Community Organization. 
While Agostinelli stressed the proposal is in its infancy and can change as the developer meets with neighborhood groups, she said streets and other infrastructure need to be redesigned or upgraded before more density is added to the area.
Despite recent work to the streetscape on Fulton, the existing development on the street between Halsted and Peoria has created traffic congestion and safety concerns, Agostinelli said.
Fulton is "awfully narrow" and experiences high volumes of car, bike and pedestrian traffic daily, Agostinelli said. Over-flowing trash bins are also a problem on the "terribly congested" street, she said.
"It's great to see Fulton Street developed because we want to see economic development … but the infrastructure cannot support what is currently on the street, let alone a developer proposing a 19-story building that will bring in thousands of more people to an already congested area," Agostinelli said.
Agostinelli said the West Loop Community Organization will work with Chicago Department of Transportation officials to offer suggestions on ways the developer can help the community address infrastructure needs. That could include using West Wayman Street to the north as a way to alleviate high-volume traffic on Fulton, she said.
"We are working closely with CDOT and the developer to consider traffic patterns," she said.
Last week, Crain's reported the proposed office project would be a 20-story glass and steel office building designed by Skidmore, Owings & Merrill.
Thor Equities now owns the entire block — including the Mid nightclub building at 306 N. Halsted St., the former Isaacson & Stein Fish buildings at 800-810 W. Fulton St. and several other properties owned by meatpacker Morreale Meat, according to Crain's. 
RELATED: The Mid Nightclub To Close Out An Era With 'One Last Song' In February
Ald. Walter Burnett Jr. (27th) said he has seen the plan for the site, but he will wait until the proposal is presented to community groups and in public meetings before he formally weighs in. 
The West Central Association and Neighbors of the West Loop are scheduled to meet with the developer on the proposal in November, leaders confirmed.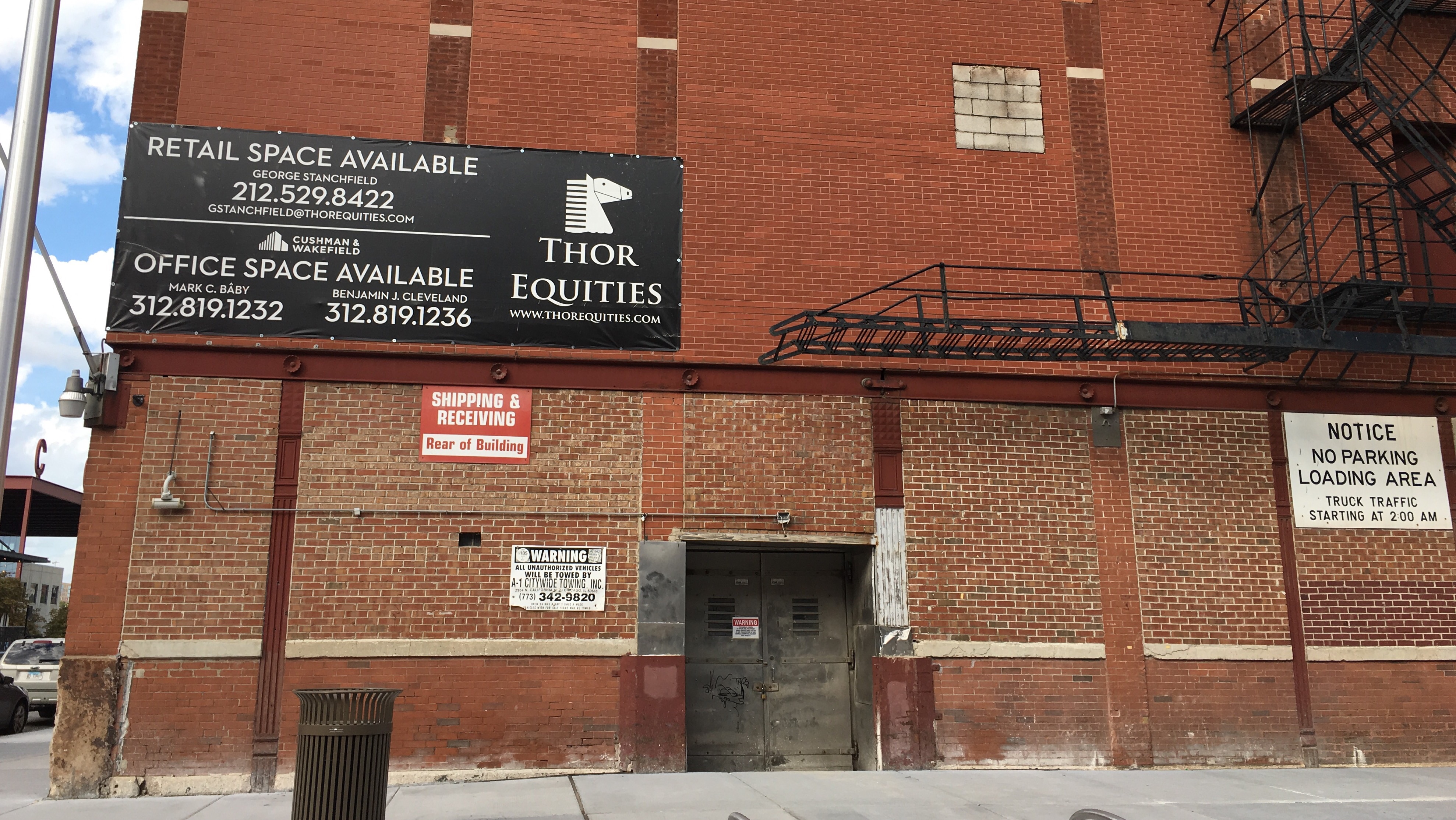 As part of the proposal, the developer is seeking a zoning change from DX-5 and C2-5 to a Planned Development DX-7, Agostinelli said.
Agostinelli said a community meeting will likely be scheduled on the project later this year or in early 2019. 
Calls and emails to Thor Equities representatives were not returned.
Sterling Bay also is developing a 19-story office building on the old Coyne College parking lot just north of Thor's block-long site. 
Do stories like this matter to you? Subscribe to Block Club Chicago. Every dime we make funds reporting from Chicago's neighborhoods.