DOWNTOWN — Jane Labowitch of Logan Square has sketched the Mona Lisa. She's drawn the Bean and the city skyline and even recreated the beautiful, swirling skies of Van Gough's "Starry Night."
And she's done it all on an Etch A Sketch.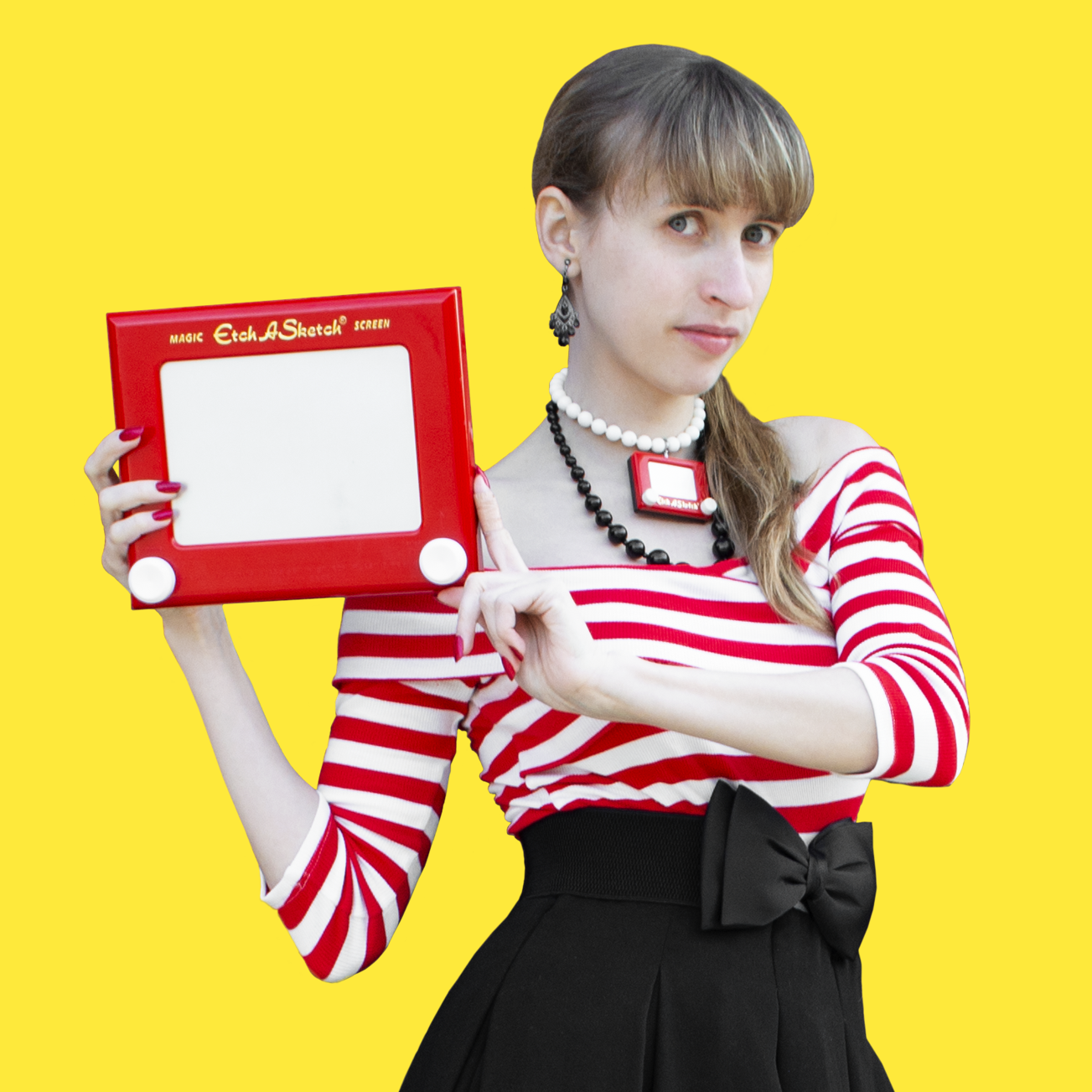 That's because for Labowitch, a full-time Etch A Sketch artist who also goes by "Princess Etch," the beloved toys aren't just for kids: They're canvases for elaborately detailed works of art. She uses the only tools that come with the iconic red toys — the two white knobs that decorate the front of every Etch a Sketch and, when turned, create vertical and horizontal lines across its gray screen.
Of course, Labowitch did get her start as a kid: She began playing on an Etch a Sketch when she was 4 and simply never stopped. She was 16 and in high school when she got serious about her artwork.
Ten years later, Labowitch's hyper-detailed Etch A Sketch pieces are a social media sensation, and major companies like Disney have hired her to create custom pieces. She's been a full-time Etch A Sketch artist for two years.
"I've got stacks of Etch A Sketches everywhere," said Labowitch, who keeps about 300 of the toys stocked around her apartment at any one time.
Aside from recreating well-known masterpieces like "Starry Night," she also sketches portraits, internet memes, video game characters and original works, among other subjects.
How much time Labowitch spends on each piece varies depending on the size of Labowitch's Etch A Sketch canvas and how detailed the work will be, with six hours needed for simple pieces while she might put in 30 hours on her most detailed art.
Labowitch's latest big piece, a recreation of Gustave Caillebotte's "Paris Street; Rainy Day," took her about 12 hours spread out over nine trips to the Art Institute. She spent those hours on a bench before the real "Paris Street" – with some breaks to talk to curious strangers about her art.
Passersby who see Labowitch working are sometimes timid and nervous about interrupting her, she said. If a person lingers, she'll ask them if they have questions for her and encourages people to approach her. She's even asked those who take photos of her and her work to contact her so she can share the pictures.
Many people end up telling Labowitch about how they grew up with Etch A Sketches (they've been around since 1960), and she loves to hear their stories.
Others are more skeptical: "Are you — what? How did you do that?" some ask when they see her work. "Why here? Why didn't you just look at a photo of it?"
"If I would have done that then I wouldn't have met you," Labowitch explains.
After finishing each piece, Labowitch has to preserve them — no easy task on an Etch a Sketch, which can be erased with the smallest of shakes.
Labowitch has to drill a hole in the back of the Etch a Sketch and remove the very fine aluminium powder from the inside. Cleaning out the excess powder ensures that even if the Etch A Sketch is shaken, the image on the front won't change. But the work is messy and Labowitch has to do it outside while wearing a mask.
"It involves a lot of shaking and a lot of banging on the Etch a Sketch to be as thorough as I can be," Labowitch said. "It's like a smoke … and nothing is sacred to that powder. It will just coat anything.
"It's a messy process, and it's how I justify the cost that I ask for my work."
Labowitch then cleans the Etch A Sketch, seals the hole in the back and glues down the front knobs so no new lines can be created. She packs her creations in a "boatload of bubblewrap" and ships them out to customers.
"It's a bit of a stressful experience, shipping my work, but I've shipped literally hundreds of renditions at this point in the last five years and it's a tried-and-true method of preservation," Labowitch said.
The first piece Labowitch sold — a rendition of Yoda from Star Wars — went for $300 when she was still in high school. Now, she takes commissions for work on mini Etch A Sketches, which start at $128, and her larger works can go for up to $800. One of her most ambitious pieces, a recreation of Georges Seurat's "Sunday On La Grande Jatte," sold for $2,500 last year.
For those who can't spring for an original Etch a Sketch, Labowitch also sells pins, stickers, ornaments and prints of her work online.
Labowitch also teaches workshops, showing students the basics of Etch A Sketch, and goes to events where she does portraits like a caricature artist — just one who uses a mini Etch A Sketch instead of pen and paper. She's worked at conventions like C2E2 and hopes to participate in more in the future.
For now, Labowitch is seeking out her next source of inspiration for another big Etch A Sketch piece. She's working on a series that depicts Chicago landmarks, like the Bean and the skyline, and she's been checking out the Field Museum to see what catches her eye there. (If SUE the T. rex was still in the entrance hall, she'd have chosen that.)
Once Labowitch has picked a subject, she will focus on that piece for the next month or so, she said. She plans to work at the museum, spending eight to 10 hours on the Etch a Sketch and talking to other museum guests about her art.
Do stories like this matter to you? Subscribe to Block Club Chicago. Every dime we make funds reporting from Chicago's neighborhoods.
Photos of Labowitch's work: