ALBANY PARK — From Rogers Park to Riverdale, Chicagoans love their neighborhoods, and they love to wear that neighborhood loyalty on their … walls.
A decade ago, Jenny Beorkrem created a typographic map of Chicago, using neighborhood names and boundaries to form the city's distinctive shape. The poster was a hit, so much so that Beorkrem has built a business  – Ork Posters – around it.
A handful of graphic artists have since pushed the notion of Chicago as a city of neighborhoods even further. Rather than present a single image of the city as the sum of its parts, they've spun off the parts — the neighborhoods — into standalone works of art.
Whether you pledge allegiance to Old Irving Park or Old Town, Beverly or Bucktown, there's likely one, two or possibly even three different depictions of your 'hood waiting to grace the walls of your bungalow or loft.
Demand for neighborhood posters is "super super high," said Zuri Jenkins, buyer and manager of the Andersonville boutique Foursided, which stocks a varied selection of cards, gifts and posters.
"We have a huge Chicago section [of merchandise]. It has always thrived," Jenkins said.
Where tourists tend to snap up items that scream "Chicago" as proof of their visit to the Windy City — images of the skyline, the "L" or anything emblazoned with the city's four-star flag — locals are more likely to gravitate toward items that speak to their individual connection to Chicago, she said.
"People want more personalized items, something that will pertain to their specific situation," Jenkins said.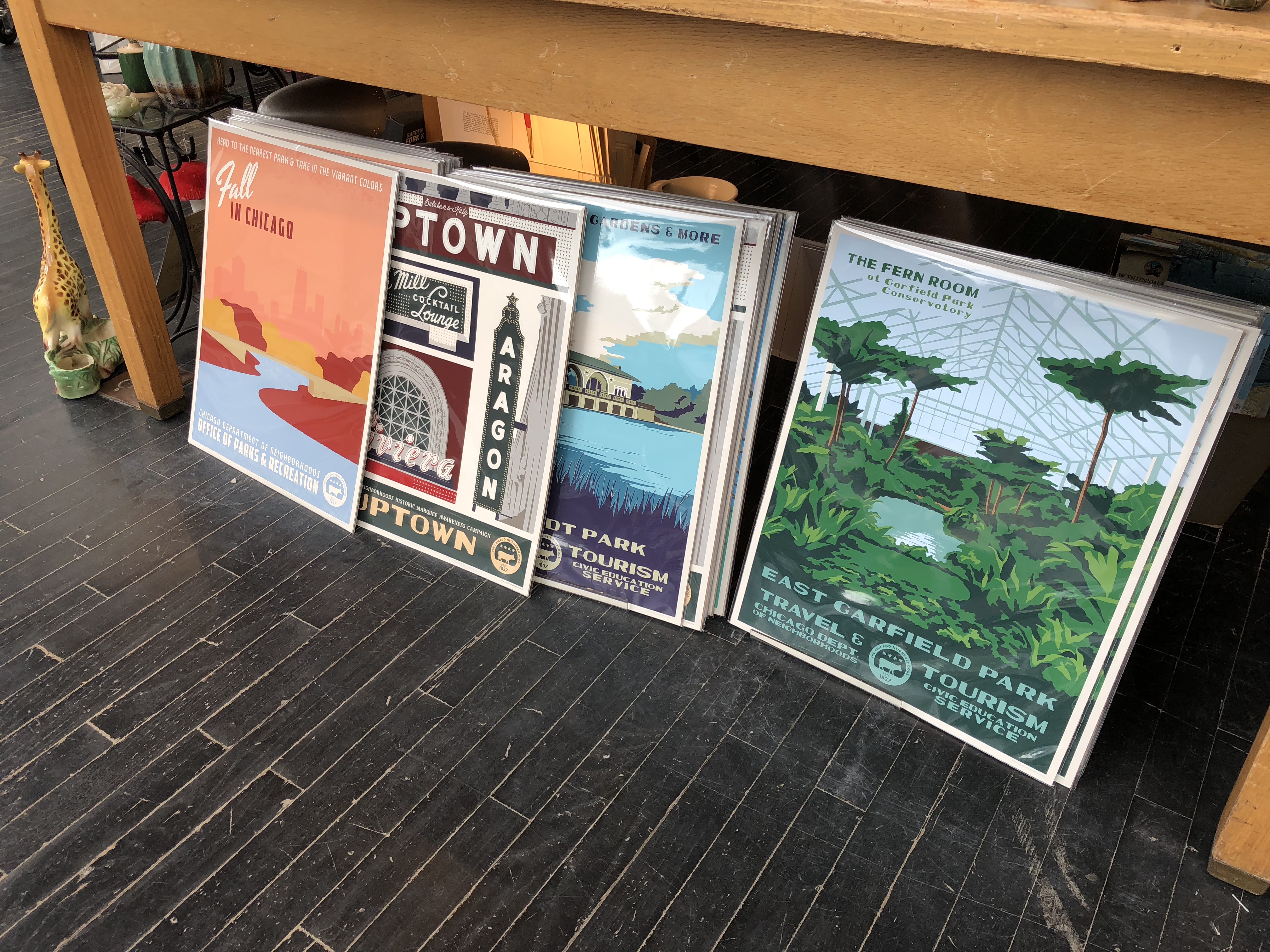 For many, nothing is more personal than the slice of Chicago they call home.
The most prolific poster artists — Chris Gorz, Joe Mills and Steve Shanabruch — have collectively given an identity (or multiple identities) to roughly half of Chicago's 77 official community areas, plus a smattering of unofficial neighborhoods (*cough* Ravenswood *cough*).
Although they're mining the same territory, each designer has a highly distinctive style — what Shanabruch calls a "visual signature" — and has put their own stamp on the theme.
Gorz, the OG neighborhood poster artist, studied advertising at Columbia College, which shows in his use of a single dominant image, typically rendered in strong lines and bold primary colors.
By contrast, Shanabruch draws in softer tones and presents broader landscapes intended to mimic Works Progress Administration tourism posters of the 1940s.
Mills has gone in an entirely different direction, creating "maps" of each neighborhood through a mix of typography and icons that represent landmarks and architectural features.
One thing they all have in common: Each of the three holds down a day job and took up drawing neighborhoods as a way to reclaim a bit of their creative soul. One poster became two became 20. 
All have continued out of pure passion for the city, following their muse rather than chasing sales.  
"Some of them I do and I know they will never sell. A lot [of neighborhoods] have sold no more than two or three or none at all. I like to make money, but it's really an escape for me. I do it more for fulfillment," Shanabruch said.
"I never really had a grand plan … that takes away the fun of a creative outlet. I knew I wanted to make the posters until I got tired of it," he said.
That time hasn't come yet for any of the artists, but all admit they've slowed their pace.
"I tend to take longer breaks," said Mills, who's churned out nearly 30 posters in five years. "I want to make sure I'm excited about the work."
Realistically, none thinks he will get around to documenting every single Chicago neighborhood. Mills, for one, said his style isn't suited to some of the city's more residential enclaves, and the sheer time involved — upwards of six months per poster — is prohibitive for Gorz and Shanabruch.
Said Gorz, "It would be great to do all the neighborhoods, but I'll be dead before then to be honest."

Get to know the artists:
Neighborhood connections: Gorz grew up in Clearing, lived in Andersonville and now calls Old Irving Park home, where he and his wife own a house built in 1893. "Chicago is part of my DNA. I don't want to live anywhere else," he said.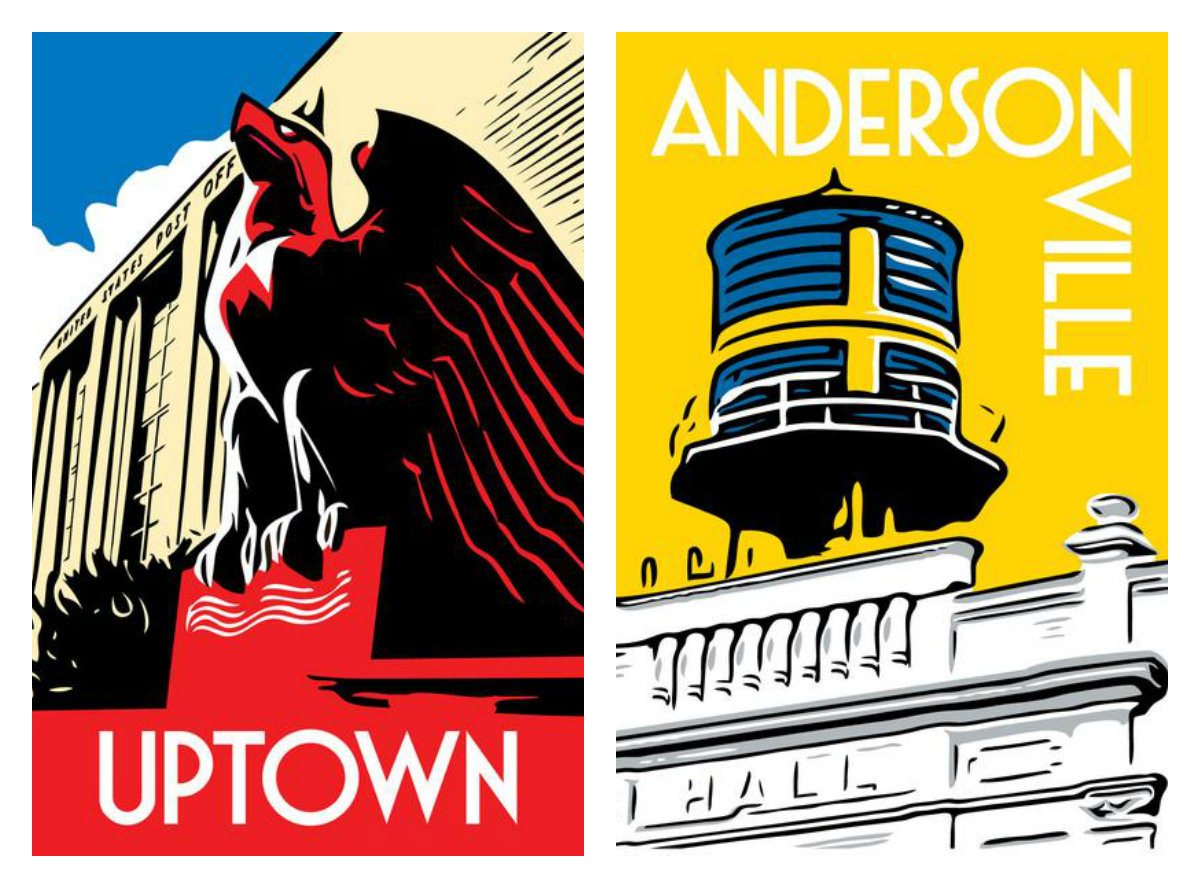 First neighborhood poster: Uptown. Back in 2011, Gorz, who works in corporate branding for a Fortune 500 company, felt the need to get ink under his fingernails again. He took a screen printing course at Lillstreet Art Center and created an image of the Uptown Post Office for a class project. Almost as an afterthought, Gorz added the word "Uptown" to the design.
His classmates went wild for the poster and Gorz sensed he was onto something.
Sources of inspiration: Gorz' work reflects his love of architecture and history — many of his ideas for posters come to him while exploring the city on Chicago Architecture Foundation tours. "I try to choose something that's part of the past, part of the present and part of the future," he said.
Perspective: Gorz positions his images in such a way that it appears the viewer is looking up at the object. "I call it a 'heroic shot,'" he said. The style was heavily influenced, he said, by Gorz' former Columbia College professor, Dominic Pacyga (now emeritus), who took students on frequent walkabouts. "He would be like, 'We're going to walk around the city and look up.'"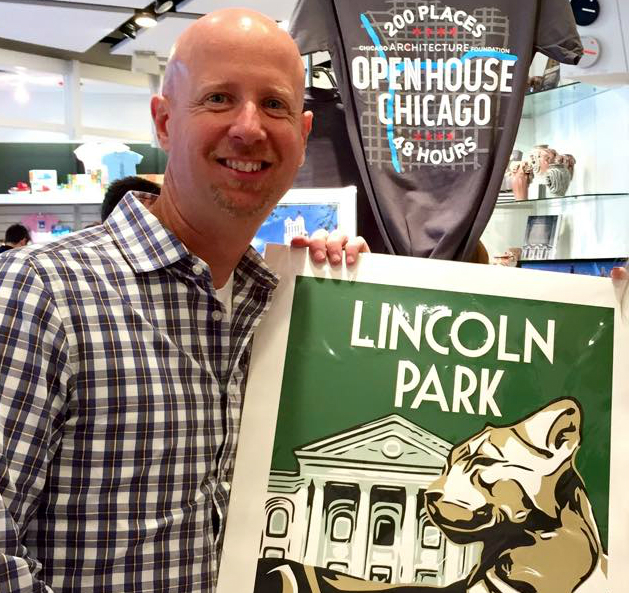 Stumped: Gorz has tried, and failed, to come up with a defining image for North Center. "Some of these [neighborhoods] that are so big, it's hard to narrow them down," he said.
What's the point?: "Really the intent is I want to help people connect with their neighborhood," Gorz said.
Let's talk water towers: Gorz was living in Andersonville when he started his poster project and drew on the neighborhood's most iconic image for his design — a water tower painted to resemble the Swedish flag. A fixture in Andersonville since 1927, the water tower was damaged and removed in 2014. So much for past, present and future. Gorz kept the faith. "Lots of these icons, they have such power in the neighborhood, people won't let them go. I knew it was going to come back," he said. And indeed it did. A restored tower made its triumphant return in 2017.   
Neighborhood connections: Mills, an elementary school teacher, lives in Woodridge. But don't hate on him because he's a suburbanite. Mills has, at various points in his life, lived in Hyde Park, Uptown, Lincoln Square and University Village. As research for his posters, he's probably walked more of the city than most residents. "It's a bit of irony that when I lived in the city, I never paid as much attention to the neighborhoods as I do now."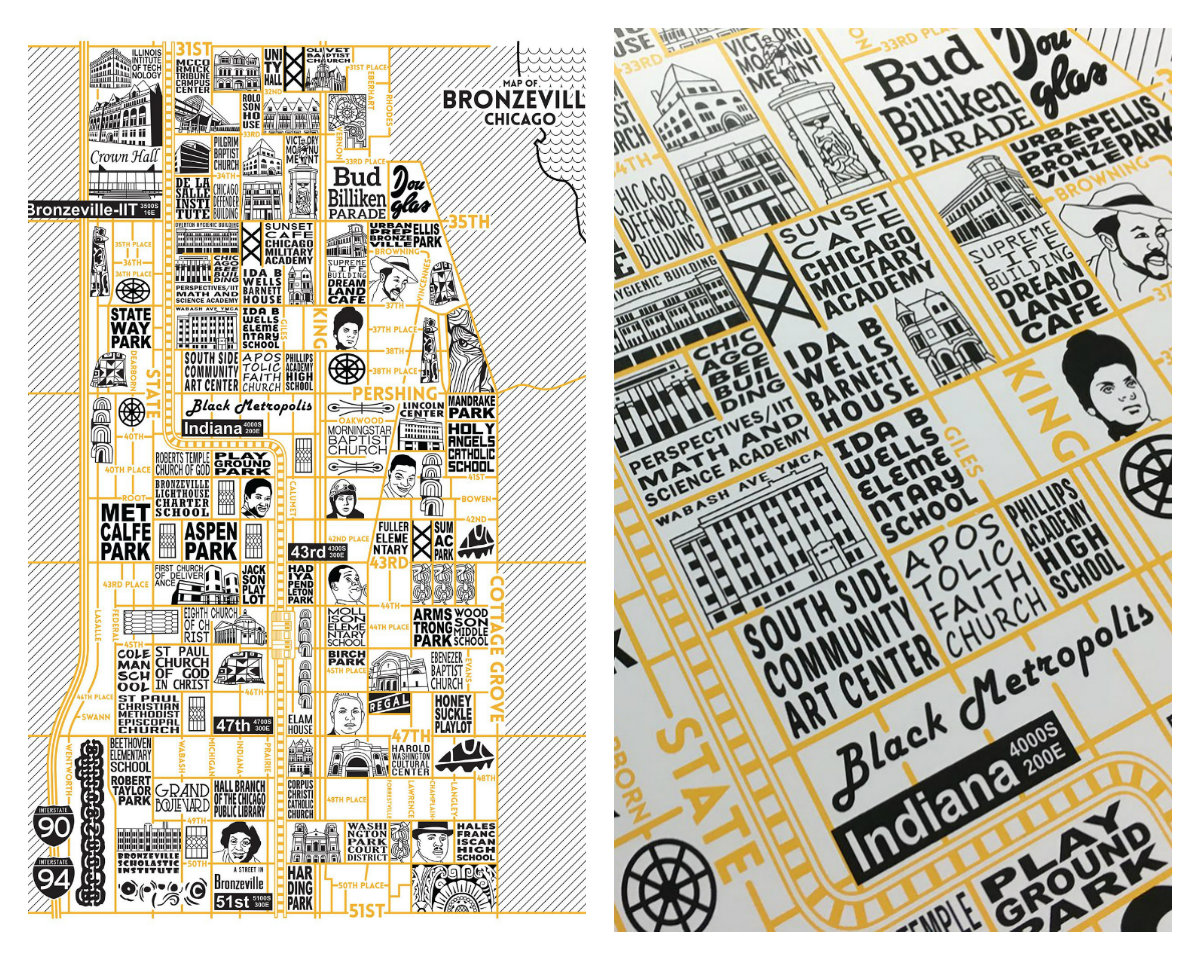 Pounding the pavement: Mills starts his research of a neighborhood online to first see if it's a fit for his style. "Some are so residential, it would just be a picture of houses," he said. If an area is a good match, he hits the streets. "I like to grab architectural details, whether sign posts or something stamped in the concrete, so it feels like I've stepped into the neighborhood. I like to pull pieces out that you'd only notice if you lived there," Mills said.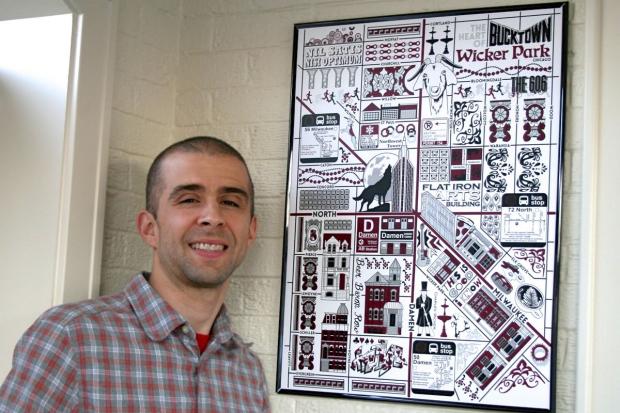 Remember, it's art: Though his posters resemble maps, Mills takes pains to point out that they are, in fact, works of art as opposed to substitutes for GPS. Borders can be inexact and mistakes are occasionally made. If a historic landmark no longer exists but still looms large in neighborhood lore, Mills will put it on the map. "The one I hear the most about is Riverview," Mills said of the long defunct North Side amusement park. "It's been gone 40 years and you still hear about Riverview."
Neighborhood connection: Shanabruch grew up in Beverly, rented for years in Ravenswood Manor and recently bought a house in Portage Park, which inspired the next poster in his series (still a work in progress). He's chosen the Portage Theater as the focal image, whether it's the "right" one or not, just because he loves it.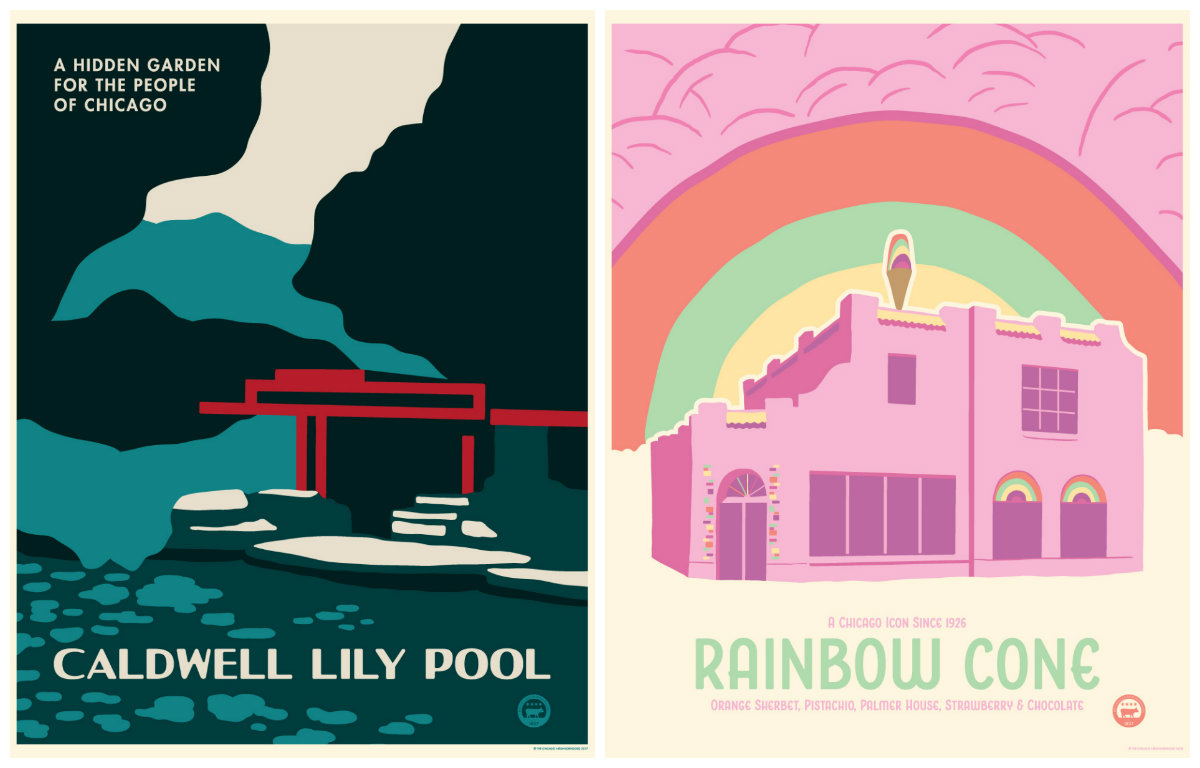 Second fiddle: Before he starts work on a new design, Shanabruch always checks Gorz' website first to avoid duplication or even the whiff of imitation. So blame Gorz for the lack of a Lakeview poster in Shanabruch's portfolio. "I've been trying to come up with an idea for so many neighborhoods for so long. One I really want to do and can't figure out is Lakeview," Shanabruch said. "It's so broad, there's no central identifier" — except for possibly the totem pole along the lakefront. Guess who already used that image? Gorz. 
The scoop: Shanabruch has broadened his "tourism" theme to include seasonal posters of Chicago and a handful of his favorite spots in the city. "The last one I worked on was Rainbow Cone. My wife went down there with friends and our son, and I was jealous," he said. He responded with a visual treat for the eyes.
Lasting impression: "These look old." That was the reaction Shanabruch got when he showed an early poster design to his dad. Decades from now, Shanabruch's posters could actually become the vintage finds that they already resemble, relics of a bygone Chicago. "I guess I never really thought about that," he said. "In the beginning, I was kind of producing them for myself. That would be cool to think these things would last for a long time."