ROGERS PARK — Hundreds of residents packed the gym at the Loyola Park field house Wednesday night as police updated the community on their investigation into a masked man who gunned down two people in the neighborhood this week in separate attacks.
"This is a very challenging time for the community," said Ald. Joe Moore (49th). "There is fear and concern that I share too. But this is a resilient community."
Moore said that officers have received "numerous tips" and that Rogers Park is a "small town in a big city."
"We believe the individual lives in this community," Chicago Police First Deputy Supt. Anthony Riccio told the crowded, emotionally charged room of residents. 
Police released new videos on Wednesday night of the man suspected of murdering Eliyahu Moscowitz and Douglass Watts in separate Rogers Park shootings, and warned frightened neighbors that he probably lives nearby.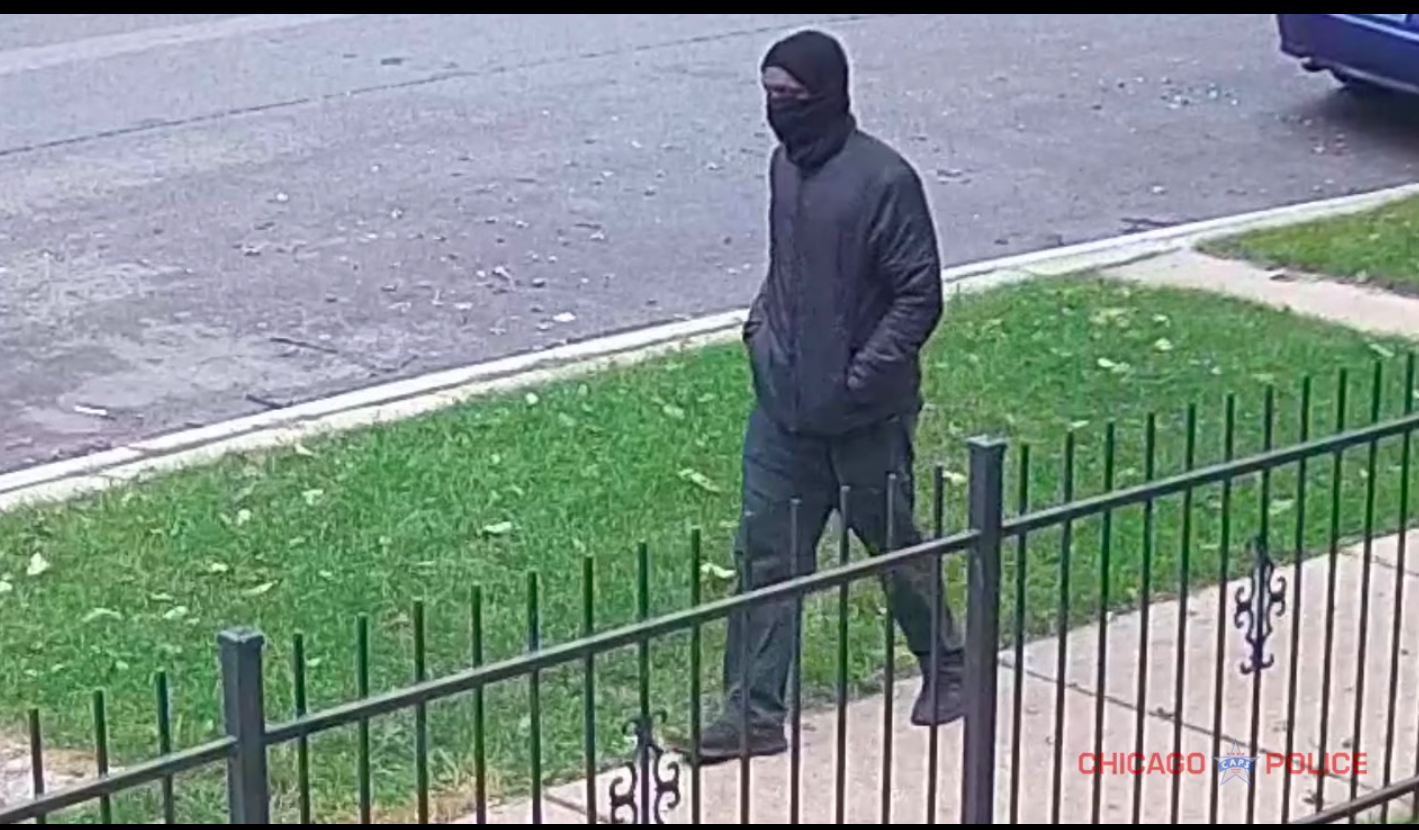 "He's somebody's neighbor," Riccio said. 
Resident David Oliver, 77, has lived in Rogers Park for most of his life. He said that although the murders have not significantly changed his routine, he elects to "walk lighted streets like Sheridan" on his route to and from work.
William Macbeth, 54, has lived in Rogers Park for 16 years and frequently rides his bike around town. He said that he has been keeping his "head on a swivel" and that he checks his back more often now.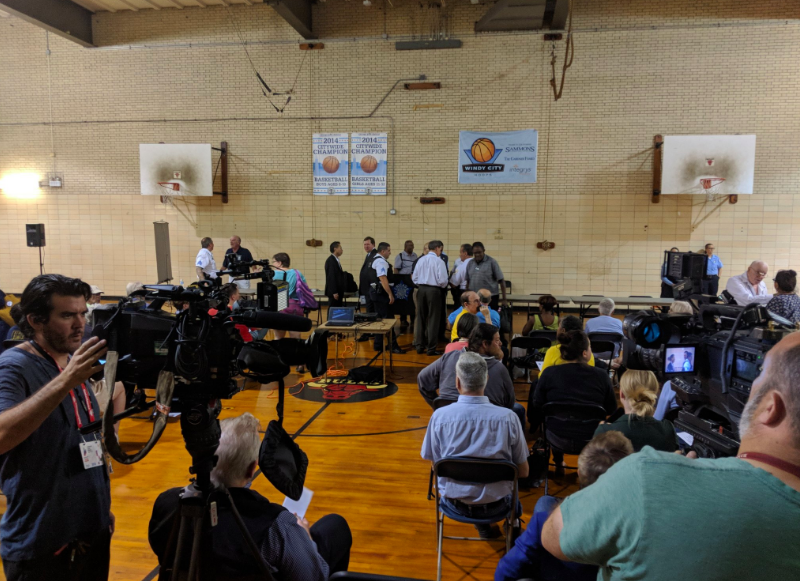 Other neighbors, like Kris Fuller, a nurse from West Rogers Park, were deeply saddened by the violence in their community. She said that she often visits the beach where Moscowitz was gunned down in a seemingly random attack.
"You always think it won't happen," she said. "But you just have to be careful."
Former Loyola groundskeeper, Michael Arnold, 66, recognized Watts from around the neighborhood. They lived on the same block and he would often see him walking his two dogs.
The night of the shooting, Arnold said he was parked in his car across the street from where the murder took place. He went inside about 10 minutes before the shooting to help a neighbor, otherwise he says he would have seen everything.
"I'm shocked," he said.
Arnold said there are "too many guns" and violence has "been going on for too long." He said he's wondered whether the city should consider calling in the National Guard or bring in other external resources.
Riccio said the case has the department's full attention, and that already there are more than 40 detectives assigned to it.
He added that some officers assigned to the Jason Van Dyke trial contingency plan will be redirected to Rogers Park, and said police have deployed gang and drug task forces, local officers and undercover officers in nontraditional cars, like minivans, uncommonly associated with police work.

Federal assistance is being provided to police from the FBI and ATF.
Mayra Gomez, a community organizer for the Rogers Park (24th) Police District, said the meeting was "very informal" but an important bridge between police and the community.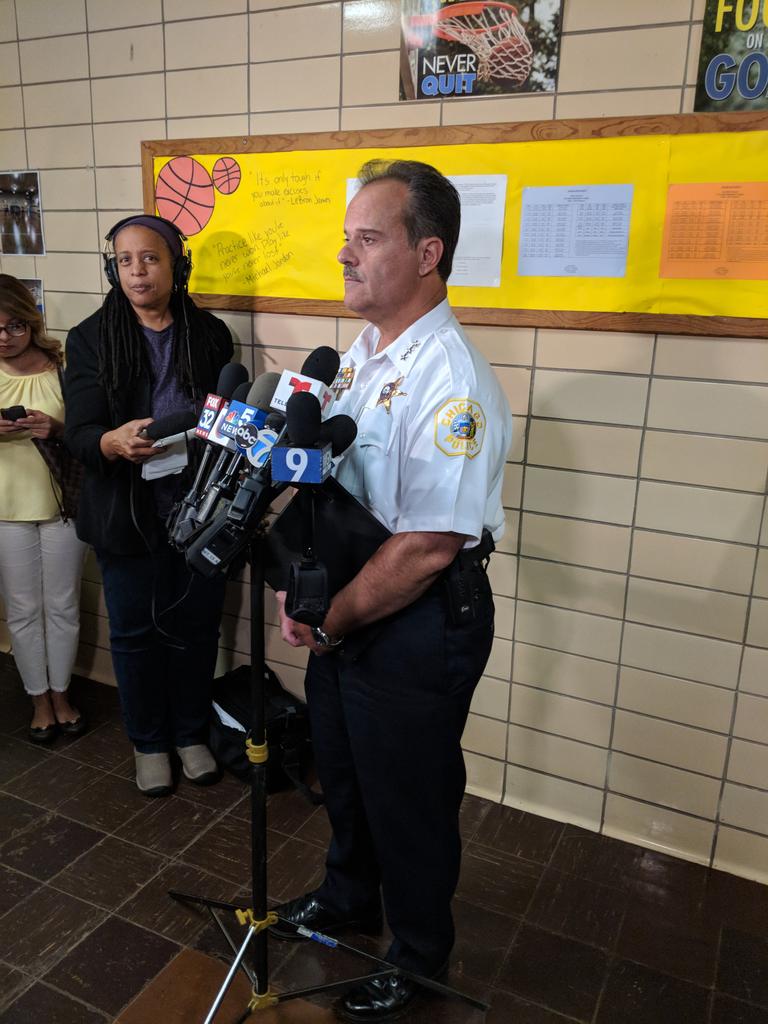 "The meeting was definitely helpful for police," she said.
Gomez said that tips from neighbors are like "pieces of a puzzle" that can help detectives solve challenging crimes.
Members of Rogers Park community groups on Facebook have been feverishly sharing any news coverage of the slayings, and connecting with neighbors to share their feelings and fears. 
"In 11 years, I've never seen so many RP residents concerned about their safety," one resident wrote. 
"This person is trying to take away our freedom and sense of safety in this community," Police Sgt. Shawn Sisk said. "And we are not going to let that happen."
Police say there's no known connection between the two victims. They were just out and about in the neighborhood when the killer approached.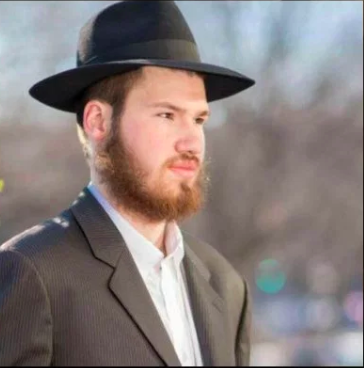 At 10:20 p.m. Monday, Eliyahu Moscowitz, 24, was shot in the head near the lakefront trail at Lunt Avenue.
The day before, 73-year-old Douglass Watts was shot dead while walking his dogs just blocks away in the 1400 block of West Sherwin Avenue, police said. He had been shot once in his head just after 10 a.m.

Police have urged anyone with information to come forward. Tips can be reported to www.cpdtip.com or at 312-744-8200.