EAST VILLAGE — The majority of the members of an influential neighborhood group — and residents who came out to weigh in, too —  voted Monday night to lift a liquor ban that would allow Happy Village owner Cherlyn Pilch to sell her popular dive bar and retire.
By a show of hands, more than half of the 55 East Village Association meeting attendees wanted Ald. Brian Hopkins (2nd) to use his aldermanic powers to lift the liquor moratorium.
That would allow Andrew Miller and Addison Thom from Out To Lunch Hospitality to buy Pilch's business, receive her liquor license, renovate the century-old tavern and add a chef-driven American restaurant with the same legacy name, Happy Village.
Four neighbors who live near the bar were opposed to the plan, mainly because of concerns over parking, potential traffic from food deliveries and noise. An equal number of neighbors said they welcomed the sale during Monday night's 90-minute meeting at The Mitz, 1019 N. Wolcott Ave.
"I love to eat, I support [the plan]. You've got Innertown [Pub] right up the street, that's your dive bar," said Lionel Hawkins, a neighbor who has lived a few doors north of Happy Village since 1999 ("back when people said I was crazy for living here, that I'd get shot").
Related: Happy Village To Become Upscale Tavern and Restaurant Under New Plan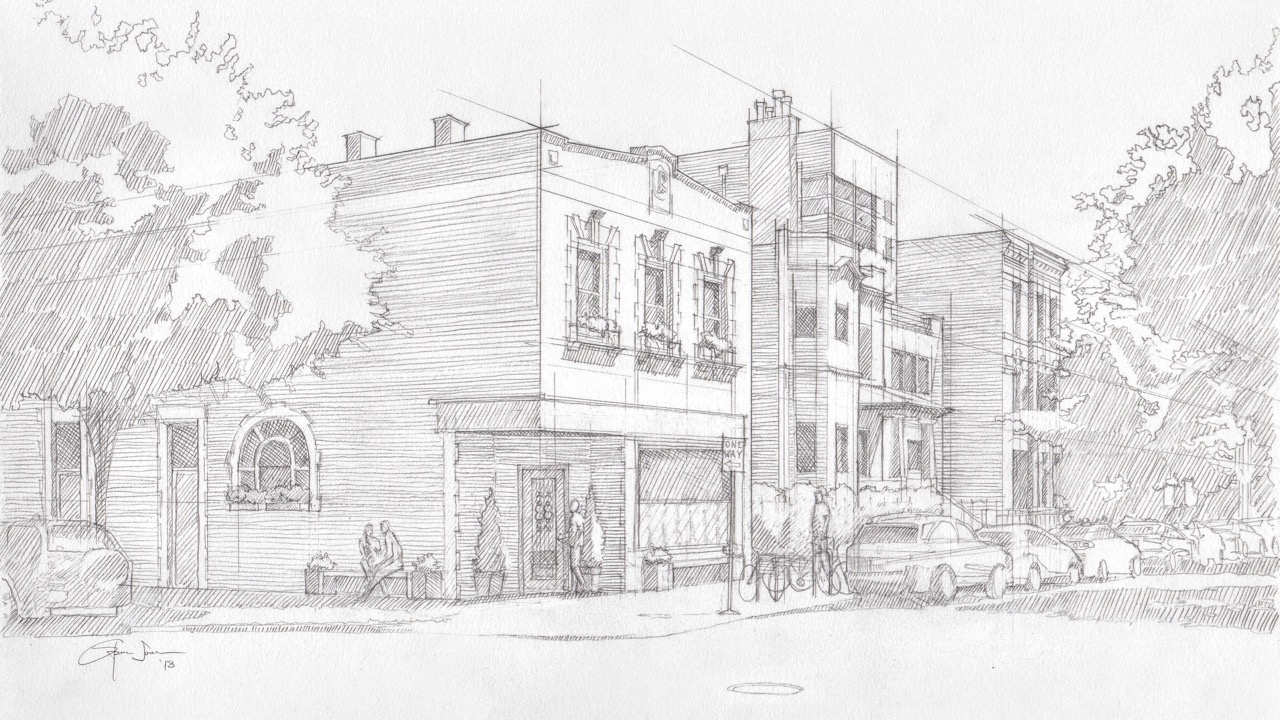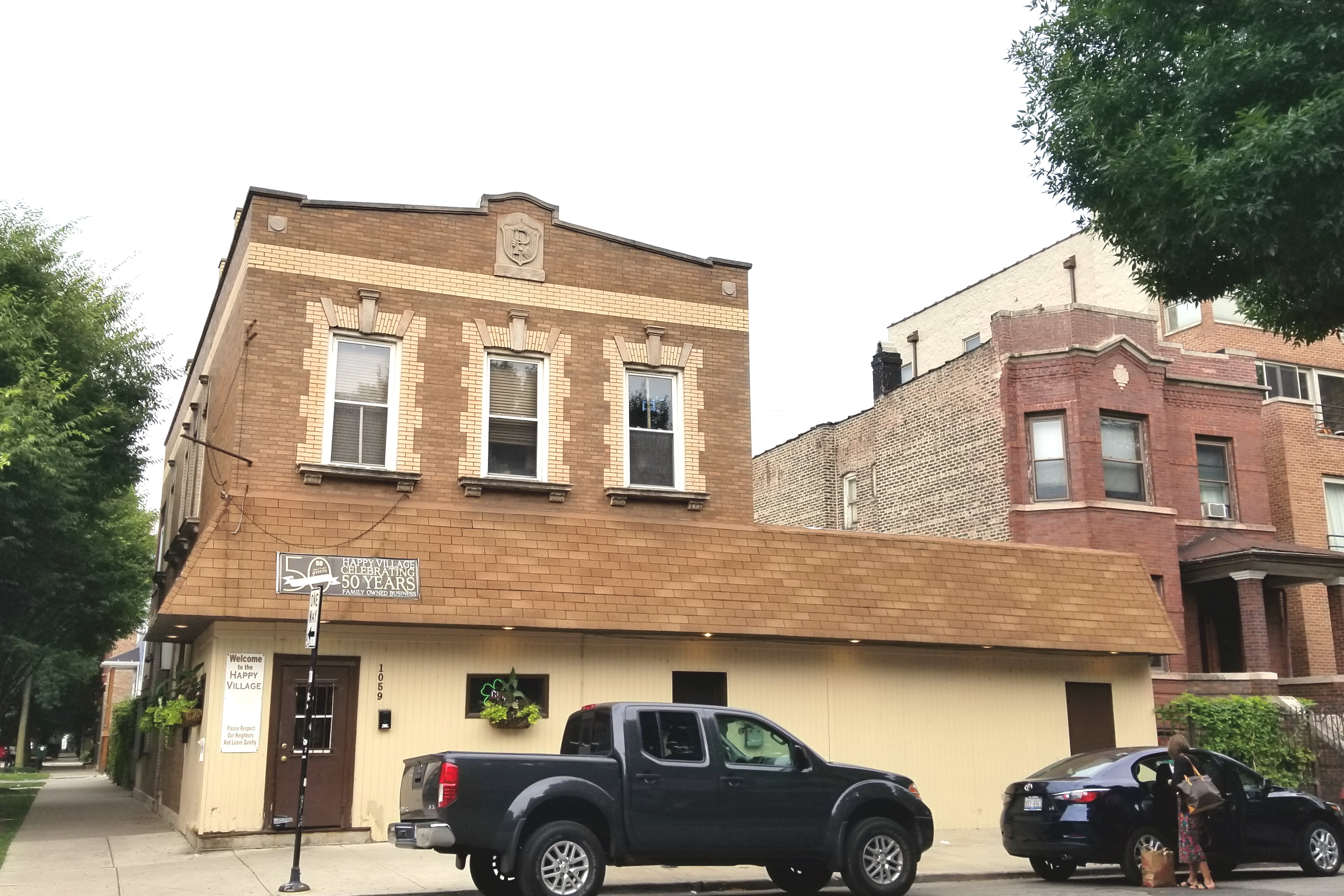 At the start of the meeting, Pilch made an appeal to the crowd, one that was likely informed by the divisive reaction to the sale at an August meeting that drew some of Happy Village's most devoted fans.
"I am the one that kept that bar stable for 55 years this Nov. 15. I am asking for your support with these fine gentlemen and ladies, to achieve another step, a greater step, a more sophisticated step for Happy Village and the corner," Pilch said. "With all due respect, please give this new company and my lawyer the respect, and hear them out and please come with an open mind."
Pilch plans to sell her bar and two adjacent buildings at 1057-1059 N. Wolcott Ave. to Out To Lunch Hospitality. In addition to offering a tavern and restaurant, the group plans to demolish the 1057 N. Wolcott Ave. building (currently Happy Village's recreation/ping pong room) and in its place build a new 3-story residential building next to the new iteration of Happy Village. The building next door would likely be condos or duplexes, not apartments, according to an Out to Lunch Hospitality representative.
The price of the pending sale was not disclosed.
After the gathering, Miller told Block Club they expect to close on the buildings within the next few months, pending a lifting of the liquor moratorium. After a $3 million renovation of the 1870s-era tavern overseen by the Landmarks commission, the new Happy Village aims to open in summer 2019, Miller said.
Hopkins, who was at the meeting, said the East Village Association vote was not binding but an "advisory vote" to help inform his decision. Previously Hopkins said he would wait until he heard from the community before making a decision.
"No decision at this point, still under consideration. Loading and delivery question needs further review," Hopkins said, referring to concerns residents on the block raised about beer and food delivery trucks. One resident predicted food and beer truck deliveries during the day will be "a clusterscrew" on Wolcott Avenue because of tons of school-related drop offs and pick ups at LaSalle II Magnet School, about two blocks north of Happy Village.
Out To Lunch's proposed 50-seat neighborhood tavern and restaurant would offer casual American fare from chef Charles Welch. There will be table seating and servers for each table. The space will offer bar and restaurant seating in Happy Village's existing front room and in a glass-enclosed solarium in the back, providing a year-round, all-seasons hangout.
A patio, to be slightly smaller than Happy Village's existing patio, will seat 40 in warmer months, Miller said.
A revised plan of operation was submitted to the East Village Association this week. Crafted after a heated August meeting where the majority of attendees said they needed more details, the plan of operation prohibits valet parking service on the residential side street.
A message on the new Happy Village website will encourage visitors to take public transportation or ride shares to get there and if there is a long line to get in, patrons will be encouraged to walk over to bars along Division Street or Chicago Avenue until they get notified by a text message that their table is ready.
The 15-point plan of operation was worked out over the past two months since the August meeting. Many phone calls and in-person meetings between members of the East Village Association and Hopkins helped to shape the plan, Miller said. 
"I want to thank everyone for opening yourselves up to us, to our plans, to continue the discussion that we started last time [in August]," Miller told the crowd. 
Miller said Happy Village was initially built as a tavern and operated for many years as a Peter Hand brewery.
"It's the last Peter Hand-tied brewery in Chicago. It has a lot of historical significance architecturally. …  Our ultimate goal is to restore it, to expand upon what it is now. We do want to peel back the layers, so to speak. Under everything you see now there is a gorgeous two-story brick building with a plate glass facade. There is a high tin ceiling. We are not here to reinvent the wheel," Miller said.
After a question from a resident who asked Miller to elaborate on what kind of customer the new Happy Village intends to attract, Miller assured the resident that the bar will continue to be a place for a cheap drink.
"From our perspective, Happy Village in 2018 has become a place where you can get a beer and a shot. Under our stewardship, you can still go there and get a beer and a shot, but if you want a glass of wine, if you want food, if you want to come with your children in a stroller and sit in our back garden on the weekends and have brunch, you can do that, too. We are just expanding the scope to be more encompassing of everything that happens in this neighborhood — instead of just being a place for one thing," Miller said.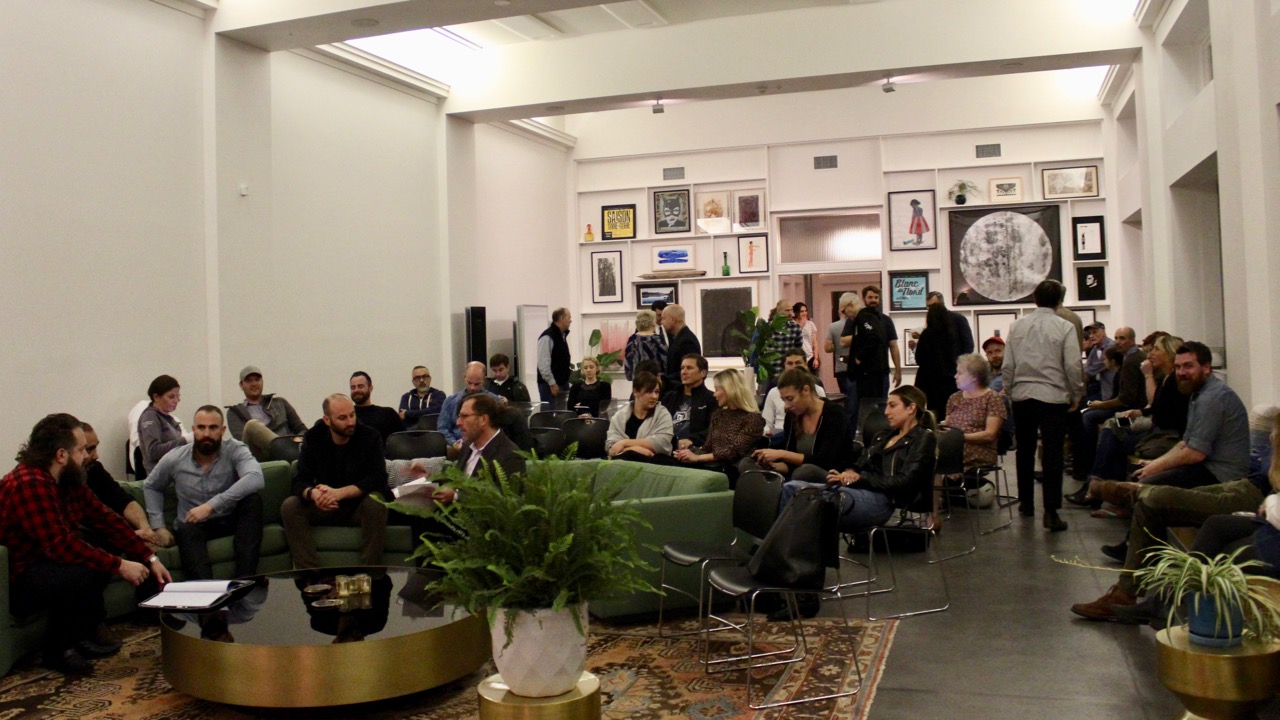 Here's the audio from the meeting: