WEST BUCKTOWN — Visits by police and the threat of tickets and fines has not stopped dozens of dog owners from continuing to use a fenced-in field in Maplewood Park as an unofficial off-leash dog park.
At a community policing meeting last Wednesday for Bucktown residents, a resident who lives near Maplewood Park, 1640 N. Maplewood Ave., expressed frustration over off-leash dogs and urged police to step up enforcement.
"It used to be a few dogs, now we are dealing with packs of dogs. Warnings [from police] are not working," the resident said. 
Dog owners risk a $300 fine and up to a $10,000 fine plus jail time if an attack occurs while their animal is off leash according to city code.
RELATED: Annoyed Neighbors Shut Down New (Illegal) Hot Spot for Off-Leash Dogs In Maplewood Park 
Rocio Varela, a community outreach liaison for Ald. Joe Moreno (1st), said she's meeting with dog owners this week to try and brainstorm possible alternatives to using Maplewood Park's field as a dog park.
"There is a growing concern over the space and a lot of residents who want a dog park [in Maplewood Park]. We understand that they want a dog park, but it's not suitable for a dog park," Varela said.
Some of the dog owners who frequent Maplewood Park are so passionate about the field that they've created a Facebook group, "Maplewood Dog Park Partiers."
"We just want to ensure the safety of everyone using the park. …  There have been shouting matches. We are not there to witness everything that's happening. We want to help them out as much as possible, but don't want to create more problems for residents who live there," Varela said.
Sara Larsen, a dog owner who regularly visits Maplewood Park with her dog, said on Monday that multiple visits by police have not deterred herself and other dog owners from allowing their dogs to play together off leash.
"We have continued to use the park. Continued to have the police get called. Continued to re-leash our dogs when kids come in. Continued to get harassed by the ladies across the street," Larsen said, referring to neighbors who are opposed to the off-leash dogs being there. 
Larsen has not received any tickets from police but some members of the group who allow their dogs to run off leashes have been issued warnings, Block Club previously reported.
The unofficial dog park has created a community for 50 dog owners and friends who regularly meet up and use the park, users say.
"The park doesn't just let our dogs socialize and be free for an hour: it gives us neighbors and our community a chance to get to know one another and talk and help each other out and give advice about dogs and just life," Larsen said. 
Larsen said the group always leashes their dogs when kids come into the park unless they are older and then the dog owners ask the older children if they mind if the dogs are off leash.
"Yes, an occasional new dog owner to the park has not done this but quickly corrects it after being told," Larsen added.
She refuted neighbors' claims that the dog owners are irresponsible and allow their dogs to play when children are  on the field.
"We want the best for our dogs and we know that if our dogs run after kids to play and we don't pick up after them, that does not make us look good and threatens our future at Maplewood. We do leash them when kids come in. We do pick up our dogs' poop. Despite what the three angry neighbors say. … A lot of us don't have kids yet and these dogs are our kids … so we feel like we should be given a fair deal when the park is not being used if we are responsible and good people," Larsen said.
Larsen said that it's a 25- to 30-minute walk to the nearest dog park from Maplewood Park and "by the time our dogs would walk to the park they'd be exhausted, especially in the heat."
The nearest dog parks are in Churchill Park, 1825 N. Damen Ave., and at the Logan Square Dog Park, 2526 N. Western Ave.

Michele Lemons, a spokeswoman for the Chicago Park District, encouraged dog owners to use parks built specifically for dogs and referred residents to check out the list of the city's designated dog friendly areas (dog parks) where dogs can run, play and socialize off their leash.
Lemons said if Park District patrons see a dog off leash, they are encouraged to notify park staff or call 311.
Across City, Similar Complaints
Mallory Olwig, a Noble Square resident and dog owner, said seeing dogs off their leash is "extremely concerning and, honestly, maddening." 
"At the end of the day, dogs are animals. No matter how well behaved or trained, we cannot read their mind. Just because you think they can behave off leash does not mean that a person or another animal might not trigger them. What if someone comes around the corner and startles them and they jump into defense mode?" Olwig said.
Olwig said her dog and herself have been "attacked" on two occasions by off leash dogs.
"I say 'attacked' in quotes because I don't want it to sound like we were extremely injured. The most recent time was just a few months ago when my neighbors were having a party and letting their dog wander around outside. She bit me in the process of trying to get to my dog, who I was shielding," Olwig said. "Again, we don't know what animals are thinking. As sweet as my dog is, I can't guarantee that, if approached suddenly by an off leash dog, she wouldn't go into defensive mode. And, no matter how well trained your animal is, you cannot guarantee that they won't act out of character while off leash." 
On a recent weekday, at least four off-leash dogs were observed running in a field in Wicker Park's namesake park, 1425 N. Damen Ave., despite the fact there is a fenced in park specifically for dogs right next to the field.
A similar scene often plays out in Bucktown's Churchill Park, 1825 N. Damen Ave., which also has a field and dog park.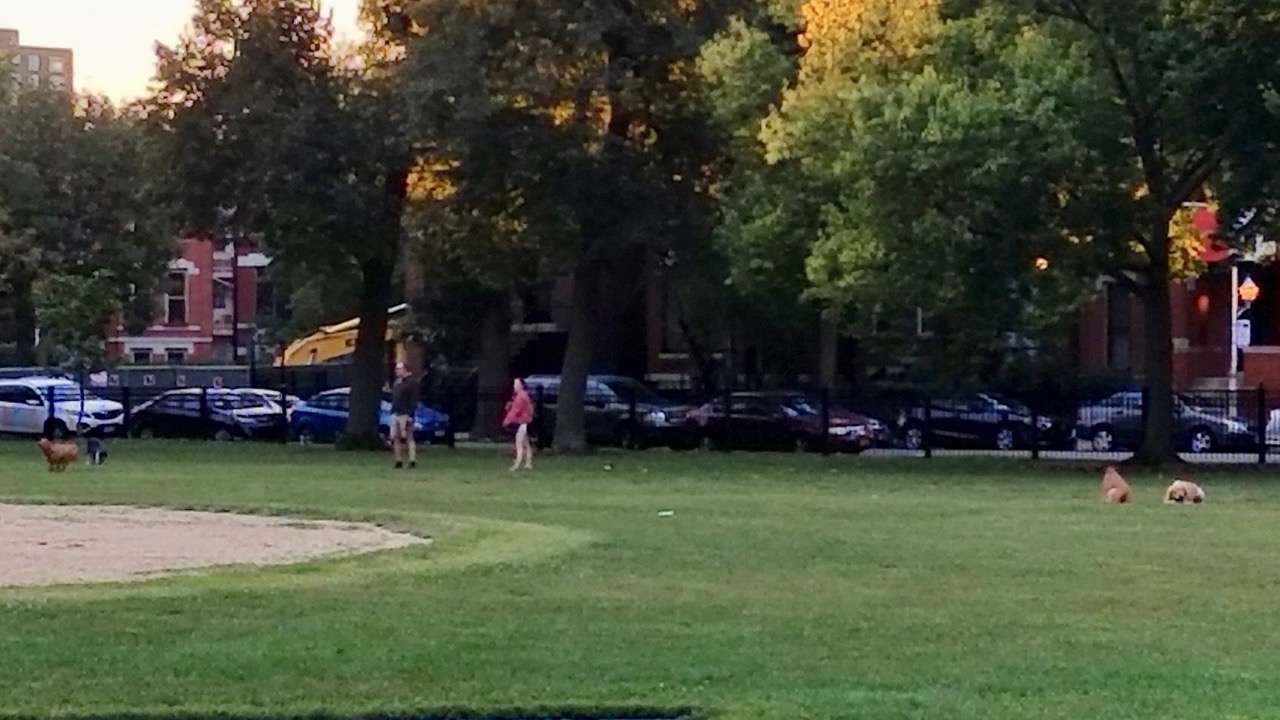 But for fans of allowing their dogs to play off leash, the fields are preferable to running on concrete and they hope a solution can be worked out.
"We are not trying to make this a full-out, free-for-all dog park. We just want some shared time or even find a small area of the park for us to be allowed to go. Still abiding by all the rules of course, but that's all we really want — peace and some compromise," Larsen said.