AUBURN GRESHAM — Before he was the "BlacKKKlansman" who infiltrated the Ku Klux Klan in Colorado Springs, Ron Stallworth was a Chicagoan.
Stallworth, whose life and career as a police officer in the late '70s was depicted in Spike Lee's hit film "BlacKKKlansman," returned to Chicago and spoke to a packed house at St. Sabina Church Sunday.
Stallworth showed off his KKK membership card and talked about how the problems he battled still persist. 
Starring John David Washington as Stallworth, "BlacKKKlansman" follows Stallworth during his days on the job as the first black police officer in Colorado Springs through his investigation into the local chapter of the Klan, when he, aided by a white officer, infiltrated the organization in an intelligence operation.

Through his investigation, he was able to stop at least two cross burnings in the Colorado Springs area and expose two high-ranking white supremacists in North American Aerospace Defense Command, known as NORAD.

On Sunday, Stallworth visited St. Sabina Church, 1210 W. 78th Place, for its morning service to share his experiences. A South Side native, he said he spent his first four years of life in the city before his family relocated to El Paso, Texas, where he grew up. He was joined at St. Sabina by his wife and other family members.

"My roots began right here," he said.

The story behind "BlacKKKlansman" began simply. Stallworth said he saw an ad in the local newspaper asking interested parties to become members of the Klan. So he applied.
Just weeks after mailing in an application using his real name but an undercover phone number, he got a call from a local Klan member interested in learn more about Stallworth. That's when his 7-½ month investigation into the KKK began.
"Today, you couldn't pull off the investigation I did in 1978," Stallworth said. "We have Google, you can always find out who people are."

Still, similar calls to action by white supremacists are still taking place in Chicago, with flyers recently spotted in Hyde Park, Logan Square, Little Village and Mount Greenwood neighborhoods in 2018.

"Dr. [Martin Luther] King said we shall overcome but I want you to know after dealing with these fools, sooner rather than later we will overcome," Stallworth said. "As much as I call them bozos and poke fun at them, ladies and gentlemen, let's face it: the Klan is a very serious, very dangerous, very deadly organization. It always has been throughout its history."
During his investigation, Stallworth said he got wind from his local contacts within Chicago's Nation of Islam and the Oakland chapter of the Black Panther Party that they planned on protesting the Klan directly. He said he urged both respective groups not to come, calling Colorado Springs at the time "a powder keg".

Following his remarks, Stallworth signed copies of is his New York Times best selling book, "Black Klansman: A Memoir" in the lobby of the church.
The Rev. Michael Pfleger of St. Sabina said he invited Stallworth to speak at the church prior to the film's release.
"We need more Ron Stallworths," Pfleger told the assembled before Stallworth spoke.

"If you are going to fight against injustice you must have the tenacity, the endurance, the determination, and faith to fulfill a purpose. When you go against the grain it's going to cost you. Discipleship costs. I'm glad Ron Stallworth accepted that call and had the strength to endure it," Pfleger said. 
Meanwhile, Pfleger also on Sunday spoke to the congregation about the trial of Jason Van Dyke, the Chicago police officer who shot and killed 17-year-old Laquan McDonald in October 2014. Pfleger said no matter the outcome of the trial, Chicagoans should remain non-violent in civil disobedience demonstrations.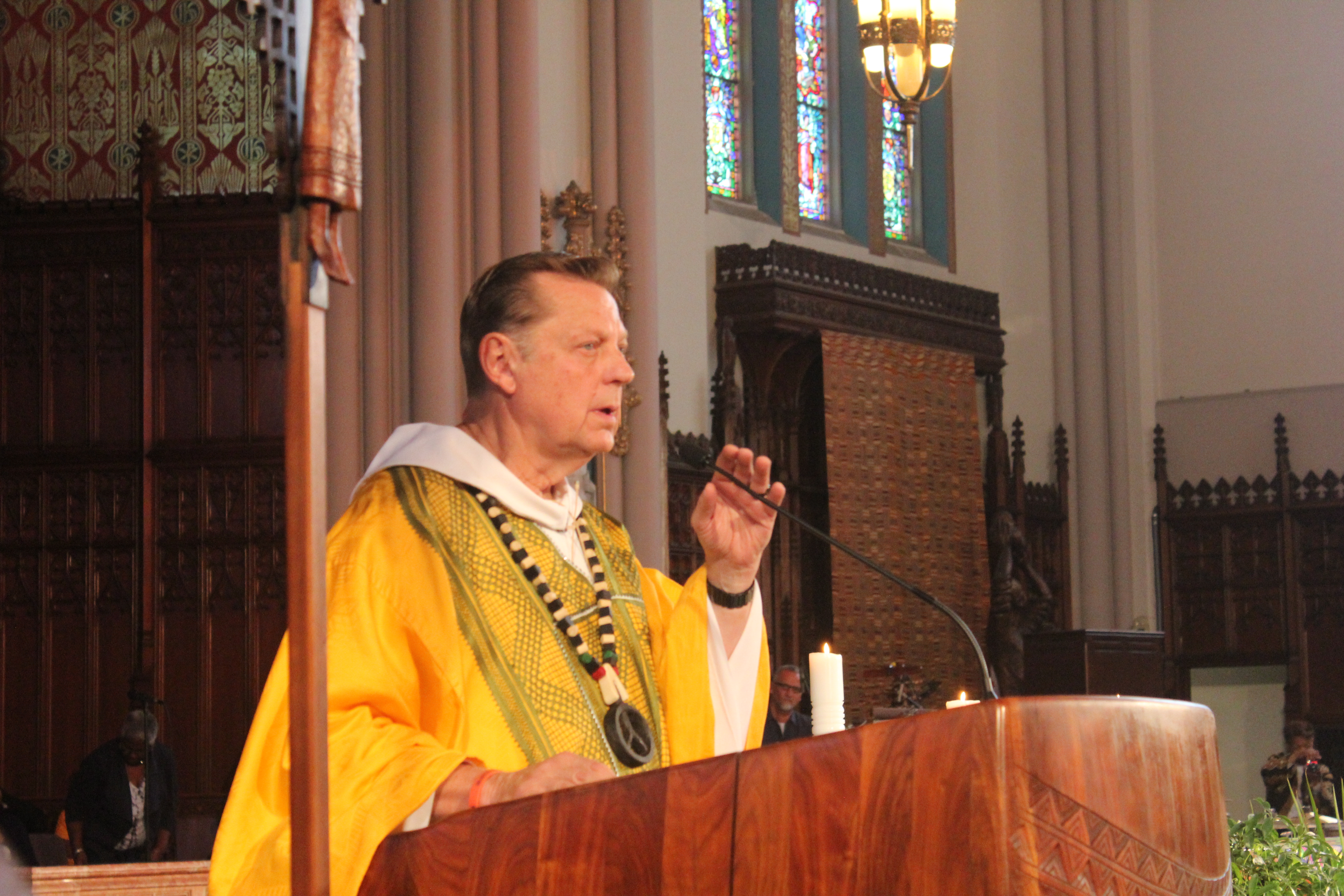 Do stories like this matter to you? Subscribe to Block Club Chicago. Every dime we make funds reporting from Chicago's neighborhoods.