ANDERSONVILLE — Colectivo Coffee's newest (and largest) Chicago cafe opened in Andersonville Monday.

The cafe at 5425 N. Clark Street is the company's third in Chicago, occupying the storefront that previously housed Noodle Zone. The popular Wisconsin-based chain made its entrance into the Chicago coffee shop scene in last year when it opened in Lincoln Park in May and then in Logan Square in December. 
Andersonville will be Colectivo's largest Chicago location at 2,500 square feet. The space features sidewalk patio seating (another first for Colectivo in Chicago), floor-to-ceiling windows, and a mix of booths, regular tables and high-tops lining the windows. In the next couple weeks, the front facade will feature an Andersonville-inspired mural by Milwaukee artist, Kevin Callahan, who has created the brand's most iconic designs. The store will be open from 6:30 a.m. to 9 p.m. every day.

Scott Schwebel, Colectivo's vice president of brand marketing and retail, said Andersonville had been on their shortlist of neighborhoods during the five years of planning that led up to their entrance into the Chicago market.
"We love the eclectic diversity of [Andersonville]. It reminds us of a neighborhood in Milwaukee that we've been in for a long time. So when we saw this sort of beat-up, classic, old Chicago storefront, we saw what we could do — transforming it, activating the corner, kind of being at the bookend of Clark Street on the north end of businesses in Andersonville."
The process of transforming the then-vacant property into a coffee shop proved to be a challenge, requiring extensive masonry work to merge two storefronts.
Ward Fowler, one of the three founders of Colectivo Coffee, says that they wanted to "preserve the building itself but open it up so it communicated better with the street."
Fowler likened the construction of the Andersonville shop to a similar opening in Madison, during which the contractor told him, "We feel like we built you a building inside of a building."

However, Schwebel believes that all the construction work needed to visually expand the space was worth it.
"We love blurring the lines between inside and out and [the idea of] people being able to fall into our cafe," he said.

Founded in Milwaukee, Colectivo is well known for its bold designs and customized approaches to its cafes. Schwebel said that the Logan Square location is "bright and colorful" and has "more of a grit to it because it's on Milwaukee," while the Lincoln Park location was "all about activating the outdoor patio." The Andersonville location is meant to be a sidewalk cafe, an opportunity to transform a corner within the dense and lively neighborhood.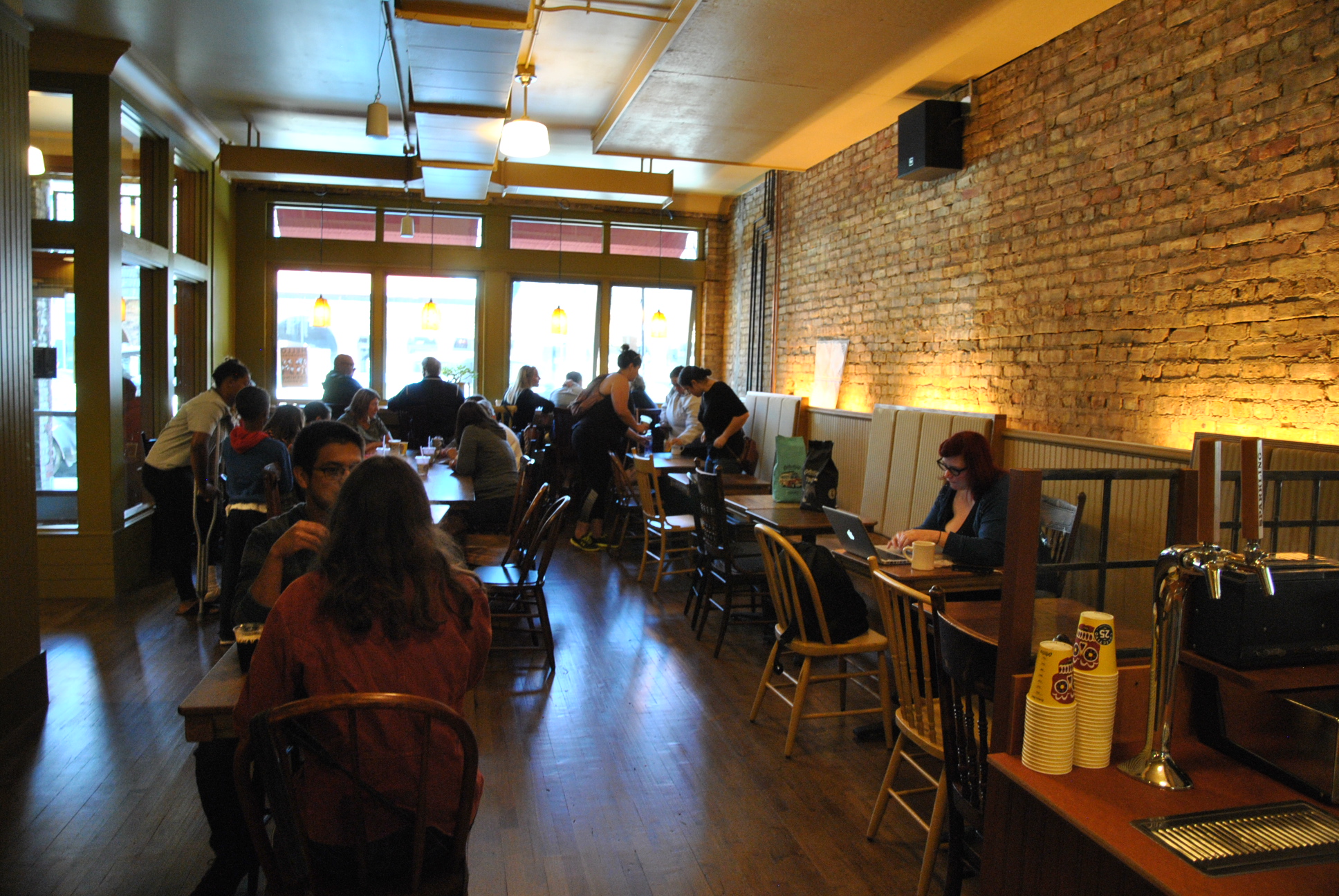 On the topic of outdoor seating, Fowler said: "We've found that Chicagoans are far hardier [than people in Wisconsin]."
"If you provide a little bit of heat or a radiant of some kind, we'll have people in Chicago out in the 30s. We do the same thing in Wisconsin, but it's undersubscribed. People want to be inside," he said. 
The new cafe will also debut new seasonal drinks, including a Sparkling Espresso, Maple Cold Brew Oat-Lait, Cold Brew Horchata, Cold Brew Almond Honey au Lait, Matcha Lemonade, and Turmeric Ginger Chai Frappe. The rest of the menu includes Colectivo's classic coffee, all-day breakfast menu, Troubadour bakery items and Letterbox teas. They'll also have weekly specials on breakfast items, sandwiches and soup. 
Like its other locations, Colectivo will also serve its own brewed beers. They're expected to be added to the menu by mid-October, when the city has finalized approval of its liquor license. Colectivo's ground coffee bags, teas, and merchandise (including its famous sugar skull) are available for purchase as well.
Colectivo expects to open two more locations in the Chicago area in the coming months — one in Evanston and one in Wicker Park. The new Evanston location is expected to open during the first half of November on Sherman Avenue and Church Street, where a Radio Shack was previously located. The new Wicker Park location is slated to open in early spring at the intersection of Damen Avenue and Division Street.