WICKER PARK — At Wicker Park's chaotic Milwaukee, Damen and North avenues intersection, pedestrians are getting used to new crosswalks that aim to make crossing safer.
The two new diagonal crosswalks give pedestrians a shorter, clearer path across the six-way intersection.
Around 7:30 a.m. Monday, Fay Bolant, an assistant restaurant manager, was one of many pedestrians walking across one of the two new crosswalks, to get from the southeast corner of Milwaukee and Damen to the opposite corner. 
Previously, Bolant would have had to make two crossings to get to the opposite side. (Or, do what many pedestrians previously did anyway, which was to cross in middle of the street with no marked crosswalk path to guide them).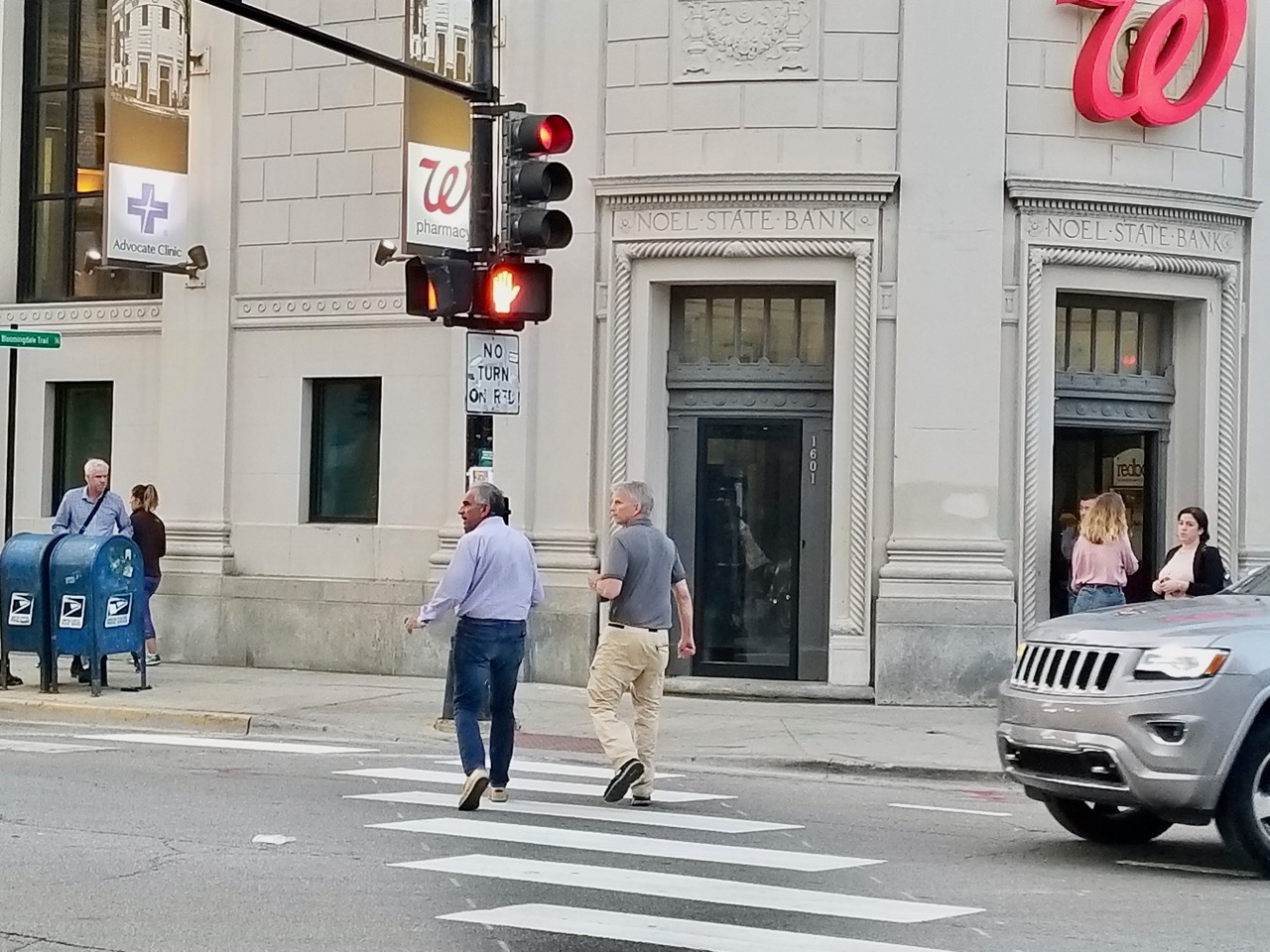 During the eight or so months that she's regularly been traversing the corner, Bolant said she has found it to be confusing.
"It's just road everywhere. Sometimes, the cars don't even stop —  they keep going. It's playing a dodging game, crossing the street is like Frogger," Bolant said, referring to the old video game where frogs try to cross a busy road without getting hit.
Bolant said she thinks the new crosswalks will help people to "move along a little bit faster."
"Usually, you do this zig zag across and now it's like you can just go straight [to the other side]," Bolant said.
To augment the two new crosswalks, new pedestrian timer signals were also installed last week.
Susan Hofer, a Chicago Dept. of Transportation spokeswoman, said Alds. Joe Moreno (1st) and Brian Hopkins (2nd) each contributed $50,888 to the project from their ward menu funds because the intersection is shared between the wards. The costs included the street markings, pedestrian countdown signals and traffic signal controller necessary to operate the new equipment.
The project is part of the Chicago Department of Transportation's 'Vision Zero' plan to reduce traffic deaths to zero at high-traffic corridors, said Jerry Mandujano, an aide to Moreno.
The crosswalks are the latest in a series of ongoing improvements to the Damen, Milwaukee and North avenues intersection, part of a 1.4-mile long stretch of Milwaukee Avenue between Division Street and Western Avenue. The pilot project improvements for the corridor were first introduced at a public meeting in July 2017. 
The gradual intersection overhaul started last fall, when a right-turn lane was closed off to cars, giving pedestrians more space to congregate.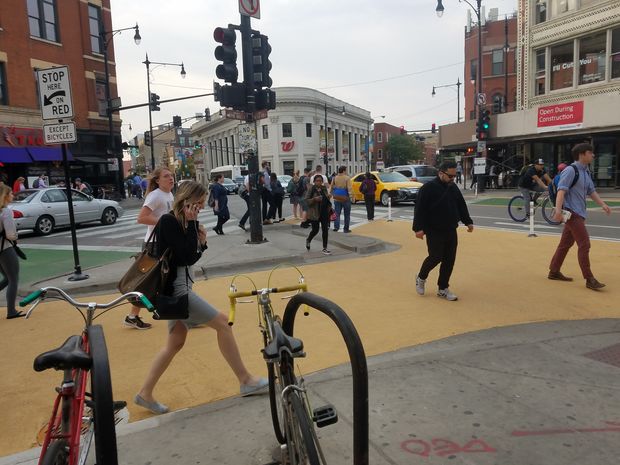 Other improvements included "dashed bike lanes," bright pavement markings for cyclists and pedestrians and can't-miss orange planters to further create a buffer between cyclists and cars.
Late Sunday night, Clayton Smith was using one of the new crosswalks at the intersection. He said he would "cross straight across anyway," before the crosswalks got added.
"I'm pretty indifferent. I noticed it because it's freshly painted. I guess people that didn't know they can cross that way, now they know," Smith said.
On Twitter, Block Club asked other folks to weigh in on their options about the new crosswalks. Here are a few early reactions: