WEST BUCKTOWN — A community of dog owners who regularly allow their dogs to play together off-leash in a field at Maplewood Park  were disrupted by Chicago Police officers twice this week.
No tickets were issued on either of the two visits, according to the dog owners and Officer Jessica Rocco, a Chicago Police spokeswoman. But the practice is illegal, and dog owners risk a $300 fine and up to $10,000 fine plus jail time if an attack occurs while their animal is off leash, according to city code.
At about 5:45 p.m. Tuesday, a police officer pulled up in a squad car and parked at Maplewood Park, 1640 N. Maplewood Ave. Though six dogs had been off leash, one of the dog owners noticed the approaching squad car and all of the dogs were quickly leashed up by the time the officer approached the group a few minutes later.
The officer declined to comment to Block Club but was observed telling the dog owners that he didn't see any problems since all of the dogs were leashed.
"Keep them all leashed," the officer told the group of dog owners. 
A woman who lives across from the park said she was the person who called 311 on both Monday and Tuesday. The woman who complained said the off-leash dogs are becoming "an increasing problem" since a construction project to renovate the park's field house next to the field started in August.
"I have even seen people drive here, park and get out of their cars with their dogs to use the field. It's a destination," the woman said.
Related: Maplewood Park's New $2 Million Field House Will Be 5 Times The Size Of The Current One
The park's playground has been fenced off and closed during the renovations, so fewer children are coming to the park — and that's emboldened the dog owners to feel like they can use the field as their personal dog run, according to the woman who called 311.
Another neighbor, a father of two young children, also lives across from the park, and echoed his neighbor's sentiments.
"Since Maplewood's construction began, the dog owners have become less apologetic and feel more entitled to the field," he said. 
He also pointed out that there are dog parks less than two miles or a 10-minute walk on the 606 from Maplewood.
"Today, my 2-year-old son was jumped on by a dog as big as he is, and the owner was apathetic at best," he said on Wednesday, adding that he and his kids "had to leave the park three times in the last month because it was overrun by irresponsible owners and unleashed dogs."
Ald. Joe Moreno (1st), whose ward includes the park, contributed $800,000 of the ward's budget on Maplewood Park's field house renovations, which are scheduled to be completed by May 2019.
"Please keep your dog on a leash," Moreno urged users of Maplewood Park.
The park is located at the border of East Humboldt Park and Logan Square, in an area most of the residents and a community group refer to as West Bucktown.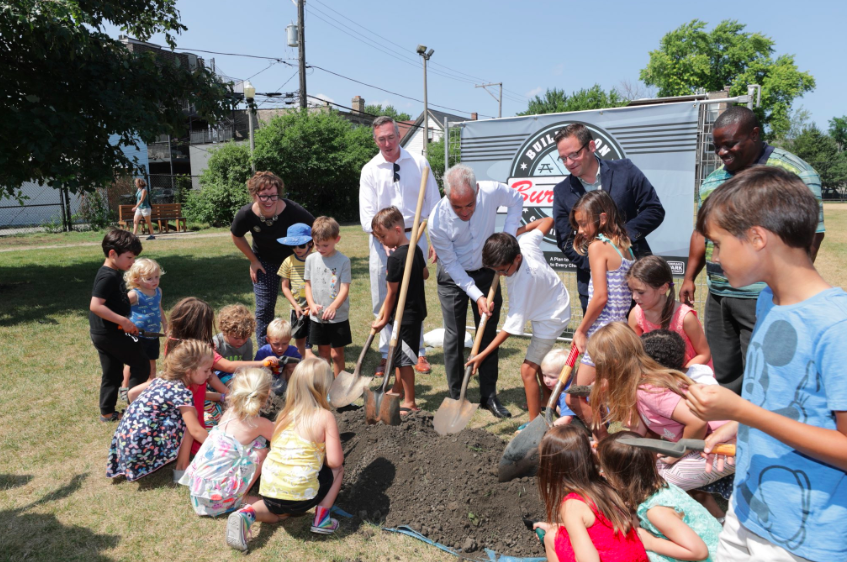 Sam Raffel was one of the six dog owners in the park when the police officer popped by on Tuesday, and said she was also there on Monday, when the owner of a Great Dane — "the largest dog of the group," Raffel recalled — got a written warning after his dog was observed to be running off leash.
"A lot of dog owners prefer to come here, we have created a community of about 50 people whose dogs all know each other," Raffel said. She said she has been coming to Maplewood Park all summer and allows her dog, Henry, to play off leash.
There is no official fenced-in dog park in Maplewood Park but even if there were, Raffel said her dog "wants to run on grass and not concrete."
Sarah Quinn, whose home also faces the park, said she and her husband specifically moved to the area three years ago because they liked the fact they saw dogs running freely off leash in the park. At the time they did not own a dog but now they do, and their dog enjoys playing off leash in the field, Quinn said. 
"People here are very respectful. Everyone picks up after their dogs, and if children are here or if there is a game (on softball field), we do not come," Quinn said.
Michele Lemons, a spokeswoman for the Chicago Park District, encouraged dog owners to use parks built specifically for dogs and referred residents to check out the list of the city's designated dog friendly areas (dog parks) where dogs can run, play and socialize off their leash.
The nearest dog parks are in Churchill Park, 1825 N. Damen Ave., and at the Logan Square Dog Park, 2526 N. Western Ave.
Since Maplewood Park's field house is closed for renovations, callers complaining about the off-leash dogs are getting rerouted to Haas Park in Logan Square.
A worker at Haas Park said they've been "getting a lot of calls" about off-leash dogs at Maplewood Park. 
On Monday night, neighbor Collin Czarnecki said he witnessed two police officers tell the dog owners that they had to leave the park as a complaining neighbor watched. 
"There were about 15 or so disgruntled dog owners filing out of the park," Czarnecki said. "I understand that there are city codes/liabilities about having dogs off-leash at a non-designated dog park, but it was just a little unfortunate to see that this daily gathering spot for dog owners has now been disbanded."