This story has been updated with comments from Ald. John Arena's office. 
PORTAGE PARK — A real estate listing posted Wednesday night shows what developers have planned for the former Sears building at the Six Corners Shopping District – but Ald. John Arena (45th) said the plans are premature and need community input. 

The listing by CBRE Group, Inc., a Los Angeles-based commercial real estate and investment firm, advertises the property at 4730 W. Irving Park Rd. as having a total of 161,549 square feet set aside for retail and 556 residential units. The listing also says the project will have 870 parking spaces and 266 spots for bicycles.
The first floor of the development is expected to include 30,827 square feet for an anchor retail business, 20,865 square feet of additional retail and 9,843 square feet for a restaurants or a café.
There will also be 41,788 square feet set aside for a health club on the first and second floors and 59,544 set aside for a movie theater spread across the building's first and third floors.
"While it's early in the process, if these plans are approved it would make Six Corners a destination again," said Joe Angelastri, a member of the Six Corners Chamber of Commerce and owner of City Newsstand, 4018 N. Cicero Ave.
Angelastri, whose business is across the street from the former Sears, said he appreciates how comprehensive the current listing is, and said it is reflective of the master plan that was rolled out for the shopping district back in 2013.
"The listing seems to be at a higher level than most of these projects when they come out of the box. So I hope the alderman doesn't take a whole year to approve this like he did with The Point across the street once he looks at these plans," he said. "I think this should be fast tracked, so I hope that he endorses it right away."
Plans for The Point underwent over a dozen revisions due to market factors, including the developer struggling to get a mid-size big box retailer, like a Target or Best Buy, to commit to the project, according to Arena's office.
As for the Sears development, Arena said his office had two very preliminary conversations about the project in regards to the master plan, green space, affordable housing and how the community could give feedback on the development.
"We also talked about how we want to maintain the architectural integrity of the building itself," he said. "Then we saw plans last night online, which were not presented to the ward office or taken through a community process."
According to the listing, residential units will be spread across the second through seventh floors of the building and the listing says there will be 27 studios, 32 one bedroom apartments, 13 two bedroom apartments and three apartments with three bedrooms.

The layout for these units would be 542 square feet for studios, 727 square feet for one bedrooms, 1,092 square feet for two bedrooms, and 1,390 square feet for three bedrooms apartments.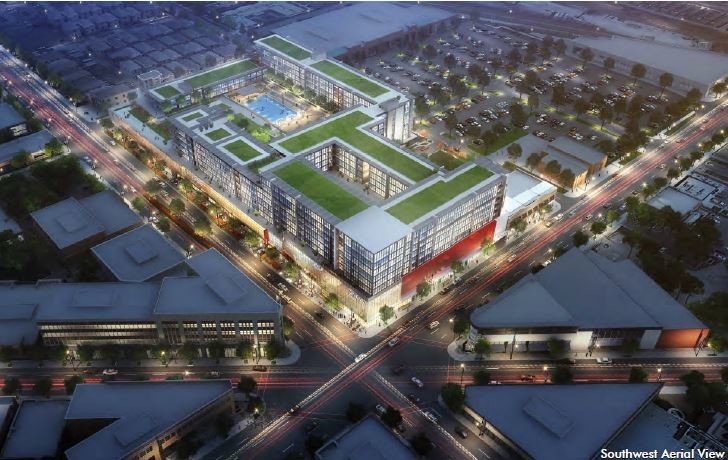 Rental prices for both commercial and residential units have not been listed as of Wednesday night.
"The corner is commercial, so high density residential housing like this will be something new to the area,"Angelastri said. "And I think having some senior housing, affordable housing and high end housing in the area is the right track. People need a place to live and people want to live in an urban environment in the city."
After reviewing the listing, Arena said one of the things that stood out to him is the movie theater.
"I'm a big advocate of the entertainment component that we need at Six Corners to make it a destination," he said. "But outside of that I see a very developer-centric proposal that covers every square inch with building."
Arena said his office will use the plans as a starting point to get community input in a transparent way. As for the housing aspect of the plans, he said he wants to make sure they honor the context of the single family homes to the north of the site and make sure the project also provides community space for the area.
"And it's been my policy that we'll ask for 20 percent, at minimum, affordable units in any new development in the ward," he said. "Pretty much adopting the concepts that are in the [affordable housing] pilot program that I had asked to be overlaid in Jefferson Park and Portage Park. I knew this is where the development is going to happen … so if we want to stay ahead of gentrification we need to build that in as a barrier so it's not just people with high incomes that can live in Portage Park."
Because the former Sears building is a such a recognizable part of the Six Corners area and had a significant retail footprint, Arena thinks it makes sense to use the existing building in some capacity.
Arena said his office's next step is planning an informational meeting alongside the Six Corners Association so the community can learn more about the proposed development.
"I look forward to rolling my sleeves up and putting pencil to paper. Talk to residents and business owners, figure out what they want to see here," he said. "This is a concept rendering they put out for marketing purposes, it's not at all responsive to what the community wants yet."
RELATED: Sears Signs At Shuttered Six Corners Store Removed Wednesday Night

Back in July the Sears at Six Corners, which originally opened in 1938, sold off the last of its inventory and fixtures. Not long after a crew removed the building's signage. At the time neighbors said watching the sign get taken down was like having to say goodbye to a friend.
The development at the former Sears will sit across the street from The Point at Six Corners, a mixed-used development currently featuring senior housing, a new Aldi grocery store and additional small retail. The Point has yet to begin construction.
As for the former Sears, there are no recent construction permits filed with the city.
Sean McCourt, vice president of CBRE's Chicago office specializing in the leasing and sale of major retail projects in the city, declined to comment for this article.
The full listing can be found below.
Do stories like this matter to you? Subscribe to Block Club Chicago. Every dime we make funds reporting from Chicago's neighborhoods.