WICKER PARK — Wicker Park is changing all around Roman Brach, but he has remained the same even as his business declines.
The problem is, he's offering something fewer and fewer people want.
They'd rather stare into their phones and walk into a street pole than buy a daily newspaper, he says. And selling newspapers is his business.
Brach owns the Division Ashland Newsstand, across the street from the Polish Triangle at the border of Wicker Park, East Village and Noble Square. A squat, green, 100-square-foot shack that's been there for nearly 50 years, the newsstand is directly outside the evilOlive nightclub.
It's a throwback, a relic. His family used to own five stands like it around town, back when newsstands dotted the city.
Now, there are just 30 sidewalk newsstands in Chicago, according to city records. For Brach's family, the Polish Triangle stand is the "Last of the Mohicans," as he puts it.
And it's not very busy.
"Sometimes I get a lot of people I've never seen before, sometimes I get nobody," Brach said.
"There is no real money in it anymore. I'm lucky if I break even, but that's not the point of it. The point of it is to get up in the morning, go out among people and see what's going on," Brach said. "It's like my reality show. It keeps you occupied, otherwise you are on the couch like a piece of produce. Activity and movement is life."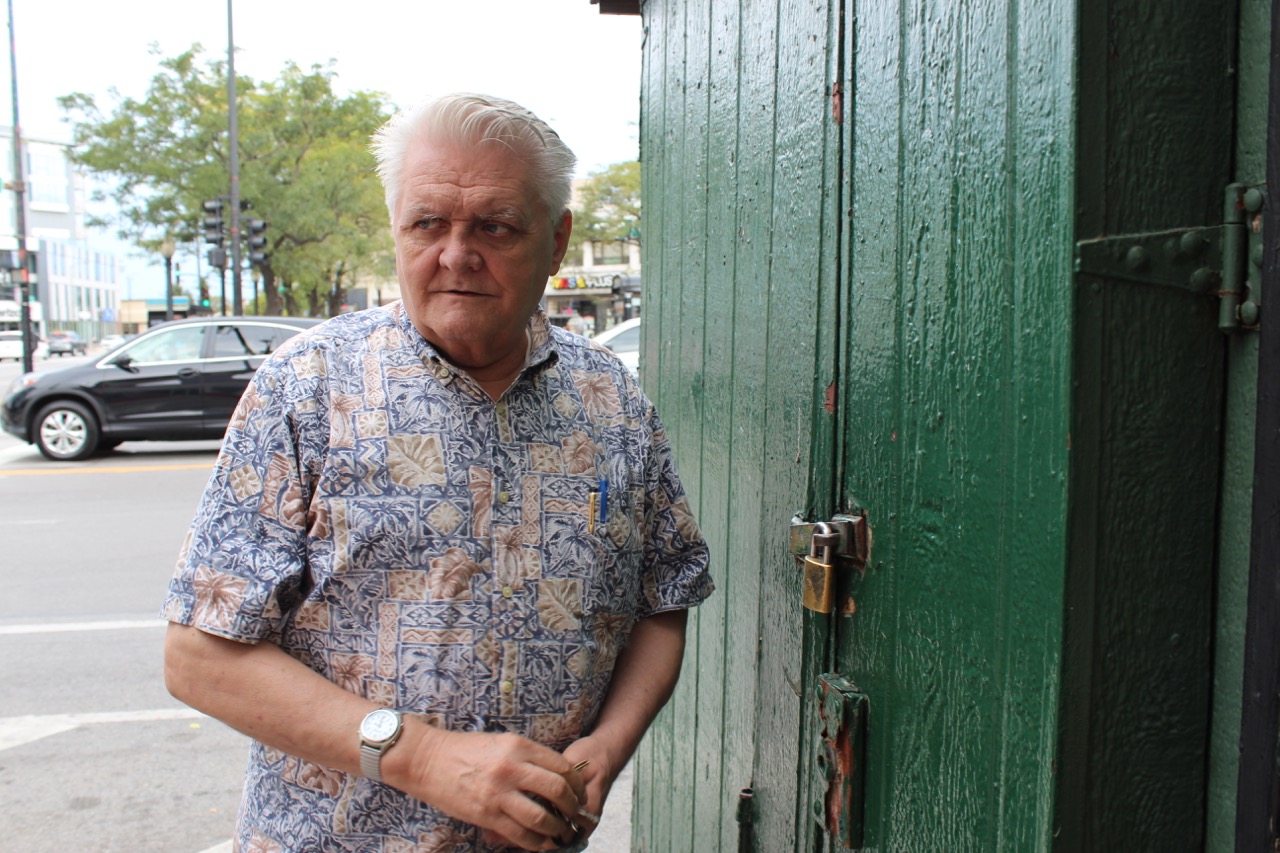 Brach's late father, Anton, who went by Tony, started the chain of stands in the 1960s. The elder Brach was a circulation supervisor for the Chicago Sun-Times when he launched the newsstand business as an ancillary side gig. Financially, the stands "did quite well back in the day," Brach said.
After several years in retail, Roman Brach started working at the newsstand in the early 1990s. He doesn't like to reveal his age, saying only "it's too late to die young."
He opens the stand at about 7:30 a.m. on weekdays and usually closes by 3 or 3:30 p.m. He used to open earlier and stay later, but there are not enough customers to warrant the extra time.
Plus, after that, "all you get is drunks and punks and I don't have any great love for either one of them," he said.
Located at 1555 W. Division St., the tiny stand sells the Chicago Sun-Times, Chicago Tribune, New York Times, Wall Street Journal, Crain's, Financial Times, Barron's, Investor's Business Daily and Dziennik Związkowy, or the Polish Daily News.
Over the years, as digital news moved in on the print industry, newsstands shuttered. The 30 that are now in business outside of CTA stations are less than half of the 67 licensed by the city's Department of Transportation in 2007. And that was half of the number licensed in 2000,  Crain's reported.
"Reading is a lost art. Most people don't read anymore. They are looking at their phones and walking into trees, into traffic and into each other," Brach said. 
The annual permit fee to operate a sidewalk newsstand is $50. 
"In Chicago if you breathe, a politician is looking for a way to grab a couple shekels from you," he said.
Brach says once a year he goes down to City Hall and pays up to keep the stand going.
Alma Jacobo, a cashier at Ashland and Division Currency Exchange, just a few doors east of the newsstand, said "everyone knows" Brach.
"He's a really nice guy. He's outgoing, very respectful and helpful. He likes to talk and make jokes about the weather. He's a good person," Jacobo said.
One group of reliable visitors to the newsstand are pigeons. Brach feeds them out of an ashtray filled with sunflower seeds he leaves on his counter.
 He's impressed by the birds' resilience.
"I give them a little chow, I feel bad for them, I never used to. I've come to respect them. A lot of birds they look up at the sky, they see it's a little gray, it's gonna snow, they pack up their Samsonite and boom, they go south," Brach said.
"These guys, they tough it out, they stay here all winter, they hang around, they stop here looking for a sponsor.
"I'm their sponsor. In pigeon talk, I'm a sucker."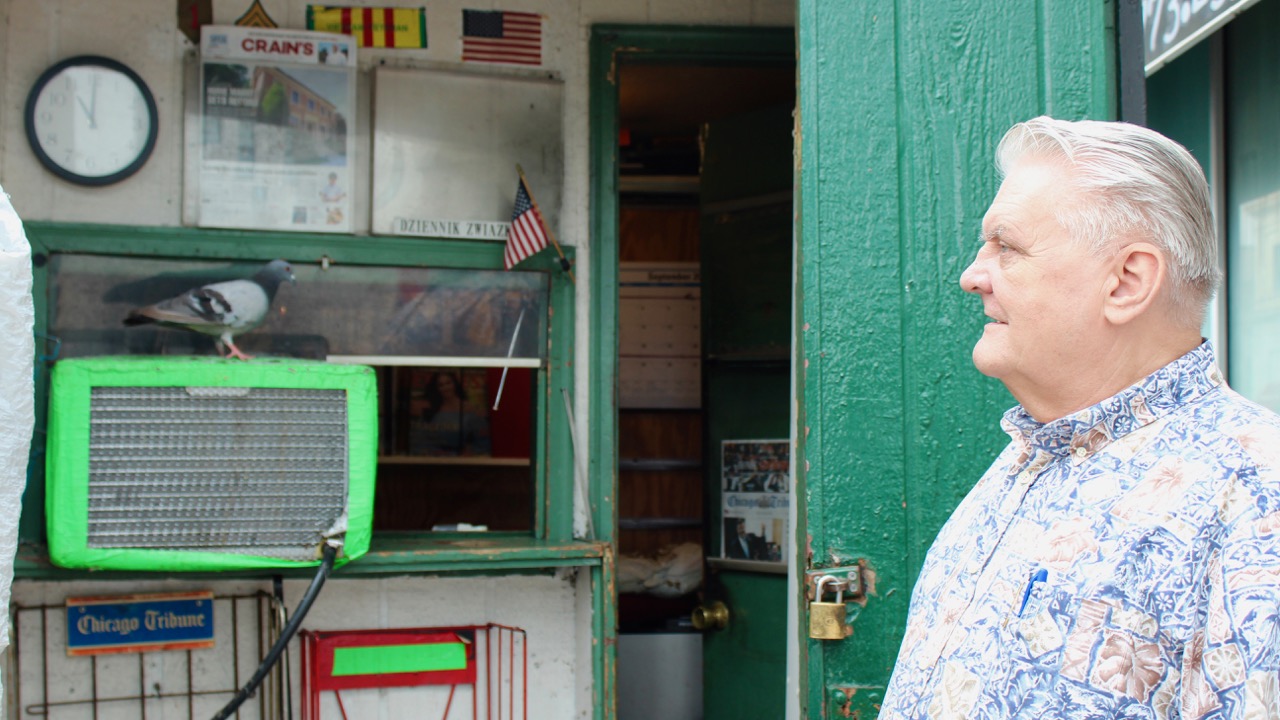 Listen to Roman Brach, on nearby restaurant Podhalanka, also a Polish Triangle throwback:
Do stories like this matter to you? Subscribe to Block Club Chicago. Every dime we make funds reporting from Chicago's neighborhoods.