CHICAGO — Mathias Svalina writes dream-like poems during the day and delivers his printed stream of consciousness narratives by bike in the wee hours of the night to subscribers, always aiming to finish by sunrise.
A 43-year-old author of five books of poetry, Svalina is the creator of Dream Delivery Service, which he started in Denver in 2014. Since then, he's traveled around the country to different cities, delivering poems by bike. He prefers to calls his surrealist poems "dreams."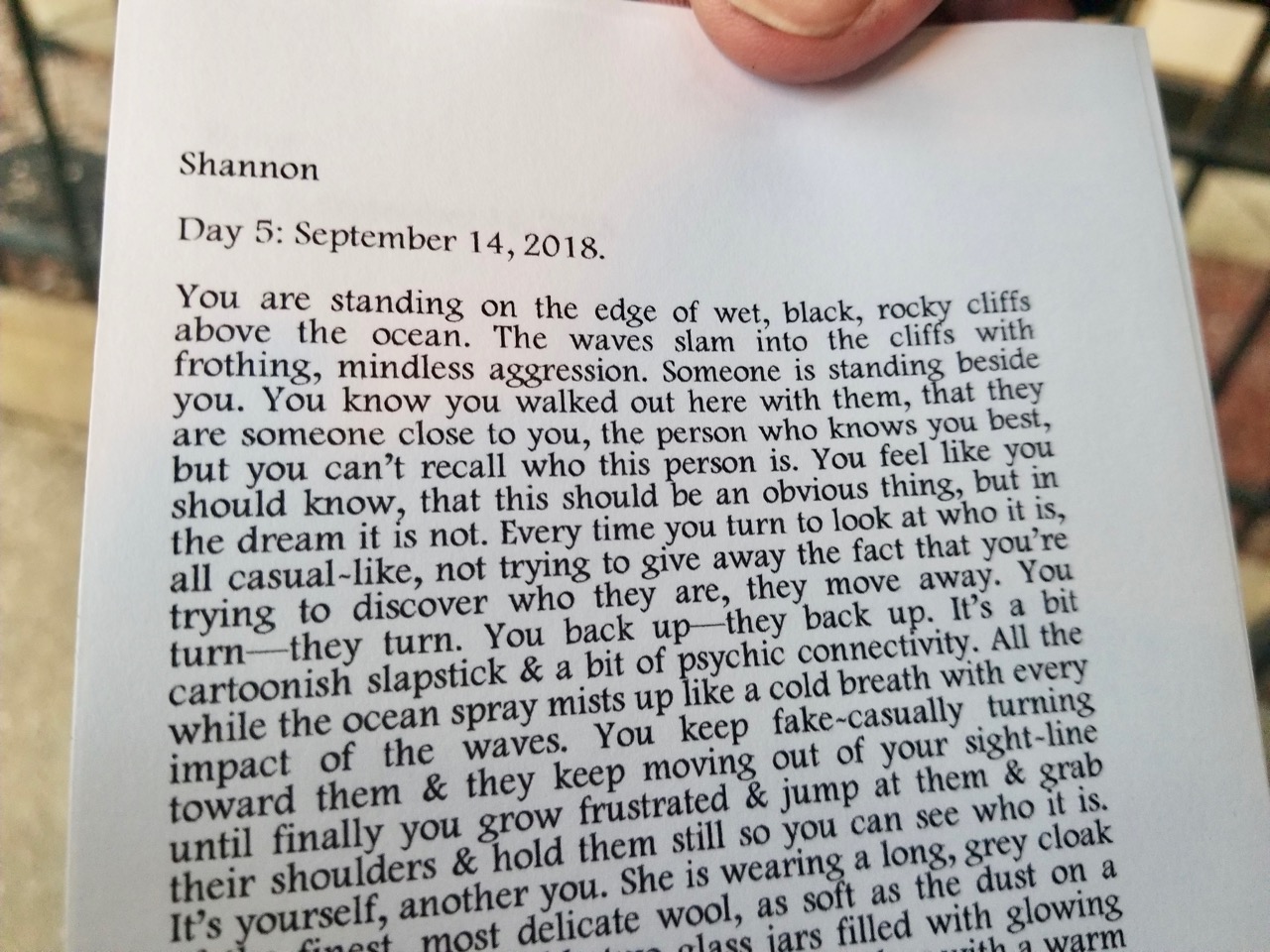 "I love the intimacy of delivering a poem in the early morning," Svalina said.
Subscribers to the service pay $45 for a month of daily hand-delivered poetry deliveries (locally) or $60 for mailed poems. Receiving a daily "nightmare" or darker in tone poem costs an extra $3.75. Ten percent of all subscription fees are donated to Planned Parenthood.
"I think I do this because it combines the three things that make me feel most at peace in life: biking long distances, writing for long periods of time, and thinking weird stuff. Also, in a sense, because it is maybe the one thing — no matter how niche or odd— that I can do that maybe no one else can do," Svalina told Block Club. 

Svalina kicked off his Chicago tour last Monday and his final morning of deliveries in the city will be on Oct. 10. Then, he'll bike across the country to Boulder, Colo. where he previously lived for about nine years, to write and deliver original poems there.
All of his subscribers awake to personally addressed pink-enveloped "dreams" slid under their front doors, tucked into window panes, or in another preferred location. 
Svalina said one subscriber, a student at the Moody Bible Institute, was recently told that the pink envelopes cannot be delivered through the school's doorman, so they arranged a secret location for Svalina to drop off poems.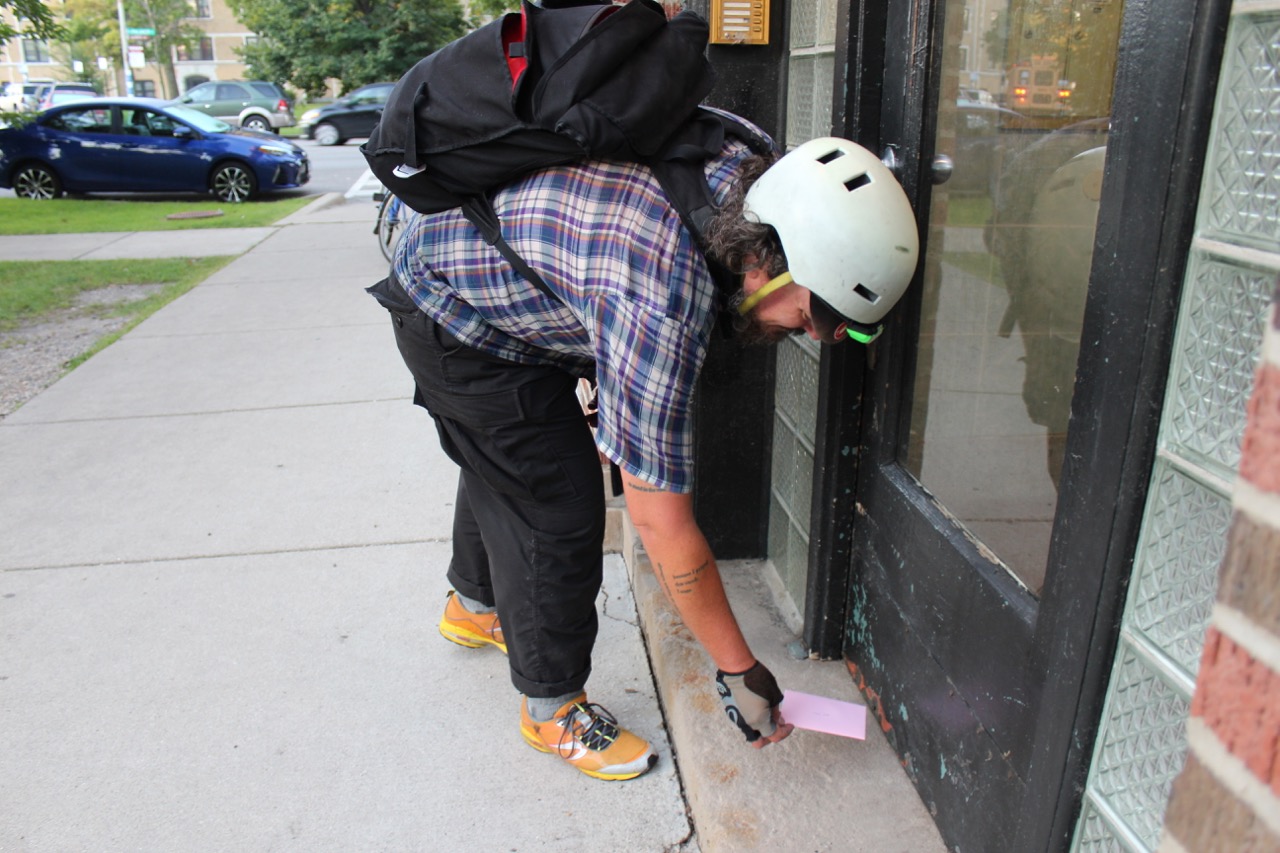 During a ride-along near the end of his Friday deliveries just after sunrise, Svalina said he loves the thrill of cycling through the city at night on a 1985 Raleigh Kodiak touring bike that he bought from a seller on Craigslist a few years ago.
There is a light affixed to the front of his helmet like a coal miner.
Currently, he has about 15 by-mail subscribers and 35 delivery subscribers in Chicago, with the biggest concentration of fans in Andersonville. Others are in Pilsen, Humboldt Park, Lincoln Park and Old Town. About a quarter of the subscribers are friends or acquaintances and the rest heard about Svalina through his website, social media or the Poetry Foundation, which hosted a reading for Svalina last week.
On Friday, Svalina started his route at 2:15 a.m., going through Albany Park, Andersonville, Pilsen and Humboldt Park. Friday's deliveries took him just under five hours.
He crashes at friends' apartments during his journeys and has been staying with his best friend during this Chicago trip.
So far, only three or four of his subscribers have signed up for the "nightmares," which are more difficult to write because they have to lead to terror or horror or fear, rather than dreams, which are purely open and exploratory, Svalina said.
Here is a recent nightmare delivered to a Chicago subscriber: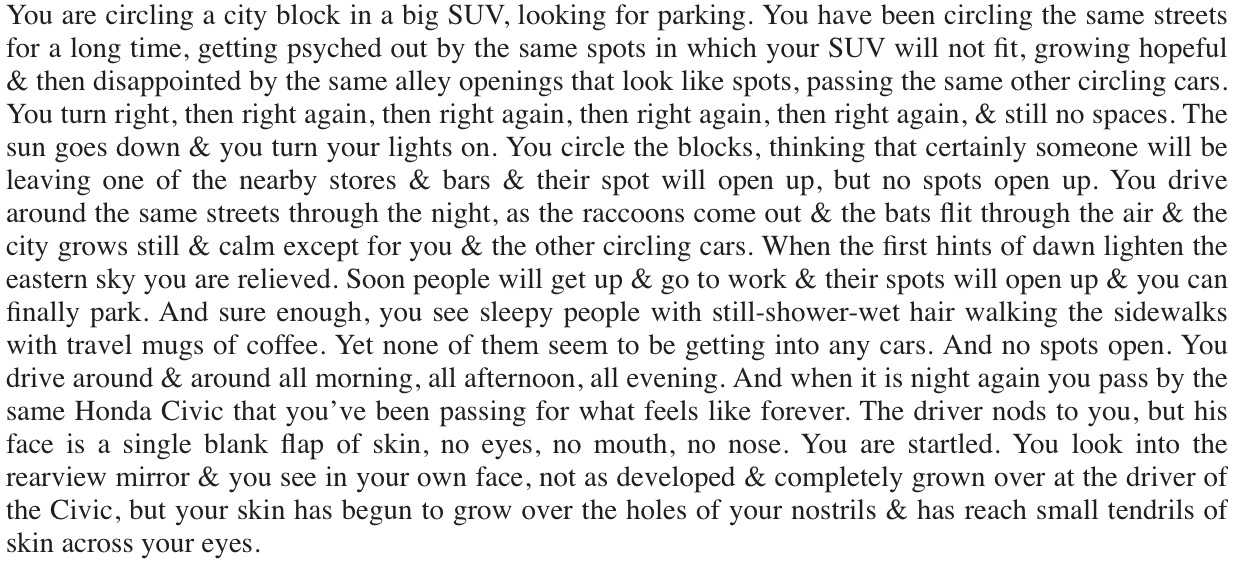 For information on subscribing, visit Dream Delivery Service.