WEST LOOP — A good Samaritan leaving work in the West Loop this week is credited with coming to the aid of a stabbing victim who suffered severe injuries in a fight.
Rob Brouse, a bartender at Gibsons Italia, spotted the victim Wednesday night bleeding heavily near the corner of Fulton and Canal, an area just west of where the Chicago River splits into the north and south branches.
Police said two people were stabbed in a fight over money in the 500 block of West Fulton Market at about 10:30 p.m. Wednesday.
A 36-year-old man and a 37-year-old woman both were stabbed in the head and neck and ended up at Northwestern Memorial Hospital. The woman was reported to be stable. The man was said to be in critical condition, police said.
Brouse found the man walking on the street, shirtless and covered in blood.
"No one else was helping him and I knew he only had two to three minutes left before he would lose consciousness," Brouse said.
He called out to a nearby parking attendant from Gibsons Italia to get a napkin or towel to stop the bleeding, he said.
He then got the man to the ground and applied pressure to his wound, he said.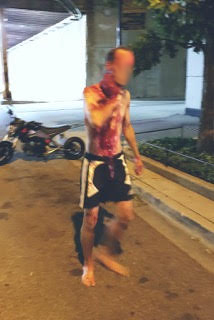 The man repeatedly asked Brouse if a woman was OK. The woman, the other victim in the attack, was found at 100 N. Clinton.
Brouse says he gave the man first aid for about ten minutes until Chicago paramedics arrived. Police confirm a bystander was helping the victim when they arrived.
"He is a human being," he said. "He needs help. No one else was able to apply first aid."
Police have no one in custody but said they are looking for a man 30 to 35 years old about 5-foot-9 and 140 pounds.