AUBURN GRESHAM — When Mashaun Hendricks opened Trap House Chicago in Auburn Gresham last fall, it was never meant to last forever.
The "concept shop" shut its doors in the neighborhood last week after nearly a year — lasting a lot longer than most pop-ups. While he is planning to move the shop to another predominantly black Chicago neighborhood, the impact Trap House made in Auburn Gresham will be long-lasting.
Hendricks calls the storefront at 7955 S. Ashland Ave. "Concept Store 001."  The shop allowed the streetwear brand not only to sell clothes — items that contain messages of hope, resilience and anger with a system that oppresses people of color —  but also do community outreach, an area where Hendricks excels.
"Concept stores are like [a] longer-term pop-up shop. They merge retail, experiential learning and community organizing," Hendricks said. "I didn't have an ideal time for staying in Gresham, I went into this space extremely curious of the amount of time and engagement with the community that it would require for me to make the desired impact."
The Auburn Gresham retail space doubled as a restorative justice resource hub and offered numerous free events, including weekly meditation circles and monthly open mics.
The desired impact: reducing crime and violence by creating a thriving local economy and educating the community on restorative justice practices.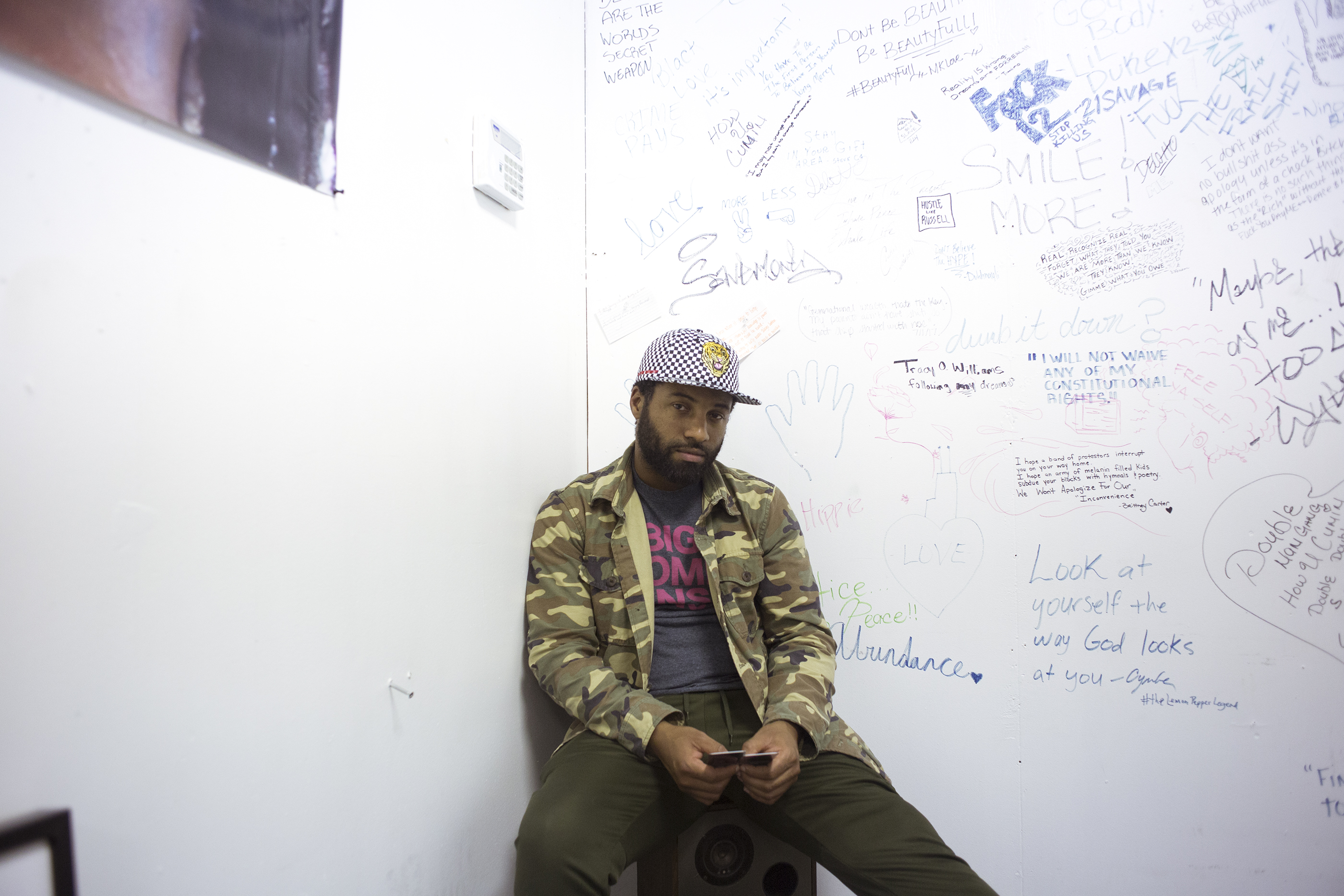 Caprice Pryor has lived in Auburn Gresham for more than 16 years and said he had never seen a shop like Trap House in his community.

"I was extremely impressed, I really loved how it was this experience that you would normally only get downtown, right in my neighborhood and I was excited," Pryor said.

Trap House introduced Pryor to "peace circles," a restorative justice practice. Peace circles are traditionally used to address conflict by having people sit in a circle and talk through an issue.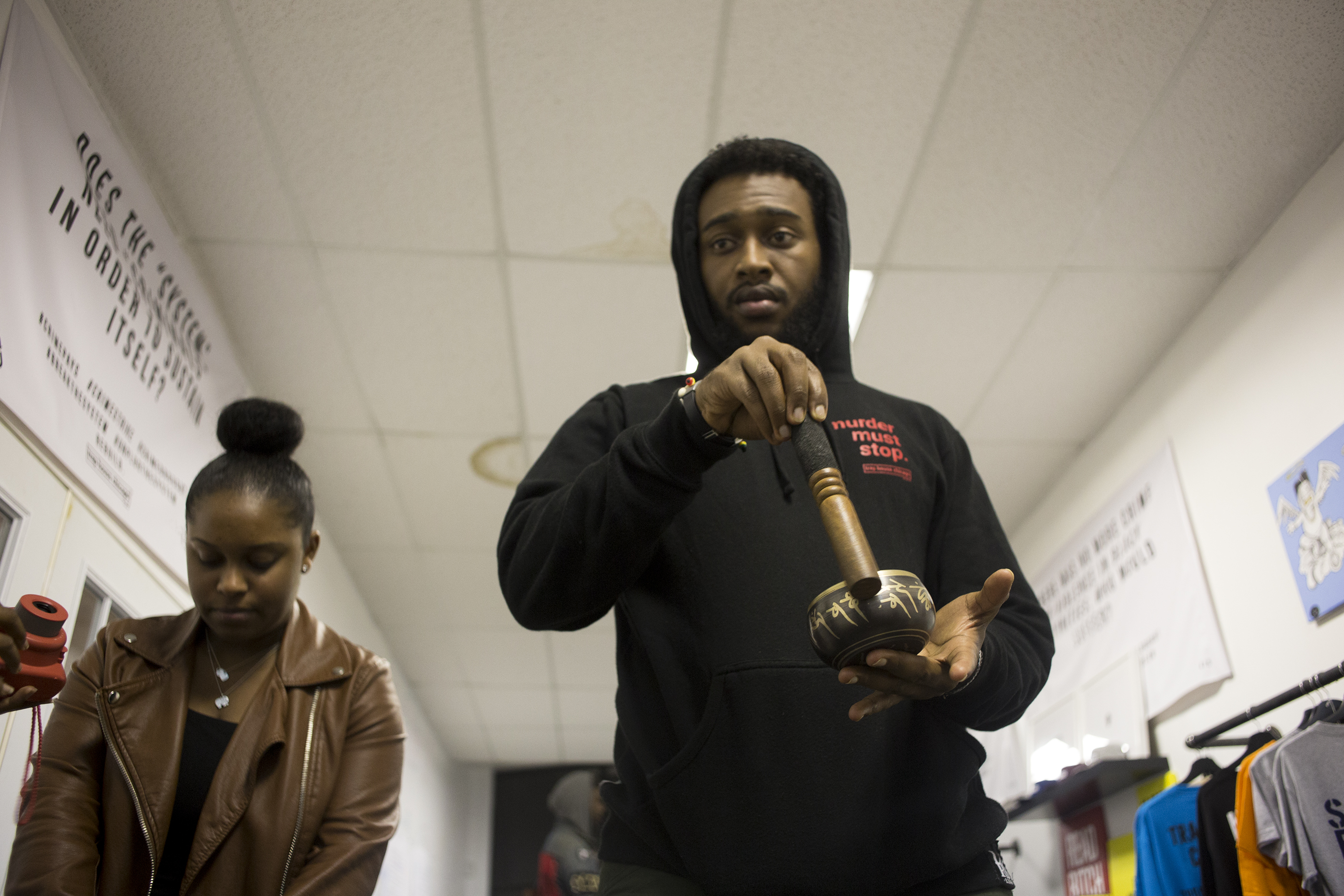 "I am proud that it was able to grow and flourish and impact some of the people in this community and now it gets to go on and do something great in another community so someone over there gets to discover it just like I did," he said.

Hendricks plans to launch a Kickstarter campaign to fund another concept shop in South Shore, Chatham or North Lawndale. A permanent location is also being considered.
He hopes to open a second location by November. In the meantime, fans can also buy the streetwear online. 

"The priority moving forward with Trap House Chicago is really to employ locally, specifically people who have criminal records, or who have been labeled as criminals — people who have been closely involved with selling drugs, crime and violence," he said. "Those are the people closest to the solution, to best articulate what is needed in communities to actually stop crime and violence."
Hendricks started Trap House in 2012. As a restorative justice practitioner, Hendricks had spent years training local school administrators, teachers and police officers on how to take a restorative approach to solving issues. The approach focuses on reconciliation between offenders and victims, leaving police and the criminal justice system out of the equation. 

Hendricks said the idea came to him after training a group of police officers on this tactic. 

"One day it clicked that the people I was working with were really benefiting from crime and violence," he said. "So why not take this powerful practice of restorative justice to the community, those who have more to gain from it."

That is where the provocative messages on his shirts come from. One of the first and most popular t-shirts (for sale for $25) reads "Crime Pays" in a graffiti-style font. On the back is a list: police, lawyers, ambulances, judges, probation officers, and coroners, but not us.
"The messages on all of the t-shirts that I make intend to validate the experiences and expressions of people who are on the outer rims of communities," Hendricks said.

Do stories like this matter to you? Subscribe to Block Club Chicago. Every dime we make funds reporting from Chicago's neighborhoods.