Get more in-depth, daily coverage of Chicago politics at The Daily Line.
CITY HALL — The city's Plan Commission approved a proposal to transform a former coal-fired power plant in Little Village into a hulking distribution center as part of a $100 million project that could add 178 jobs to the city's Southwest Side over the vehement objections of nearby residents.

The plan was approved after a unanimous vote. The project now heads to the City Council's Committee on Zoning and the full City Council. Opponents loudly protested the vote before being removed from the chamber by security guards.

Hilco Development Partners Director of Development Jeremy Grey described the project as one designed to fuel economic development throughout Little Village and the entire West Side improved by intense discussions with members of the community.

That prompted opponents of the project watching from the gallery to yell out that Grey was lying. Plan Commission Chairman Martin Cabrera Jr. had them removed from the council chambers.

Little Village Environmental Justice Organization (LVEJO) Executive Director Kim Wasserman said the 200 trucks the distribution center is expected to add to the streets around 35th Street and Pulaski Road would make the already-polluted air that her children breathe worse.

"We already have elevated levels of particulates in the air," Wasserman said. "This will make it astronomical."
RELATED: Little Village Neighbors Demand City Stop Crawford Redevelopment Plan
RELATED: Semi-Trucks Are Taking Over Little Village, Neighbors Say — And Giant Warehouse Plan Will Make It Worse
Hilco should be required to sign a community benefits agreement designed protects Little Village residents from pollution caused by trucks and ensure the center's jobs will be well paying and unionized, Wasserman said.

The project received the endorsement of the Little Village Chamber of Commerce.

"It is not every day that a firm comes into our community and wants to spend $100 million," said chamber Executive Director Jaime di Paulo. "These will be quality, high-paying jobs."

Preservation Chicago Executive Director Ward Miller said it was a shame Hilco planned to tear down the red-brick building that once housed the Fisk and Crawford electrical-generating coal-fired stations.

"These are remarkable structures," Miller said, adding that they should be preserved as transformed into a museum documenting how power was generated for more than a century starting in the early 1900s.

Before the vote, retiring Ald. Ricardo Munoz (22nd) delivered an impassioned defense of the proposal, saying its "benefits outweigh the critiques."

Munoz, who is weighing a run for mayor, was interrupted several times by opponents of the project, who heckled his remarks.

"I want a neighborhood where people can walk to good-paying jobs," Munoz said, adding that he consulted with Little Village environmental groups and took their concerns into consideration.

Munoz said the project's community benefit agreement will require Hilco to set aside space on the facilities' roof for solar panels and provide electric charging stations to reduce the use of diesel trucks. In addition, Hilco will be required to meet city regulations regarding the use of firms owned by black and Latinos and to hire local residents.

In addition, the plans provide for a bike path along the adjacent canal, although that project has yet to be funded or approved.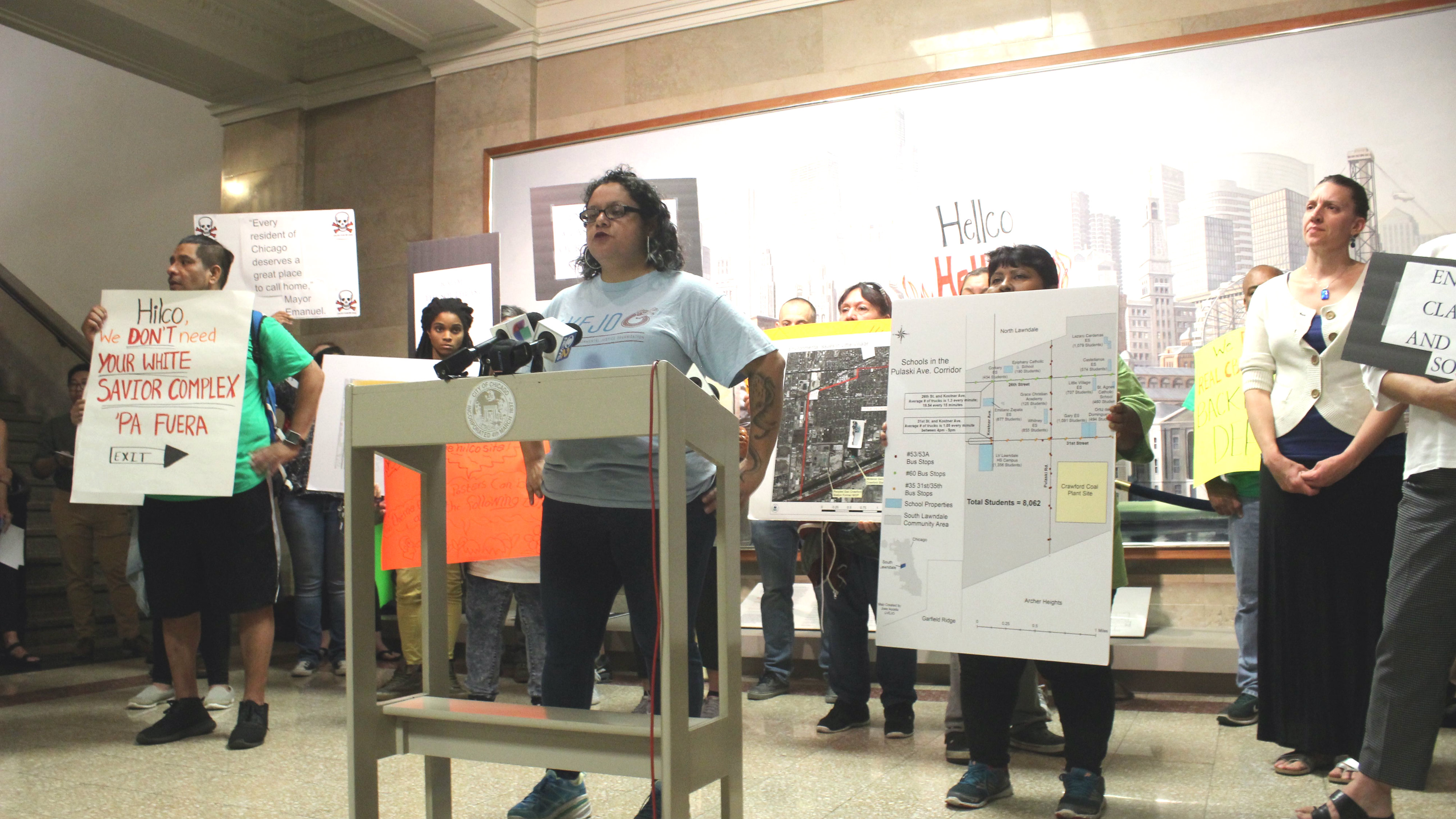 Ahead of the Plan Commission meeting, Little Village community members and organizations held a press conference urging city officials to halt the plan for the logistics center.
Wasserman said the new facility would bring an influx of diesel trucks to a community already overburden by diesel pollution, compromising the health of Little Village residents.
Meleah Geerstma, attorney and Midwest director of Health Equity and Water for the Natural Resources Defense Council,  said the proposed replacement of coal plant pollution with a warehouse that will bring [more] diesel trucks to the neighborhood is "the wrong thing to do for the health of this community."
"There is a long and dirty list of industries around Little Village, the city should be looking for ways to alleviate those burdens, not to create new ones," Geerstma said.
Last month,  Hilco Development Partners unveiled plans to create a 1-million-square-foot warehouse and distribution center at the former Crawford Generating Station site.
The $100 million project, called Exchange 55, is expected to be used as a distribution site for e-commerce and logistics companies, Hilco CEO Roberto Perez told Little Village residents during the meetings.
The Crawford Power Plant was shut down in 2012 after community-led efforts raised concerns about the impact coal pollution was having on the health of Little Village residents. The Northbrook-based company purchased the 70-acre site in the Little Village Industrial Corridor in 2017.
Hilco plans to begin demolition later this year and remediate the land in 2019. If all goes well, the project is expected to be completed in 2020.
Do stories like this matter to you? Subscribe to Block Club Chicago. Every dime we make funds reporting from Chicago's neighborhoods.