BRIDGEPORT — For five years, Leanne Scanlon's Bridgeport gift shop, Hardscrabble Gifts, served as one of the anchors of Halsted Street, giving local vendors a platform and helping out the community when it could.

But when her daughter, Ryan Lee Spizzirri, was born with serious medical complications, Scanlon made the painful decision to close the shop in early 2018. Now — with her daughter still fighting for her life and with Scanlon dedicated fully to that fight — the Bridgeport community is rallying around the family.

"It was an extremely difficult decision," Scanlon said of closing Hardscrabble. "But the way everyone came together for Ryan, it's overwhelming. We're grateful."

Hardscrabble celebrated its five-year anniversary in October 2017, a month before Scanlon gave birth to the baby girl. Ryan Lee came six weeks early, and on her second day of life, doctors performed emergency surgery to remove 90 percent of Ryan Lee's small intestine due to a rare disease called Jejunal Atresia that affects intestinal development.

Doctors at Lurie Children's Hospital told Scanlon that her baby would likely need to spend six months in the hospital. That's when Scanlon made the decision to shutter Hardscrabble and focus her efforts on Ryan Lee's fight.

"When you own a small business and it's just you and your mom, it's a devastating blow," Scanlon said of the business she co-owned with her mom, retired police detective Janet Scanlon. "It wasn't viable for someone to take my place. We didn't have time to plan. It was really a shock."

Since the late February closure, the duo has worked hard to give Ryan Lee the best chance at a normal life.

Ryan Lee's small intestine is only about 12 inches long, compared to the normal child's length of about 120 inches, Scanlon said. Three major surgeries have failed to solve the problem. Now, the family is turning to a renowned specialist at Boston Children's Hospital at Harvard, and will need to pay for extensive travel costs to do so.

"We're just stumped. We've kind of plateaued," Scanlon said of the treatment. "Her gut doesn't work. Anything she eats is through the bloodstream with an IV."

The ordeal has taken a toll on the Scanlons, but the Bridgeport community — and, in particular, its small business community — is making sure the family is not going it alone.

"How the neighborhood came together, it's so Bridgeport," Scanlon said. "When someone gets sick, we help them. We're lucky to be a part of the community."
Scanlon's alma mater, Bridgeport Catholic Academy, held a dress down day where students could pay to not wear uniforms for a day, Scanlon said. The students also made cards for Ryan Lee and the family, and some families wrote the Scanlons a check.

Then, the South Loop Chamber of Commerce teamed up with chef Kevin Hickey, owner of the Duck Inn. Hickey closed the restaurant for a night in late June and volunteered his staff's services for a benefit for Ryan Lee, which was coordinated with other small business owners in the neighborhood.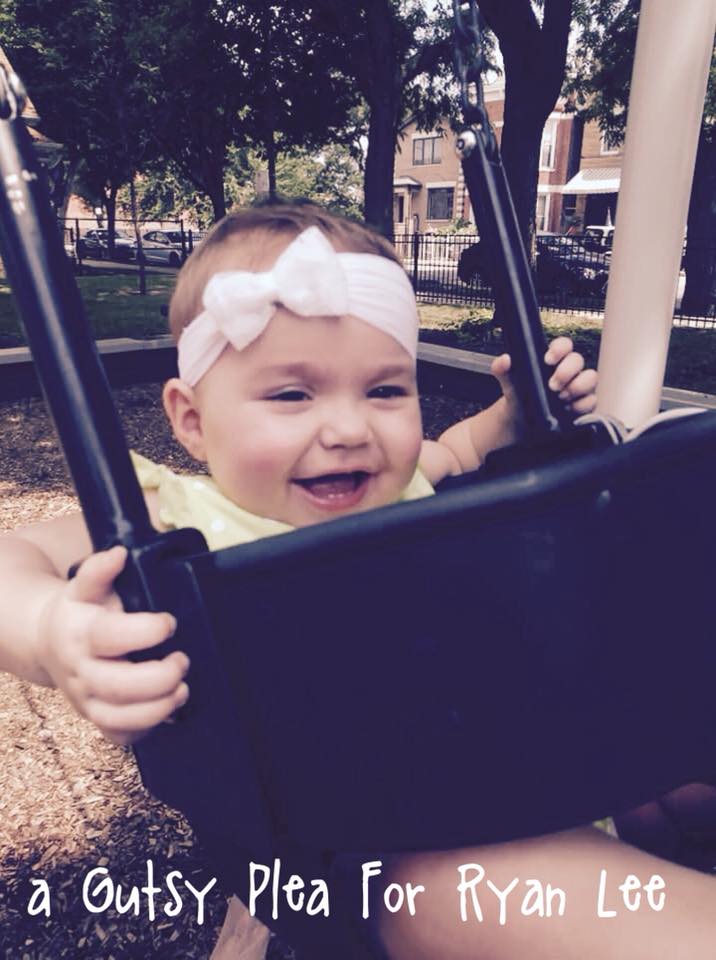 On Wednesday, Ricobene's held "Ryan's night," where 20 percent of food sales went to the family's medical travel fund.

The biggest fundraiser yet will be held Saturday at De La Salle High School, 3455 S. Wabash Ave. Dubbed "A Gutsy Plea For Ryan Lee," the event is being put on by Scanlon's friends and family and the Bridgeport chapter of the VFW, Scanlon said.

There will be food, drinks, a raffle and entertainment from a Bridgeport comedian. But most importantly, it will be a venue for Scanlon's extended family and friends to see Ryan Lee, many of whom will see be seeing her for the first time Saturday.

"She'll be hanging out," Scanlon said as Ryan Lee playfully fusses beside her, trying to grab mom's cell phone. "People will finally get to meet her."

And while Ryan Lee has a long road ahead of her, the help from her Bridgeport neighbors is making sure she will be supported every step of the way.

For more information on Saturday's benefit for Ryan Lee, click here. 
Do stories like this matter to you? Subscribe to Block Club Chicago. Every dime we make funds reporting from Chicago's neighborhoods.