WEST LOOP — An online fashion brand with a cult following opened a pop-up shop in the West Loop Wednesday, to the delight of Chicagoans eager to try before they buy.
The pop-up shop at 160 N. Morgan is painted white and very much reflects the brand's minimalist-cool aesthetic. The shop will be open through Sept. 16, and while brick-and-mortar Everlane shops are open in San Francisco and New York, the company has no immediate plans to open a permanent Chicago location at the moment, a brand representative said. 


Everlane is a San Francisco-based company, primarily operating online, that promotes "radical transparency" and ethically-produced clothing. It focuses on wardrobe staples with its jeans, shirts, sweaters and shoes available in neutral, work-friendly colors.
The company tells customers how much each article of clothing costs to produce, and prides itself on selling silk, cashmere, leather and other typically-pricey materials at a much lower cost. They also only work with factories around the world that meet their standards: fair wages, reasonable hours and minimal environmental impact.
On Wednesday, the brand launched a new line of its wildly-popular jeans – which have been known to sell out online days after becoming available. This time, they've added what many want in a skinny jean: stretch.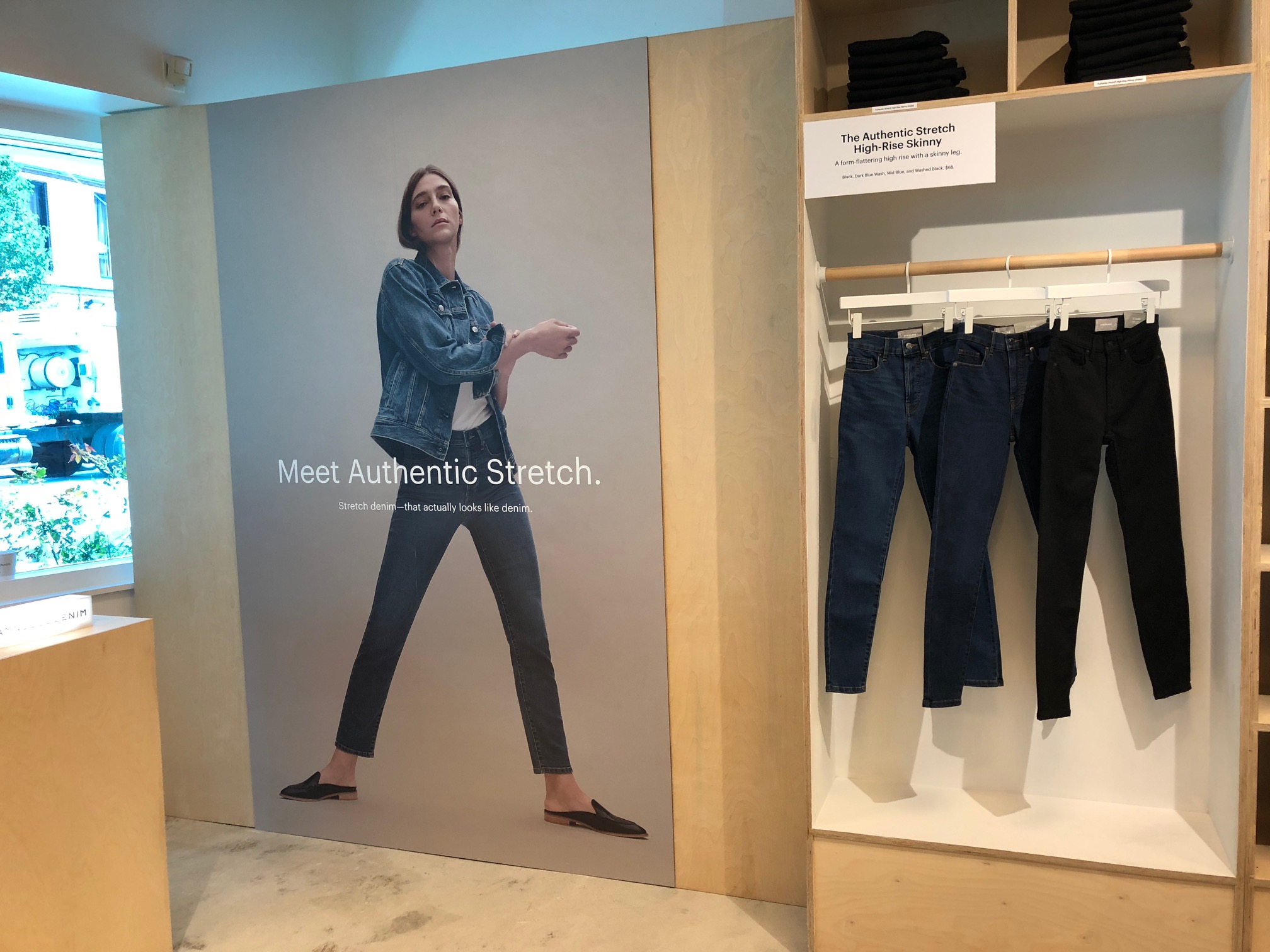 "Authentic Stretch is made at the world's cleanest denim factory, Saitex, which recycles 98% of its water, relies on alternative energy sources, repurposes byproducts, and uses innovative air-drying methods to create premium jeans — minus the waste," an Everlane representative said in a statement.
At the Morgan Street shop, customers can try on a range of Everlane jeans – in men's and women's styles – along with a handful of shoes, shirts and jackets. Jeans, which cost $68-$78, can be purchased at the store, and staff will arrange free shipping for other items from the website.
To get to know its temporary neighbors, Everlane is hosting a movie night while in town. On Thursday, the store will close at 6 p.m. and popcorn and drinks will be served during a 7 p.m. screening of "Thelma & Louise" – "a film that celebrates badass women and, of course, denim." The event will have limited floor seating available, so showing up early (6:30 p.m.) and bringing a blanket is encouraged. You can RSVP here.
Everlane's pop-up denim bar will be open 11 a.m.-7 p.m. Monday through Saturday and 11 a.m.-6 p.m. on Sundays until Sept. 12.