CHICAGO – Chicagoans who raise chickens in their backyards will open up their coops to the public later this month.

The Windy City Coop & Eco-Yard Tour is being hosted by Chicagoland Chicken Enthusiasts and the nonprofit Angelic Organics Learning Center. The free event happens over two days, Sept. 22 and Sept. 23, and features Chicagoans who want to share their experience raising chickens in their backyards.

"People volunteer to let the public into their yards and see their setups. The tours are just a chance to get out and really see how other people are doing sustainable things," Martha Boyd said, the tour's organizer. "So it's similar to how garden clubs hold tours."

Besides helping to organize the tour for the past eight years, Boyd is also a program director with Angelic, which helps people figure out a sustainable food system that works for them, wherever they may be.

"I never know who exactly will be featured in the tours each year and what the collection of coops will be like," Boyd said. "Some people have done it every year and there are also new folks every year. And it's not just backyards, we've had businesses and schools participate too."

There are about 25 people with chicken coops participating from across the city in this year's tour in neighborhoods that include Hyde Park, Old Irving Park, Logan Square, North Center, Pilsen and Humboldt Park. The most recent information regarding the tour can be found here.
"A lot of folks that keep chickens are doing what I'm calling 'eco-yard' activities. Raising chickens is usually associated with other things, like organic gardening or composting and rainwater collection. Things like that," Boyd said. "So I also ask people to describe the other kinds of things that they have going on in their yard. So if someone is raising chickens and ducks together, for example. You can scan through the site descriptions on the map and find the sites that have chickens and ducks on the tour."

In addition to organizing the tour, Boyd has also taught classes on how to raise chickens. Over the years she's seen the idea of urban livestock go from a niche hobby to a far more common practice among the city's residents.
"When I first started I helped to prevent the attempt to ban raising chickens. That was when I learned that there was in fact no specific law or anything banning it," Boyd said. "It's funny still how many people at the time who were doing it assumed they were doing something illegal. But they were doing it anyway."

The city's current rules say that no one can "keep or otherwise possess for their own food purposes, or slaughter, any animal." But outside of that are pretty laid back in regulating backyard livestock.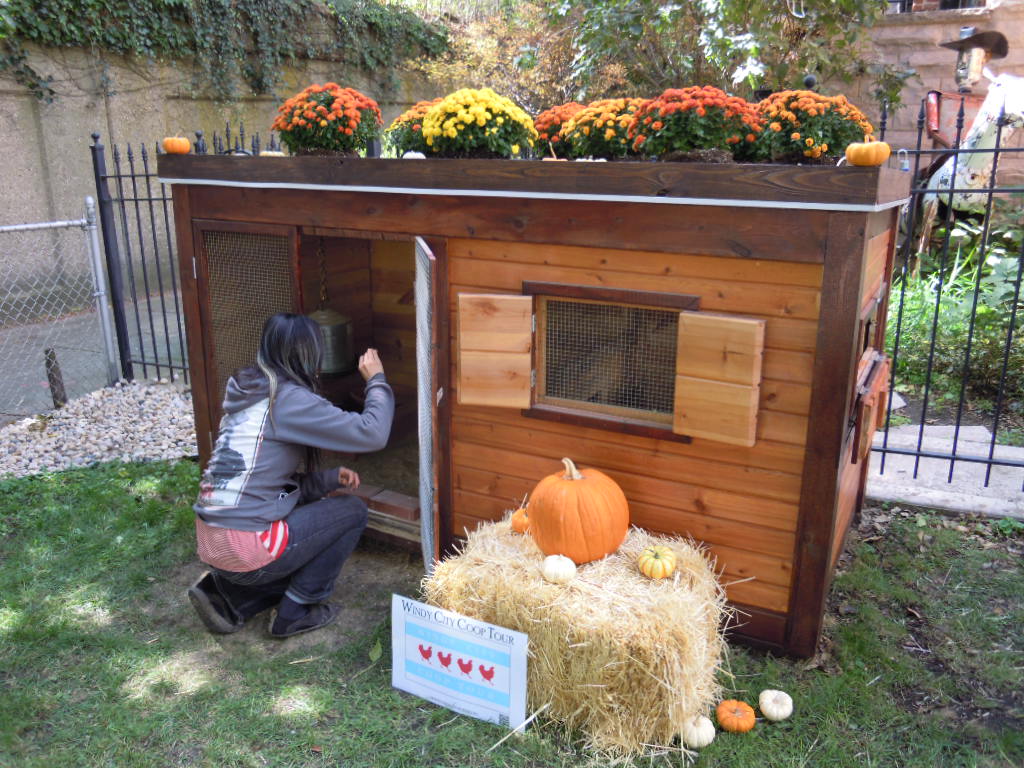 In 2007 then-Ald. Lona Lane (18th) tried to get a ban on raising chickens, citing noise and sanitation complaints. Her proposed rules never got passed. Then in 2012, Ald. Joe Moreno (1st) took up the crusade against chickens, but he stopped his push for new rules on urban livestock after Chicagoland Chicken Enthusiasts presented their own recommendations to the city.

The city later amended its rules on livestock on Oct. 28, 2015, so residents can keep animals, like chickens and cows, that produce "edible byproducts, such as eggs or milk" without penalty as long as they aren't slaughtered for food.

"They also have a rule about basically getting Easter chicks and dyeing them crazy colors," Boyd said. "Which is just like, who thought of that in the first place?"

Another rule chicken coop owners must adhere to is preventing excessive noise, however that rule also exists to prevent pets like dogs from barking excessively.

Guidelines by Chicagoland Chicken Enthusiasts for someone interested in raising chickens in the city include talking to neighbors about it ahead of time and reading up on how to build or buy a secure, spacious and sanitary coop for the birds. Other tips include planning a composte system for waste as well as protecting chickens from predators, pests and extreme weather.

Chickens stop reliably laying eggs after about two years but they can live for an average of 10 years. So before getting chickens potential owners should also plan ahead for either the legal, humane slaughter of the animal or prepare to keep the hen as a non-egg laying pets.

A full list of guidelines for raising can be found here.

"I didn't know anything about municipal codes until I got involved in this," Boyd said. "It's been such a great canvas for learning about city planning and then their codes."
Do stories like this matter to you? Subscribe to Block Club Chicago. Every dime we make funds reporting from Chicago's neighborhoods.