WICKER PARK — Happy Friday!
Sticking around town? Here are a few ideas for fun things to do in Wicker Park, Bucktown and West Town over the long weekend.
Calling All Tomato Fans. Inspired by La Tomatina, the tomato-throwing festival in Bunol, Spain, West Town's Bar Biscay will celebrate the nightshade fruit all weekend with a $42 prix fixe tomato-centric menu (view it here). The tomato love even extends to dessert — a tomato velvet cake with lavender ice cream— and special cocktails like the Bar Biscay Michelada. The tomato menu will be served for dinner service starting at 5 p.m. Friday and Saturday, at 1450 W. Chicago Ave.
Express Yourself. The final outdoor open mic of the summer season in Wicker Park's namesake park welcomes comedians, storytellers and musicians of all ages. Sign up starts at 5:45 p.m., the free show runs from 6-9 p.m. Friday in the park's field, 1425 N. Damen Ave.
New Art at Rainbo Club. Oil painter Brian Wells paints scenes from the South Side, which will be on display at the Rainbo Club beginning on Saturday. Bar hours are 4 p.m. -2 a.m. Friday and Sunday, and 4 p.m -3 a.m. Saturday, 1150 N. Damen Ave.
Hang on Etta's Rooftop. According to Eater, etta opened its second-floor rooftop terrace this week and the space will be open throughout the forthcoming Labor Day weekend. Check etta's website for hours, 1840 W. North Ave.
Make A DIY Jumpsuit. At "DIY Jumpsuit(s) You! with John Lincoln-Vogel," fashionistas can learn how to make their own jumpsuits. Bring 6 yards of fabric (JoAnn's Fabrics, 2639 N. Elston Ave., is the closest spot to find fabric), additional fabric for pockets and other embellishments, needle and thread, and fabric scissors, if possible. Free, from 4 – 7 p.m. Sunday, at No Nation Art Gallery, 1542 N. Milwaukee Ave., 2nd Floor.
Farmers Market. Kick off Sunday with fresh veggies, cheeses, meats and specialty items, like bagels, samosas, coffee and crepes at the Wicker Park Farmers Market.  Hours are 8 a.m. to 2 p.m. Sunday, 1425 N. Damen Ave.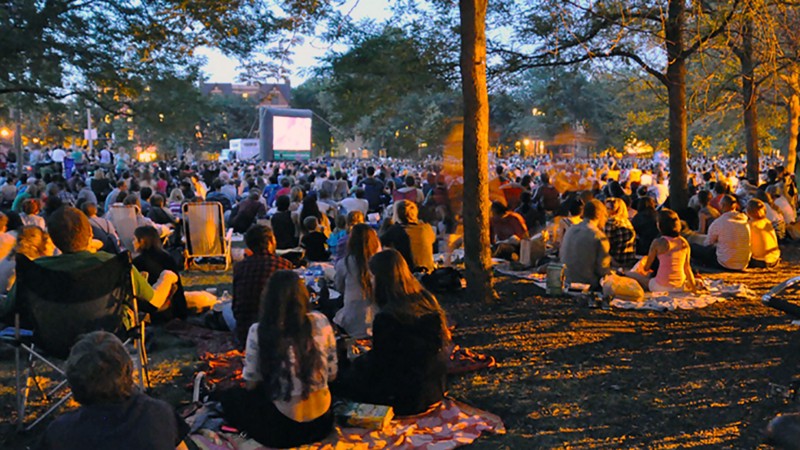 Movie In the Park. Catch "Ghost," the last movie in Wicker Park of the season, at 8 p.m. Sunday, 1425 N. Damen Ave. 
Taste of Polonia. OK, so it's not in the neighborhood, but at one point Division Street was called "Polish Broadway" because of all the Polish people who lived in the area. Lovers of Polish food, entertainment and culture should head to Taste of Polonia. The fest charges a $5 admission before 5 p.m. and $10 after 5 p.m. Hours are 5-10 p.m. Friday, noon-10 p.m. Saturday and Sunday and noon-9 p.m. Monday, at Copernicus Center, 5216 W. Lawrence Ave., one block from the Jefferson CTA Blue Line station.