LOGAN SQUARE — If you live in Logan Square, chances are you've wondered at one point or another: What's the deal with the clothing store at Fullerton and Sacramento avenues?
Situated on a corner lot that stretches all the way to the "L" tracks, the massive store feels removed from the growing bar district just around the corner.
Its defining characteristic — at least from a passerby's perspective — is its window display, which is full of mannequins draped in sequined gowns, skin-tight dresses and flashy suits.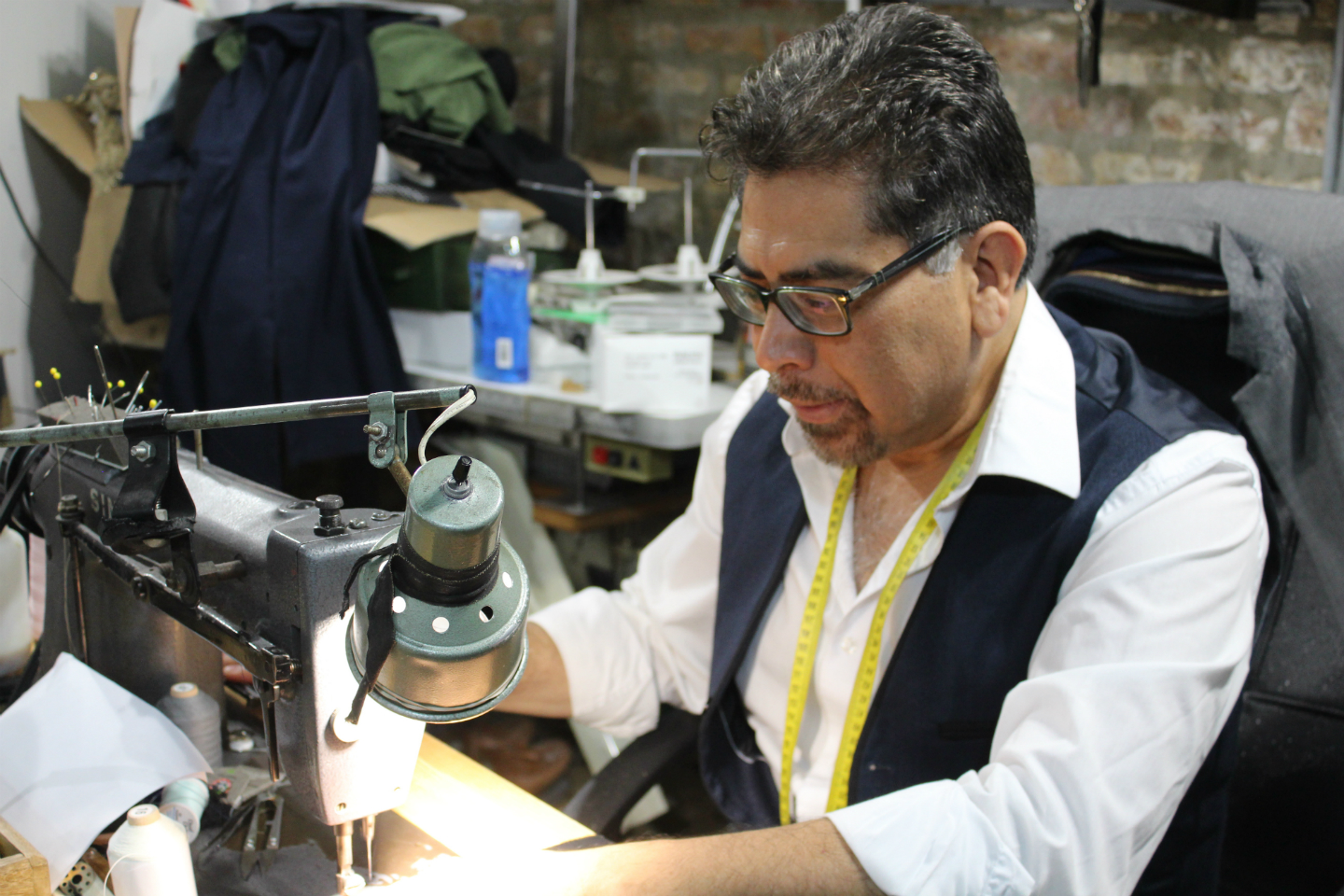 Inside, racks of brightly colored, sparkly gowns and stacks of men's dress shirts look practically untouched. The store rarely, if ever, appears busy, especially considering how much inventory is crammed in there. In fact, it's often empty.
Perhaps because of this, the store has become a local legend — the neighborhood's very own "chamber of secrets," as one neighbor put it.
"This store has mystified me for years," another neighbor wrote on Twitter.
Referring to a photo of inside the store, another wrote, "This image is probably the most direct, effective one-question quiz about whether you live here."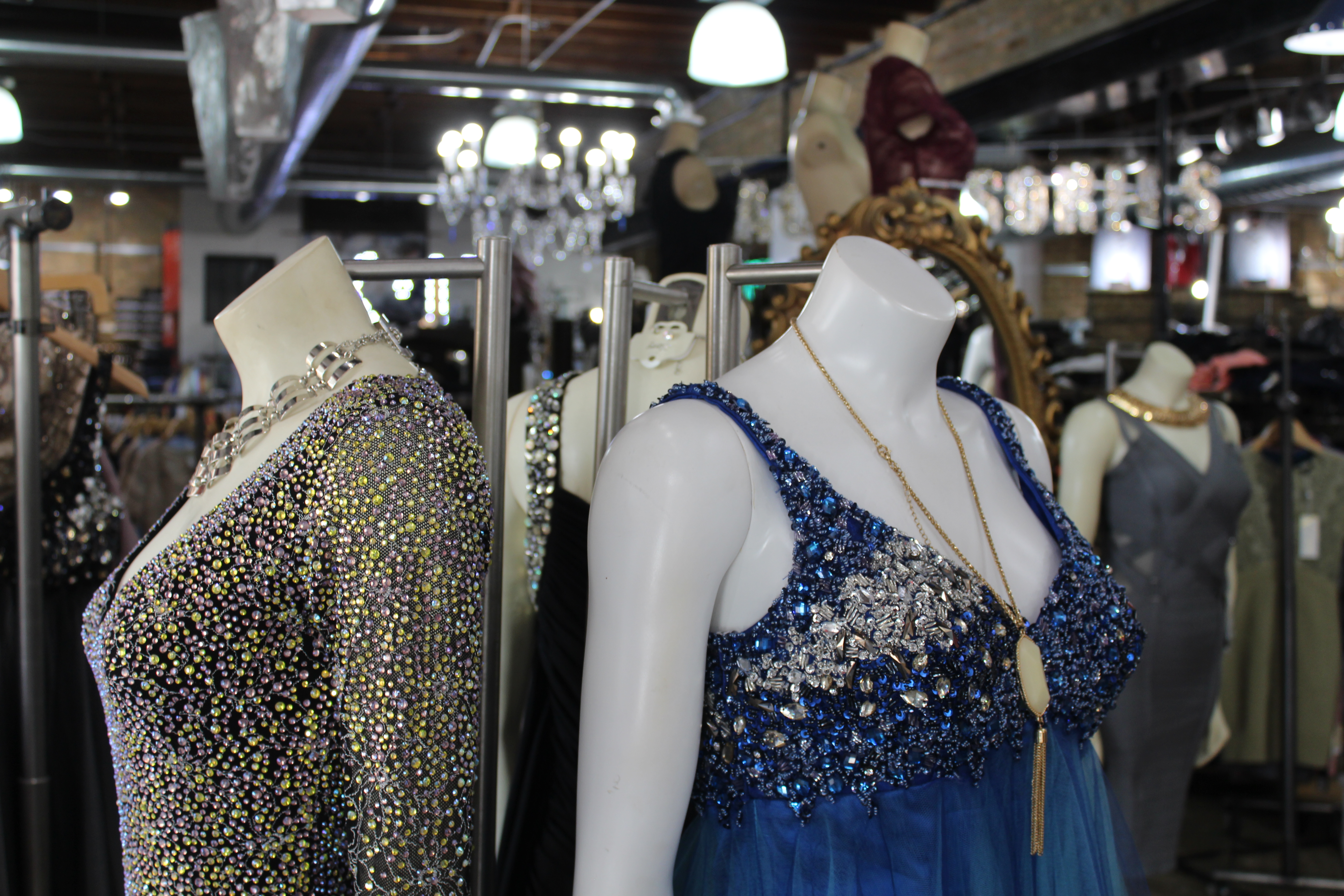 The neighborhood's fascination with X-IT European Clothing, or Moda Italia as it's sometimes called, is surprising to owner Erik Merlos, an entrepreneur with 37 years of tailoring experience.
The 56-year-old said there's nothing mysterious about his shop, where he's sold gowns, suits, and other formal wear for more than 10 years.
In addition to selling clothing off the rack, Merlos spends a lot of time at his sewing table, doing alterations and making custom gowns and suits for clients near and far.
In fact, that's where most of his business comes from. On a recent Monday, Merlos was wrapping up an order of no less than 10 custom suits for a client's wedding. The suits start at $1,500.
The store also doubles as a wholesale business, which is why you'll likely see boxes of clothing sitting around. Merlos imports the clothes directly from Europe and then sells them to other retail stores. His wife, Adriana, helps run the shop. She tailors all of the women's clothing.
Curious neighbors should come in and see it all for themselves, Merlos said.
"If you're that curious about what we do, take the time [to come in]," he said.
Merlos grew up watching his mother tailor clothing at her store, Merlos Boutique. He went on to follow in his mother's footsteps, becoming one of the original vendors when the Discount Megamall opened in 1995.
By the time the entrepreneur ended his run in 2005, he owned a mix of eight restaurant, retail and clothing lots in the indoor flea market, including Mosquito Hut Records, Homies Surplus and Urban Wear.
Merlos bought his current building at 2950 W. Fullerton Ave. in 2001. He was using it as a warehouse for six years before he opened the retail shop as we know it in 2007. At that time, Merlos ran a couple other clothing shops in suburban malls, but they have since shuttered.
People shop online a lot more than they used to, Merlos said when asked about the closures.
"Over the years, I learned you can't be everything to everyone. The store is not for everyone," he said. "For some customers it's the best thing they've seen, and other customers say, 'It's a little too flashy for me. It's not my taste,' and that's fine."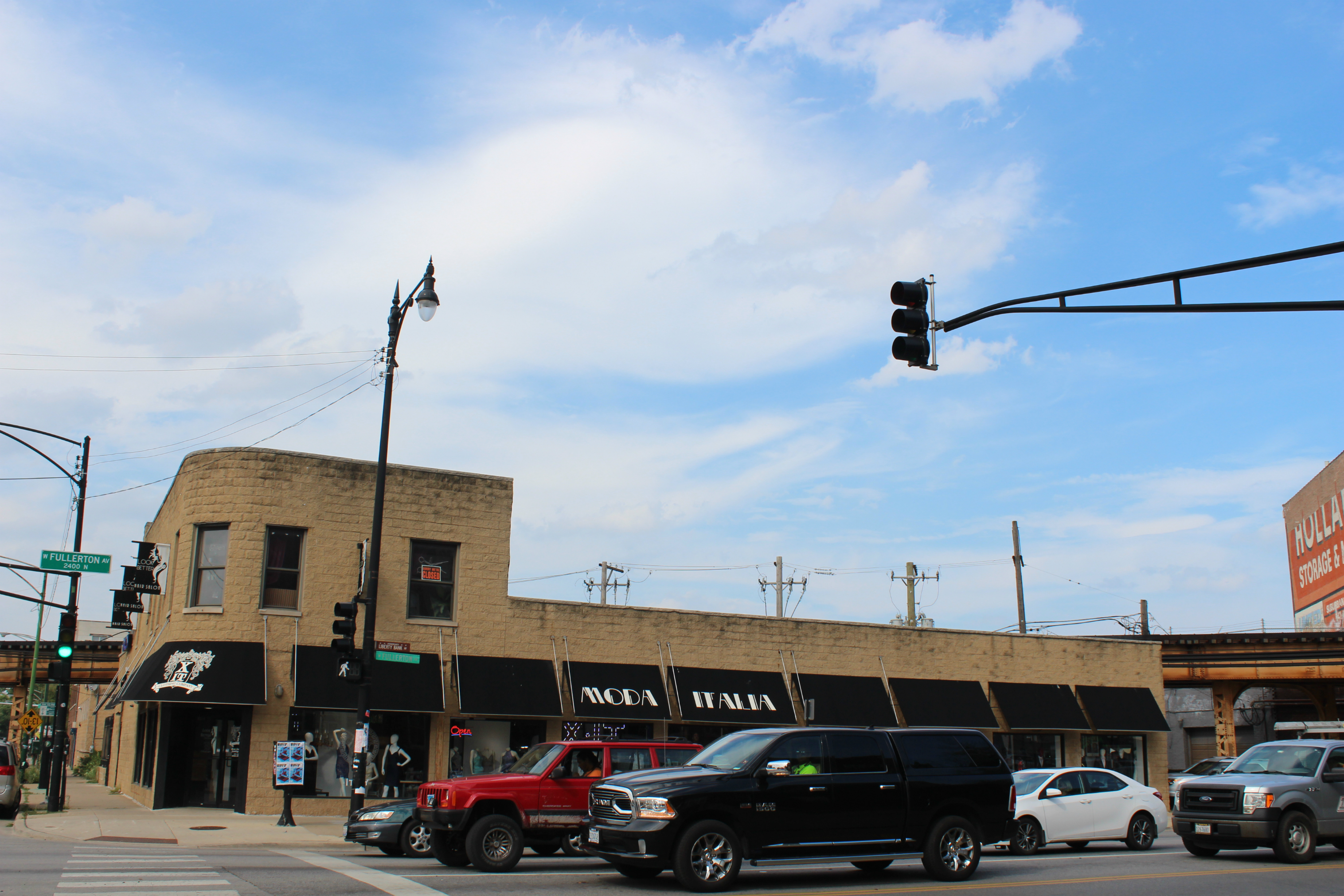 Merlos' shop hasn't changed much since 2007; he still specializes in glamorous European formal wear, appropriate for a wedding, prom and everything in between. But the same can't be said of the neighborhood surrounding it.
In the years since X-IT opened, Logan Square has gone from a gentrifying neighborhood to one that's arguably fully gentrified with new cocktail bars, trendy restaurants and luxury apartments popping up at every corner.
It's affected Merlos' shop, but not for the reasons you'd expect.
Merlos said business hasn't dwindled in recent years. The same customers who were traveling from other parts of the city and across state lines to shop there are still coming.
"You don't need to necessarily live off the neighborhood to be successful," he said.

As for the newcomers?
"I never had 'em, so how could it have an affect on me?" Merlos said without hesitation.
That said, Merlos finds himself cleaning up after revelers a lot more than he used to. He said just about every day he picks up liquor bottles and broken glass left in his alley or on the sidewalk in front of his store. He's also noticed a lot more fights breaking out on his street, spilling out from nearby bars.
In recent years, vandals have broken his store windows upwards of 20 times, he said. He even keeps a couple of boards in the basement in case vandals strike again and he needs to do a quick patch job.
"I've got my boards. I'm ready to go," Merlos said.
Merlos lives in Roscoe Village with his wife and four children, but after working in Logan Square since 1995, he's come to call the neighborhood home.
"This is my place," Merlos said of his shop.
"Who grows up saying, 'I want to be a tailor'? Nobody. … There's a place for everybody. Everybody's got a place."
Unless one of his four children wants to take over, Merlos imagines he'll close the shop whenever he decides to retire. Maybe five years, maybe 10 — nothing is set in stone, he said.
"There's still a lot of youth in me, but by the same token, you're not talking to someone who's 36," Merlos said.