WICKER PARK —  After a decade-old mural by Hebru Brantley was painted over by city workers who mistook it for graffiti, the prominent street artist has accepted an invitation to paint a new mural at the northeast corner of Milwaukee and Wood in Wicker Park, according to the building owner. 
Robert Stiebel, owner of the building at 1401 N. Milwaukee Ave., said on Monday that he's working with the Wicker Park Bucktown Special Service Area No. 33, a taxpayer district which brands itself as "WPB," to arrange for Brantley to paint a new mural along the wall of the building early next month.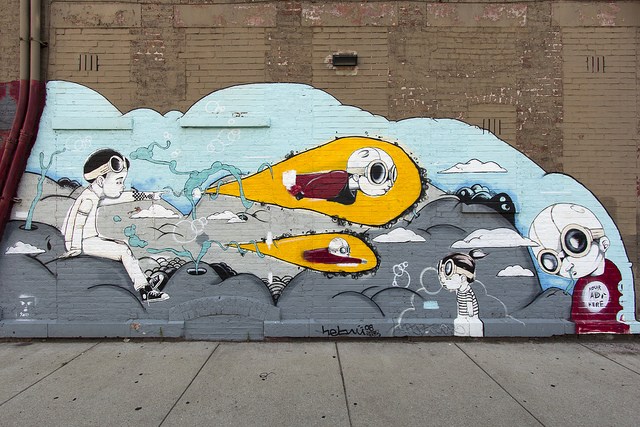 "As far as I'm concerned, the entire wall can be his canvas. Someone said there is a plain big old ugly brown wall there now and it's true, that is exactly what it is. To have something bright and uplifting again, it'll be great," Stiebel said. 
Since 2008 until being painted over this spring, the wall along the Wood Street-facing side of Stiebel's building had hosted one of Hebru Brantley's earliest murals featuring variations of a character Brantley calls "Flyboy."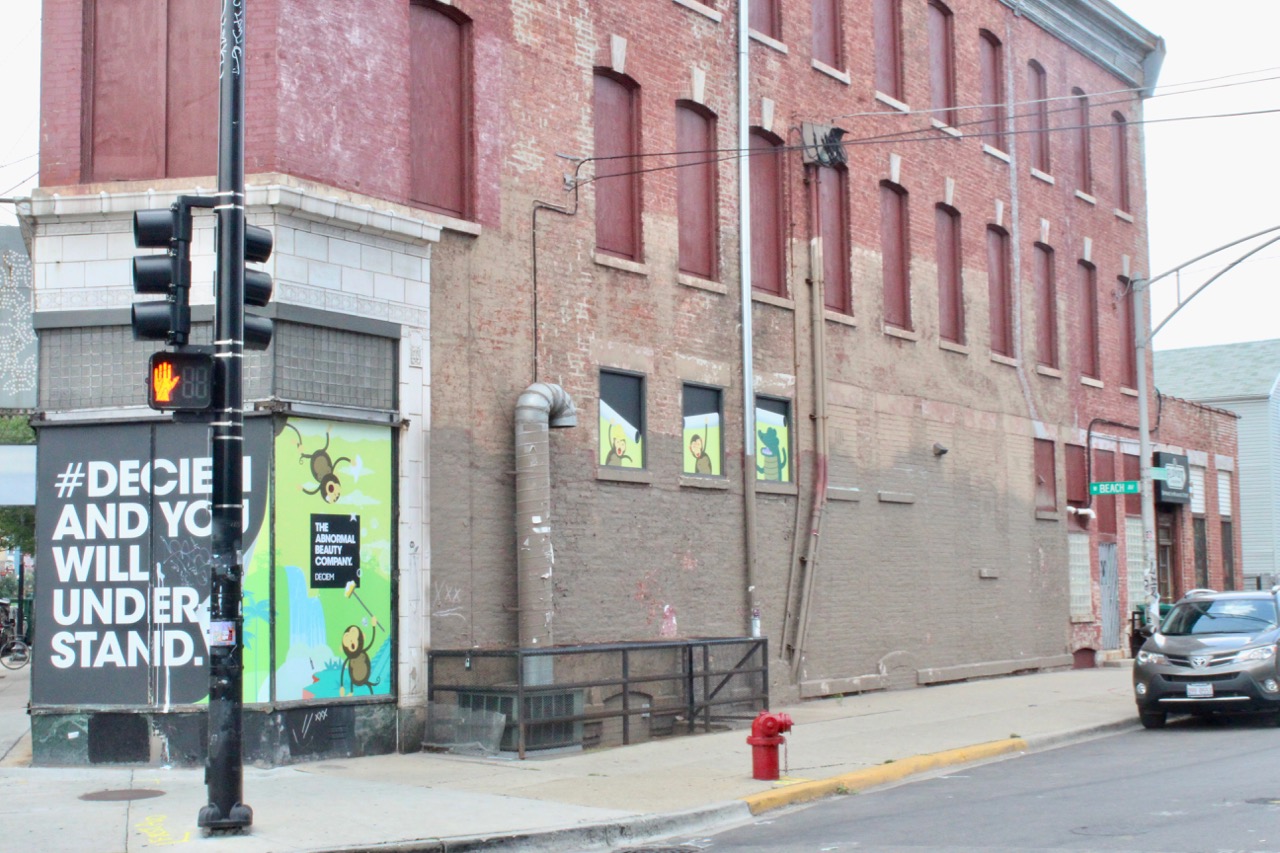 Brent Norsman, chairman of the Wicker Park Bucktown Special Service Area No. 33, confirmed on Monday that Brantley will create a new mural on the wall, sometime between Sept. 1 and 10.
According to Norsman, Brantley will create a new piece that's "at least as substantial" as what was there before and Brantley's only asking to be reimbursed for the cost of his materials and a crane lift rental, if needed. 
"We are leaving it up to the artist on what he wants to do," Norsman said. 
Brantley did not return a request for comment. In 2015, the Bronzeville-raised Brantley told Street Art News that he was both glad and surprised to see the mural still intact.
"It is one of my favorites because every time I look at it I am reminded of my growth as an artist.  To see where I was to where I am. It was one of my first incarnations of my characters on walls. That came off in a very good way and created a narrative that people gravitated to," Brantley told Street Art News. 
"Flyboy," a character somewhat inspired by the Tuskegee Airmen, appears often in Brantley's work.
"I create the flyboy character out of a need to have heroes of color, whether black, Asian, or White, European," Brantley told DNAinfo in 2013 at the unveiling of another flyboy mural for a  Nike store on Damen.
One of 50 districts citywide, Wicker Park Bucktown SSA No. 33 is a "special service area" in which property taxes are levied for communal services such as snow removal, landscaping, sidewalk cleaning and graffiti removal. In addition to funding some $109,208 worth of public art this year, the Wicker Park Bucktown group has also used money from its $1.2 million yearly budget on flower planters to create a buffer between cyclists, pedestrians and cars and to reimburse business owners who hire private security guards. 
The new Brantley mural will be across from Lynn Basa's recently completed "Worker Cottage Parklet" at the southeast corner of the Milwaukee and Wood intersection.
Norsman said that Jordan Miller, an arts intern for the Special Service Area No. 33, reached out to Brantley and Brantley's project manager to see if a new work could be created to replace the lost one. 
"We did not think we would get a hold of him so easily. It turned out that the site has a special place in his heart and he would love to do a mural there and he has an opening in the near future," Norsman said.
Norsman credited Miller, whom he called "a go getter," for taking the initiative to try and see if there was a way to bring back Brantley's influence to the corner.
Miller is also working on compiling an arts inventory for the neighborhood, to curate the existing art and architecture, and regularly puts together an e-newsletter featuring local gallery events. 

Norsman said once the new mural is up, the Special Service Area No. 33 plans to place a plaque there to further emphasize that the mural is a work of art, which should not be removed. The added clarification comes at a time when the city's zealous Graffiti Blasters have removed other works of public art, such as a mural by JC Rivera that was removed in error just days after it had been commissioned by Special Service Area No. 27 in Lakeview.
"We want to have a consistent plaque program and place plaques next to all public art," Norsman said. 
Stiebel, who does not recall having ever met Brantley but remembers allowing various artists to paint on the wall several years ago, said he's thrilled Brantley is able to come back again. 
Stiebel wanted to emphasize that he supports the work of Graffiti Blasters and views the accidental removal as "a misunderstanding or a mistake."
"I'm not blaming them. Everyone makes mistakes. Graffiti Blasters do a great job. On other walls where there are graffiti tags, it is taken down promptly, within a day or two," Stiebel said.
Marjani Williams, a spokeswoman for the city's Department of Streets and Sanitation, previously said graffiti removal crews painted over Brantley's mural because it had been repeatedly vandalized with graffiti.
The upper floors of the building where the new mural will be located have been boarded up for decades. Stiebel, whose family used to operate a suit and menswear shop on the lower level — soon to be home to skincare brand Deciem — said he uses the upper floors for overflow tailoring and sewing assignments for local tailors who're swamped with their own projects. 
"At some point someone will use it for offices or residential, not now," Stiebel said.