ALBANY PARK — A march for peace in response to recent violence in Albany Park is scheduled for Wednesday evening.

Wednesday's march will begin at Eugene Field Park, 5100 N. Ridgeway Ave., at 6:30 p.m. Once the group assembles they'll walk east using the bike path through Kiwanis Park, River Park and Ronan Park before ending at La Michoacana, 3108 W. Lawrence Ave.
Additional information can be found on the event's Facebook page. The march is being organized by Albany Park Neighbors — a group that helps coordinate community events like "Lot Jams" end-of-summer concert series — and the office of Ald. Deb Mell (33rd). 

"We know that as individuals, we're not going to be able to stop violence in our community," Jess Bouboulis, the group's president, said. "But if we know our neighbors and we know one another then there's a better chance that we will know collectively that something is wrong in the neighborhood and can work to address it together."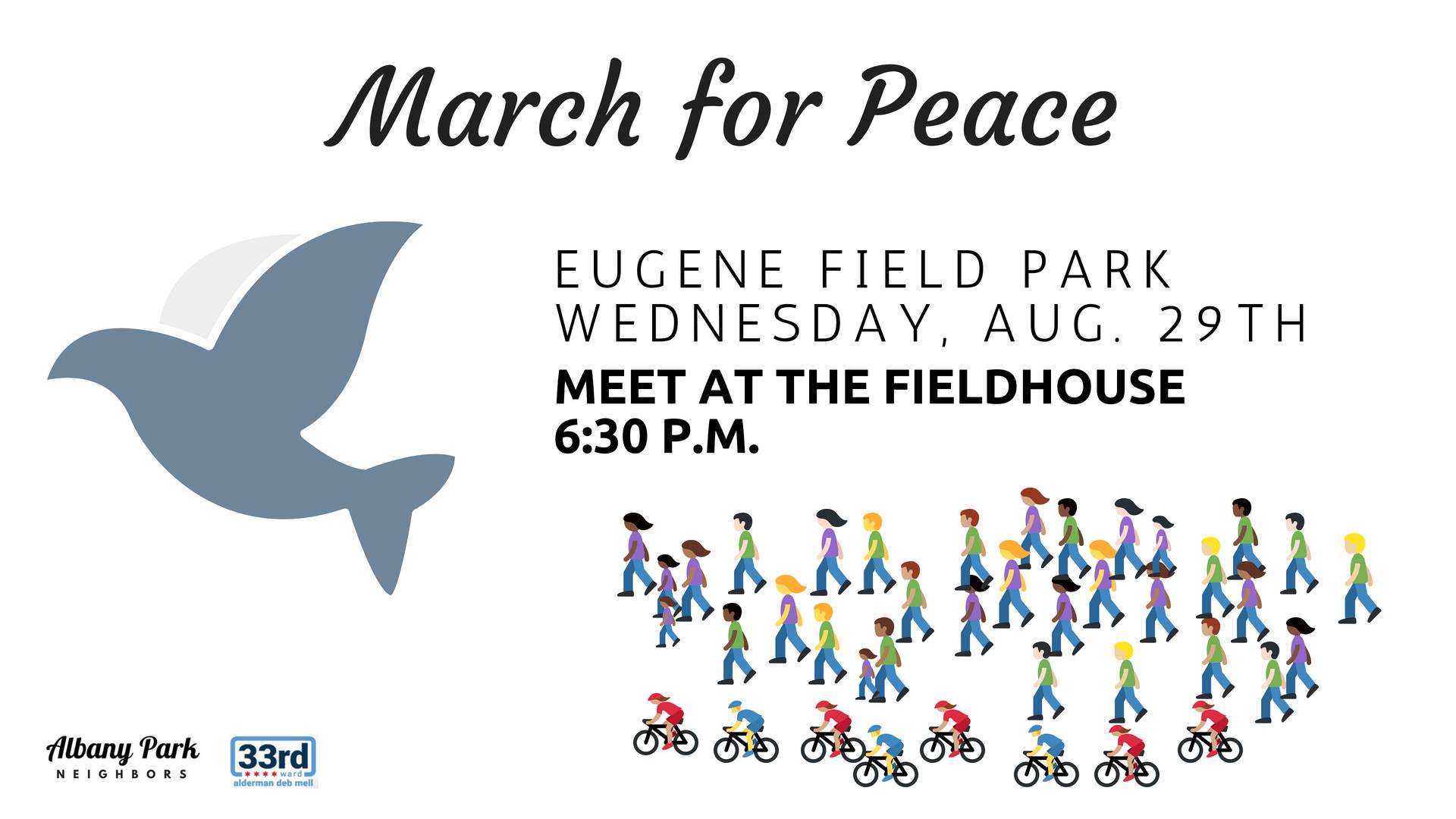 Over the past month the Albany Park neighborhood has seen a string of shootings that have taken lives or damaged property.

"Everything's happened in the last month in the northern part of the neighborhood," said Bouboulis. "So we wanted to put something together and do the peace march closer to where those incidents occurred."

Carlos Pagan, 19, was walking with friends in the 5000 block of North Albany Avenue around 11:15 p.m. on Aug. 2 when he was fatally shot. After his death the community rallied around his family to help pay for his funeral costs.

Then on Aug. 9 customers at La Michoacana had to duck for cover while two cars engaged in a shootout in the 3000 and 3100 block of West Lawrence Avenue.

RELATED: Albany Park Neighbors Help Pay Funeral Costs In Possible Mistaken Identity Murder

And most recently Darius Ortiz, 20, was fatally shot on Aug. 13. He was headed to the store with his girlfriend and his grandmother, 64, around 7:20 p.m. Ortiz was killed in the 3800 block of West Argyle Street and his grandmother was wounded in the arm and taken to Illinois Masonic Hospital.

After the shooting outside La Michoacana, the office of Ald. Deb Mell (33rd) said that an additional 30 police officers would be deployed to the Albany Park (17th) Police District by the middle of September. The officers were scheduled to be added before the recent string of shootings.

"During the CAPS meeting last week they said the timing is coincidental regarding the new officers. Several of the alderman in the 17th District said they needed more officers," Bouboulis said. "The 17th District is big so I don't know how many are going to end up in our beats."

Regardless, Bouboulis says a big part of why Albany Park Neighbors was originally formed is so neighbors can get to know one another while getting together to do things like neighborhood cleanups, parkway beautifications and positive loitering events.

"And these peace walks are a great for neighbors to meet and talk to each other. To get to know each other more," she said. "And then in the future there are collective eyes on the streets caring about the community and each other."
Examples she gave were identifying problem buildings, blocks without sufficient lighting or places where people are congregating late at night.
Bouboulis says neighbors interested in learning more about the group, which is free to join, can attend Wednesday's march or join Albany Park Neighbors' next meeting on Sept. 25.

"The location for the meeting will be announced on our Facebook page and our website," Bouboulis said.
Do stories like this matter to you? Subscribe to Block Club Chicago. Every dime we make funds reporting from Chicago's neighborhoods.